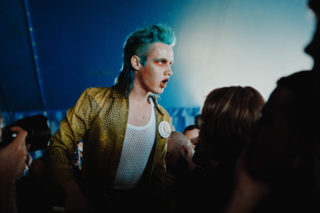 We're pretty certain these will be the music highlights at End of the Road festival 2017
Look, we've done all the work for you
End of the Road begins at the end of this month (31 August). That's four nights of music at Larmer Tree Gardens in Dorset kicking off with Slowcoaches, The Moonlandingz and Slowdive on the Thursday, right through to Bill Callahan bringing it all to a close on the Sunday. Among other stuff, we're hosting the Big Top stage on Saturday with a line-up which features the likes of Gold Panda, Let's Eat Grandma and Romare. If you're heading along but are still scratching your chin about who to see, let us be your guide. These are our recommendations – we're confident they'll be highlights.
Timber Timbre (Sunday)
It's a stone cold fact that Timber Timbre have released one of the best guitar albums of the year so far. The good news is that if 'Sincerely, Future Pollution' has passed you by, you're not the only one, and so there's still time to discover it and tell everybody else how good it is. A record about the "utter chaos and confusion" of 2016 (a great year), the Canadian band's sixth album is coldwave if coldwave had a sleazy lounge groove, like Nick Cave fronting a bitter '80s Vegas house band. Bring your black velvet suit for this one.
HMLTD (Saturday)
Don't forget to pack an extra bag for End of the Road – one for all your standard festival gear (yoga mat, Keep Calm and Listen to Nirvana T-shirt), and another with what you intend to wear to HMLTD's show. That should include blue lipstick, platform rockabilly creepers, a faux fur jacket, aqua eye shadow, black nail polish, a string vest, your old school trousers (pre-year 9) and something from your nearest bondage store. These guys make an effort so let's pay back some of that respect. Before every show they play, HMLTD measure the entirety of the venue and dress it for a one-off theme. In the past that's included Heaven and Atlantis. We might not get that, but their bat-shit mix of industrial goth-rock, spaghetti western glam, new romantic pageantry and the occasional '90s rave drop should make up for it. Bill Callahan will be playing on the other stage.
Kelly Lee Owens (Friday)
The heart and soul of End of the Road has always been folk music and indie rock. It's still the case today, but the festival's electronic bill has increasingly become a reason to go all by itself. A former cancer nurse from Wales, Kelly Lee Owens released her self-titled debut album of subtle, enveloping techno early this year. She'll have us covered for that spaced-out Twin Peaks feeling (with 'Keep Walking'), an oddly enjoyable sense of claustrophobia ('Arthur') and some sub-bass mellow dance music you can dance too, but, for everyone's sake, not too much.
Blanck Mass (Sunday)
Guessing you heard that story about a guy who went to a Blanck Mass show and didn't take earplugs? His head literally exploded. Yeah, my mate's brother knew the guy. The fact is that Benjamin John Power's solo project away from Fuck Buttons reached new heights this year with third album 'World Eater' – a record of pummelling, dark electronics that's more than noise and something other than post-rock. Like Timber Timbre's latest album, it was inspired by a shitty 2016. It'd be a shame to miss out on the full sensory force of it because your head explodes.
Aldous Harding (Friday)
So, yeah, folk music and indie rock really is still the backbone of End of the Road, with Bill Callahan, Julia Jacklin, Mac DeMarco and Ty Segall all worthy of a mention here. Aldous Harding possesses an unpredictably like nobody else, though. Sometimes she sings her gothic folk songs in a deep, stoned, Nico-ish purr; at other times she's got that Joanna Newsom, sprite thing going on; her lyrics sound foreboding even when they're about a pool party. You may get as far as the vegan sushi roll truck and decide that's you for the weekend. That's cool, but at least check out Aldous Harding – it could be something really special.
Klein on the BBC (Friday)
End of the Road have an exciting hook up in place for the first time this year, with BBC Radio 3's experimental music show The Late Junction. The BBC! On the Friday night, they'll be taking over the Tipi Tent to record four experimental musicians for later broadcast. It's how South London artist Klein got involved with the festival. Last year she self-released two darkly fascinating albums of anti-easy-listening: 'Only' and the more disturbing 'Lagata'. Having grown up in a religious Nigerian household without pop music, and relocating first to Lagos and then to L.A., Klein's jarring sound collages of gospel singing, spoken word and found sounds is not typical EOTR fare because it's not typical of anything.
Moses Sumney (Saturday)
Like the work of Woodkid or Hans Zimmer, Moses Sumney makes the kind of music that's perfect for sound-tracking sweeping aerial shots of epic landscapes – something Larmer Tree Gardens is good for. It's somehow grand and intimate. When he played a pair of sold-out shows at London's Old St Pancras church last autumn the room could barely contain the noise he was making with just a guitar and loop pedal. Alarm bells are probably ringing right now because we said 'loop pedal'. That's fair, but come and see Sumney for a bit of a laugh too – he's a joker more than his music lets on.
We're not being funny...
… but can you become a member please?
It's actually excellent value, and will help us continue to promote new independent artists and labels.
Sign up and you'll receive our physical magazines delivered to your door, our digital editions, exclusive podcasts and playlists and an actual bookmark, as if printing a magazine in 2021 wasn't old fashioned enough.
6-month and full year memberships are available now. Fancy it?