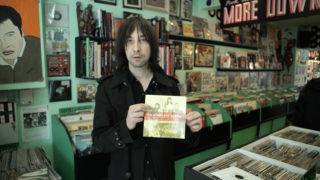 Vinyl shopping with Bobby Gillespie – Bands Buy Records episode 02
Watch Bobby Gillespie give us a schooling in '60s psych records
In case it was ever in doubt just how much Bobby Gillespie really does know about rare psychedelic pop and garage rock from the 1960, here he is in Sounds That Swing – his favourite record store, based on Parkway, Camden.
We spent an hour with Bobby for our new Bands Buy Records video series, where we give musicians we like £25 to spend on records they like, and then explain themselves.
A reminder of the boring rules:
Bands are asked to spend the whole £25 (not a fiver of it and run off with the rest)
It's not really on to spend the whole budget on one record. That's not really getting into the spirit of the game, is it?
Here we go…
We're not being funny...
… but can you become a member please?
It's actually excellent value, and will help us continue to promote new independent artists and labels.
Sign up and you'll receive our physical magazines delivered to your door, our digital editions, exclusive podcasts and playlists and an actual bookmark, as if printing a magazine in 2021 wasn't old fashioned enough.
6-month and full year memberships are available now. Fancy it?