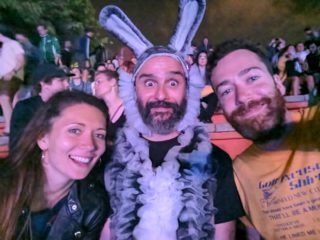 The guy who was dressed as a rabbit at Primavera had an extraordinary story to tell about stroke survival and rehabilitation
A year ago musician Filipe Falé had a stroke - this summer he's trading selfies at festivals in a bid to make a documentary about his recovery
In June I met a man dressed as a bunny at Primavera Sound. Par for the course at a music festival teeming with the latest in avant-garde threads, you might think. Amused, I casually asked for a selfie and my request was granted. There was, however, one caveat: that I would listen to said bunny's back story. Already a bit late for Mac DeMarco, I looked at my watch, wavered a bit and asked how long it would take. "Five minutes," was the reasonable response. It became obvious pretty quickly, though, that five minutes wasn't going to be anywhere near enough and so, having worked out that we both lived in London, we set up time to cover the rest of Filipe Falé's incredible tale.
A Portuguese musician who has lived in Stoke Newington for the last 10 years, Filipe suffered a massive stroke last July at the age of just 36. 'Bunny,' it turns out, is the nickname his wife uses for the man beneath the fur and floppy ears, and the suit has proved an ingenious way of stimulating conversations with the public on the subject of strokes in general, and aphasia in particular. Having grappled with the production and understanding of speech brought about by the aphasia for almost a year, Filipe is hoping to raise awareness of the condition by doing what he does every other summer: attending festivals across Europe.
This time, however, he is aiming to go beyond the bands and the beer to talk to anyone willing to spare five minutes. The plan is to turn tapes of these conversations into a full-length documentary that will help educate people around both strokes and aphasia, and to bring to life Filipe's firm belief that stroke survivors and people living with the effects of brain injury should not be defined by their conditions.
Having not met Filipe before the stroke, it is hard for me to fully appreciate how the aphasia affects him. Speaking in his second language of English, he is extremely articulate and blessed with a deep lexicon. Every now and again, however, he finds himself searching for words or losing his train of thought. We meet at a quiet cafe because surrounding conversations can stretch his focus. When these moments come, the frustration is evident, but it is something which he is learning to deal with, and the improvements are coming daily, slowly but surely.
The stroke happened when Filipe was on tour with his band, Pulmonic, in Portugal. A muscular post-punk trio, they were joined by his brother's group, the heavier My Master The Sun. Things were going well until the penultimate night, when Filipe had to step in on vocals for My Master The Sun after his brother lost his voice. He can't be sure, but he believes the physical pressure of the throaty, forceful vocal performance may have stimulated the stroke. Within 24 hours, it was clear that things weren't the way they should be.
One misdiagnosis, a couple of hospitals and a lot of medication later and he began on the road to recovery – a journey that continues to this day. At first he couldn't speak, let alone play the bass. And while he hasn't lost power, he struggles with the fine touch motor movements that he once took for granted. After the anger of the first five months subsided – and there are still highs and lows – his outlook is determinedly positive. He has raised £5,000 of the £30,000 required to make the documentary, and he won't give up until that target is reached. If you would like to donate, you can give to the project via GoFundMe here.
What happened?
"The headache that I had was out of this world but suddenly it stopped. I was drunk at the time so that rendered my blood thin so it was passing the clot. But as I went to bed the effects of the alcohol started to lessen and then the clot augmented in size and that's when I started to see symptoms. I woke up normally and the day was normal but something was not right. For example, my right side was compromised but I didn't know. And I walked with a limp and bit myself dozens of times eating avocado and toast. But I still was able to prepare the avocado and toast. So it was happening. I woke up at 7am, got on a train, spent two and a half hours sleeping, got up and then there were things like searching for words. I couldn't get them. I had a coarse throat but I could still speak. When I got home I decided to go to sleep but I couldn't – I had this headache. So I woke up, went to the living room and decided to say, 'Hi,' to the guys from the bands but… [Filipe makes gibberish noises]. I don't know if it was the nervousness but we all started laughing! Ten to fifteen minutes afterwards I knew something was wrong, but I never thought that it was a stroke. I went to my brother and struggled to write, 'hospital,' and he decided to take me. We were going to the street and suddenly my brother looks at me and smiles. I smiled, but I didn't smile. My muscles were drooped. And he knew that I was in trouble."
When did you know it was a stroke?
"The doctor looked at my brother and said – for me not to see – 'Stroke.' It was when she said, 'You've got to spend the night here,' that I knew it was serious. I knew it was a stroke but I didn't admit it to myself. I slept but I didn't dream. I slept, pitch black, and then I woke up and was in the hospital bed barely moving my arm. They tried to give me drugs to get my blood thinner but they didn't work. It was out of my hands and the doctors' hands so we just had to wait for 48 hours. There was a chance I would go to Lisbon for surgery and I was able to avoid that. That would mean that they might touch the brain where it's not supposed to be touched and I could have ended up in a wheelchair."
What's it like learning the bass all over again?
"I'm not as good a bass player as I used to be but that's just practice. It's rewarding and frustrating. Let's talk about frustration. I'm not as fast as I used to be. I don't have the same notion of tempo as I used to. But it's a question of repetition. It's not as quick as I would like. For example, slapping. My thumb has taken three months to know how to slap and it's still not right – not the right force. When the arm gets weakened there are a lot of things that go out of control. But the way I was two months after the incident to the way I am now… it's a huge difference. The fact that I can look at a video of when I was trying to learn the bass, and the way I am playing now – I'll get better for sure. But try telling that to the pessimist Filipe!"
What's your relationship with music since the stroke?
"I was serious about music. I had Spotify on all the time – I can't have vinyl because I live in a small space but I have my CDs. And then after the stroke it was all gone. I developed this angst, this hatred – almost a hatred – for music. Because I couldn't play. Now I'm making peace with music."
How is the documentary coming along?
"I had the idea five months ago. It was a great idea. I was going to go to festivals to raise awareness and I talked to myself, knowing how this new Filipe would have an effect. I was an altruistic person, I was thankful for having a voice. People with global apahasia, they can't write, they can't read. I have Broca's aphasia; I couldn't speak but could read and write. But anyway, I am still trying to fund it. There is a £30,000 objective and we have raised £5,000. But that's gone, after going to Tremor, Desertfest, Primavera and Sines festivals to film. There is a lot of filming and editing [to be done]."
Do you have any advice for people who are worried about strokes or who have had strokes?
"36 years old – I didn't think it could happen to me. And there are a lot of people who think it couldn't happen to them. The stress we're putting ourselves under in general, it's this age of information where everything is new; new this, new that. Facebook, Instagram, 'likes,' comparing yourself. Be careful with yourself. Sleep. Go easy on the booze and the drugs. I don't know if that's what happened to me. I was drinking a lot, but I was healthy. It can happen. Binge-drinking isn't good. But since music got me where I am now – I've had the stroke performing what I like – music is also to get me out of here. It's simple. It might take two years, three years, but I'll persist."
It's been almost a year since the stroke. Are you going to celebrate the progress you've made in the last 12 months? Not with binge-drinking I assume.
"With two glasses of wine!"
Photos: Courtesy of David Zammitt
Loud And Quiet needs your help
The COVID-19 crisis has cut off our advertising revenue stream, which is how we've always funded how we promoted new independent artists.
Now we must ask for your help.
If you enjoy our articles, photography and podcasts, please consider becoming a subscribing member. It works out to just £1 per week, to receive our next 6 issues, our 15-year anniversary zine, access to our digital editions, the L&Q brass pin, exclusive playlists, the L&Q bookmark and loads of other extras.