Primavera Sound opened with Spiritualized playing a totally cosmic gospel-space-rock greatest hits set
Backed by an orchestra AND a choir
Given that one of Primavera's more long-standing traditions is for bands to debut new albums, and that Spiritualized's much-delayed follow-up to 2012's 'Sweet Heart Sweet Light' seems finally due later this year, one could be forgiven for anticipating a set of entirely unfamiliar material tonight as Jason Pierce et al opened this year's festival. However, the band keep their cards close to their chest in that regard, delivering instead a greatest-hits set of trademark euphoric-cosmic-gospel fuzz-flecked space-rock as only they know how, backed with 20-odd strings and brass and an eight-piece choir to a full house at the appropriately space-age Auditori venue at the Parc Forum. 
On the one hand, this is undeniably brilliant: both 'Shine A Light' and 'Ladies And Gentlemen We Are Floating In Space' make brilliant use of the hall's precision acoustics and the extra musicians to build from weary, fragile torch songs to something intimidatingly meaty and sensorily overpowering, 'Electric Mainline''s polyrhythmic puzzles are even more satisfyingly dense after 25 years of refinement, and 'She Kissed Me (And It Felt Like A Hit)' – the band's only foray tonight into their garage-rock side – is thunderous and fierce.
'I Think I'm In Love', too, with a classy modification of the call-and-response backing vocals performed in Spanish, continues to swagger with more groove than any love song to heroin reasonably should. That all of these are developed well beyond their recorded versions, too, is a treat, and the sign of a band clearly still interested in exploring new ideas.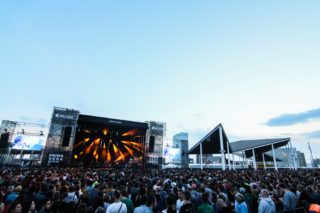 On the other, though, such virtually flawless proficiency is also slightly disarming: performances by past incarnations of the group generated electricity via sprawl and experimentation, with the customary free noise sections often stretching out as the band saw fit while still integrated into the song structures. Tonight, however, save for a splash of improvisation during a magisterial 'Let It Flow', the set is tightly scripted – perhaps too much so – and consequently strangely lifeless on the soppier, more straightforward songs: 'Stop Your Crying' and 'Soul On Fire' are both lovely combinations of melody and sentiment, but the route-one mushy string arrangements render them a little wet, particularly when juxtaposed against more complex material.
Perhaps Pierce realises this too: despite an encore of 'Come Together' and 'Oh Happy Day' planned on the setlist, the band don't return after their main run, leaving it unclear whether the premature end is due to a technical hitch or a lack of motivation on their part. It's not a fatal omission either way, and during moments tonight Spiritualized have never sounded more impressive. Still, those seeking either the fully immersive Spiritualized live experience (or clues about this autumn's new album) shuffle out into the Primavera twilight with mixed emotions: sporadically enraptured, deliciously tantalised, and unequivocally left wanting more.
Photos: Primavera Sound / Pablo Luna Chao
Please support Loud And Quiet if you can
If you're a fan of what we do, please consider subscribing to L&Q to help fund our support of new musicians and independent labels
You can make a big difference for a few pounds per month, and in return we'll send you our magazines, exclusive flexi discs, and other subscriber bonus bits and pieces
Try for a month and cancel anytime