Protomartyr are on the cover of Loud And Quiet 89 – in stores this weekend
Inside: Pussy Riot, Circuit des Yeux, Denzel Himself, Studio 54, Sons of Raphael, DUDS
At the end of August I flew to Detroit to spend a weekend with one of my favourite punk bands in a city I've been fascinated with since 2010 and Julian Temple's documentary Requiem For Detroit?. Without wanting to cry about it, it was the kind of weekend that I know I'll always remember, which is all down to the four members of Protomartyr who drove me around and took me for food and drinks when they easily could have said at any moment: "Ok, Steve… maybe we'll catch you in a bit, yeah?"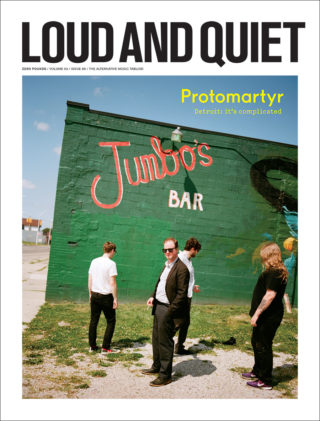 Detroit is a place with a traumatic past and a single, tough image of a bankrupt city that lies in ruin. Protomartyr showed me the other side of life there, and what it's like to live in a place the world thinks it already knows.
The following weekend a bunch of us went to End of The Road festival, which also features in issue 89 – in stores this weekend (Sept 23) – along with feature with new bands DUDS, from Manchester, Denzel Himself (London) and Sons of Raphael (London), whose interview was interrupted by their irate bookie.
Maria Alyokhina of Pussy Riot spoke to us about the art of protest, Riot Grrrl and her now-famous arrest in Russia; Haley Fohr aka Circuit des Yeux discussed how a night convulsing on the floor turned into the best moment of her life.
We also revisit the story of the most famous club in the world with the help of the man who just had to buy Studio 54, Gary Numan recalls being 16 and Nadine Shah takes our Getting To Know You questionnaire.
Pick up a copy from Saturday.
Support Loud And Quiet from £3 per month and we'll post you our next 9 magazines
As all of us are constantly reminded, it's getting harder for independent publishers to stay in business, which applies to Loud And Quiet more now than ever, 14 years after we first started printing a magazine that we've always given away for free.
Having thought about the best way to support the costs of what we do (the printing and server fees, the podcast and video production costs etc.) we'd like to ask our readers who really enjoy what we do to subscribe to our next 9 issues over the next 12 months. The cheapest we can afford to do this for is a recurring payment of £3 per month for UK subscribers. If you really start to hate it you can cancel at any time. The same goes for European subscriptions (£6 per month) and the rest of the world (£8 per month).
It's not just a donation – you'll receive a physical copy of our magazine through your door, and some extra perks detailed on our subscribe page. Digital subscriptions are available worldwide for £15 per year. We hope you consider this a good deal and the best way to keep Loud And Quiet in your life without its content, independence or existence suffering.