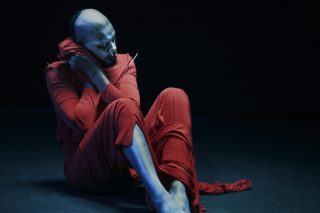 serpentwithfeet has taken our Getting To Know You questionnaire – 'I have a pet shadow, he's lovely'
Baltimore-born artist Josiah Wise listens to Brandy on a daily basis and owns 'a spicy pair of man panties'
There's not that much out there regarding 27-year-old Brooklyn-based Baltimore-born artist Josiah Wise, beyond his debut EP of operatic queer RnB. Produced by Haxan Cloak, 'Blisters' gets a physical release via Tri Angle in March 2017. For our GTKY questionnaire, serpentwithfeet is honest in line with his music, and also straight-up funny.
The best piece of advice you've been given
"Make a science of it."
Your favourite word
Galvanize.
Your pet-hate
I don't have any. I do have a pet shadow. He's lovely.
If you could only eat one food forever, it would be…
Gluten free cinnamon rolls… I love chewing soft things.
The worst job you've had
Trying to thrive while in the closet. Oohp!
The film you can quote the most of
I can't quote any films but I can definitely sing along and give you MOST of the drama that Diana Ross gives when she sings 'Home' in The Wiz.
Favourite place in the world
Any patisserie in Paris. Cuz who don't love a French pastry??!
Your style icon
HIM (from Powerpuff Girls).
The one song you wished you'd written
'Waters of March' by Jobim.
The most famous person you've met
Björk. We hung out a lot in Brooklyn and she is a dream! Spending time with her was the highlight of my 2016.
The thing you'd rescue from a burning building
My boo. My boo is the name of my doll. She means so much to me.
The worst date you've been on
That's not an interesting story. The best romantic moment I had might be a bit more heartbreaking. Years ago I met a guy online. I fell in love. Took a 10-hour bus trip to meet him. I only stayed with him for 36 hours because I had work. But when I arrived at his house he had a huuuuge breakfast spread of all my favourite foods; a big flower arrangement & bottomless mimosas (because I love mimosas). The next day when I had to leave I wept! I'm talking, shaking, crying! I played Beyonce's 'I Miss You' on repeat for most of that 10-hour bus ride back home.
Your guilty pleasure
Hmmmm. I listen to Brandy everyday. But there's no guilt; only pleasure.
Your first big extravagance
When I got my head tattoos.
The worst present you've received
When I believed other people knew secrets about me that I didn't know.
The characteristic you most like about yourself
My specificity.
Your hidden talent
I'm very maternal. But that ain't hidden.
Your favourite item of clothing
I have some spicy man panties.
Your biggest disappointment
I don't have any. Everything works in my favour.
The celebrity that pisses you off the most even though you've never met them
There aren't any. Everyone's doing the best they can.
Your biggest fear
I fear that one day I'll lose my appetite.
The best book in the world
Toni Morrison's Beloved.
People's biggest misconception about yourself
I think most people that want to know have a fair idea of what I'm about. I'm pretty transparent.
Who would play you in a film of your life?
It would be wonderful to have a woman play me. I'm here for that interpretation.
What is success to you?
Loving myself fiercely and not apologising for it.
What talent do you wish you had?
I envy black contemporary ballet dancers. I wish I was one of those Alvin Ailey men.
How would you choose to die?
I live for the necessary drama, so maybe whenever it's my time I could die peacefully while I'm hosting an intimate dinner party at my house. Let's imagine I just told a really funny story and everybody's in tears laughing. While they're catching their breath I go to the kitchen to refill everybody's mango mimosas, but I never make it back to the dinner table. Now that's DRAMA!
What is the most overrated thing in the world?
Misogyny.
What, if anything, would you change about your physical appearance?
Hmmmm. I love how I look. It took me a lot of work to get here. But I still use the emojis that are much darker than my actual skin complexion. I looooove dark skin. My best friend teases me about it all the time because I genuinely was in denial that I'm more of a caramel / burnt caramel complexion.
What's your biggest turn-off?
When I can't self-implicate / when I cant see myself.
What would you tell your 15-year-old self?
Baby boy, you are a problem. Keep being disruptive!
Your best piece of advice for others
Unhinge, Unhinge, Unhinge!
Loud And Quiet needs your help
The COVID-19 crisis has cut off our advertising revenue stream, which is how we've always funded how we promoted new independent artists.
Now we must ask for your help.
If you enjoy our articles, photography and podcasts, please consider becoming a subscribing member. It works out to just £1 per week, to receive our next 6 issues, our 15-year anniversary zine, access to our digital editions, the L&Q brass pin, exclusive playlists, the L&Q bookmark and loads of other extras.