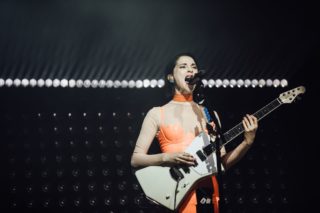 St. Vincent's slick cyborg pop show has everything – including a band with no faces
Friday night's End of the Road festival headliner
For a festival as dedicated to authenticity and rockist chops as End of the Road, St Vincent is, from one angle, a no-brainer of a headline choice: startlingly virtuosic musicianship and four albums of increasingly complex art-rock, paired with last year's metamorphosis into pop icon with album five, makes a fairly compelling argument. Then again, it's also a gamble: when Annie Clark toured 'Masseduction' in 2017, the show was little more than an expensive album playback, as Clark stood static and alone onstage for 90 minutes singing along to a backing track. Such a defiant display of proud (if misguided) artifice here would surely not stand.
Perhaps sensing that, Clark has replaced last year's mp3s with a three-piece band, but even a decision as simple as that is delivered unconventionally: the four musicians line up in a row and on individual risers, preventing any on-stage physical interaction or eye-contact. Two members, meanwhile, are dressed in grey overalls with bowlie haircut wigs and featureless facemasks, resembling a nightmarish amalgamation of Boris Johnson and the Pillsbury Dough Boy, and if star-of-the-show Clark's podium were any further to the left of the stage, she'd be in the wings.
Thankfully, though, that is the extent of St Vincent's wilful contrarianism for the night, and what follows is a 90-minute demonstration of lean, tightly controlled and expertly delivered progressive pop that does exactly what a festival headliner should: there are crowd clap-alongs on 'Fast Slow Disco', dazzling interludes of Clark shredding on a procession of identical neon-coloured guitars on both 'Pills' and 'Cruel', and an incitement for the whole field to dance in celebration of itself on 'Digital Witness'. The songs from 'Masseduction', previously obscured by Clark's own contrivance when last delivered live, are allowed to breathe and bloom with a full band, and while the whiff of gimmick lingers somewhat in the oddly stilted and strangely occasional synchronized choreography, it's not enough to detract or distract from the fun.
The performance really takes off, however, for the encore. Clark finally leaves her podium to come to front and centre of the main Woods Stage, and with it, appears set free: she alters the lyrics to 'New York', seemingly off the cuff, to pay tribute to End of the Road's Dorset home, cracks a smile for the first time all set, and begins chatting with the front row. It generates an intimacy and magic, hitherto unfelt despite the musical proficiency on display, and when she carries that into 'Happy Birthday Johnny' accompanied by just a piano, the effect renders the entire field spine-tinglingly dumbstruck. A closing solo version of 'Severed Crossed Fingers' is more intimate still, and as the crowd shuffle into the night the only tantalising takeaway from an otherwise triumphant show is how much more the set could've offered, in particular to a festival as in love with traditional musical spontaneity as End of the Road, had Clark decided to go off-piste earlier.
St. Vincent @ End of the Road festival, Friday 31 August
Photos by: Rachel Juarez Carr
We're not being funny...
… but can you become a member please?
It's actually excellent value, and will help us continue to promote new independent artists and labels.
Sign up and you'll receive our physical magazines delivered to your door, our digital editions, exclusive podcasts and playlists and an actual bookmark, as if printing a magazine in 2021 wasn't old fashioned enough.
6-month and full year memberships are available now. Fancy it?