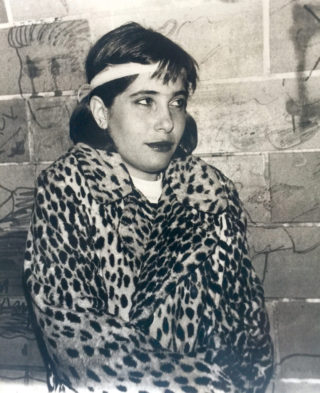 Sweet 16: Music saved Brix Smith Start before she moved to Manchester and joined The Fall
Brix recalls her tumultuous age of 16
As told to Daniel Dylan Wray
Brix Smith Start: I remember looking forward to being 16 for so long because it seemed like such a grown up age, but then when it happened everything turned upside down. It was probably the most tumultuous year of my life – a pretty horrific year for me, where my entire life was flipped a billion different ways. It's not pleasant reading for anyone, but basically I was disowned by my father, had to live with a foster family and then my mother came and rescued me and brought me back to Chicago. Then I started school in a new place. Being forced to change my life like that, and all of this trauma that happened, it was actually the year that I really seriously got into music. It was the thing that saved me.
The school I went to in L.A. was what you'd call a free school, very progressive, and then I went into a preparatory school in Chicago, which was extremely academic, and although I was really smart, I wasn't that sort of kid. I was a real free spirit, so it sort of fucked with me. I went to this school and became part of the marginalised group of outcasts – we were just completely into punk music: Buzzcocks, Ramones, Siouxsie & the Banshees, Blondie, The Clash. We went to our local record store, Wax Trax!, and we'd get all the British import records. They were a lot more expensive but they were the really cool ones. That was the year I got my name too; it was a year of change.
I absolutely hated Chicago at the time. I loathed it and didn't want to be there. It was such a horrible year that I can't even tell you. Now, of course, I love Chicago. I can't blame the city for the way I felt at the time – it was how I felt inside having been rejected by my father. I was pretty much a broken child.
Most of the girls in my school were what you would call preppy girls, they were extremely straight and wore chinos and boating shoes, with hair bands and polo necks. I was a girl who would colour my hair and roller skate to school. I had this little group of friends and we were very naughty – we would go out clubbing but the legal age to drink was of course 21 so we had fake I.D's. God knows how my mother let me do this but I could drive and had a car and so we would go deep into Chicago and go to all these different clubs. There was one called Exit that was like a punk club. This picture was actually taken at a completely illegal club in the meatpacking district of Chicago, like a derelict old abattoir.
It was an important time because I was starting to identify myself and my personality through music and fashion. I really began to experiment with clothes and by the time of this photograph I had already found my look – it's quite a strong look for a 16-year-old. My mum loved clothes and had been a model in her younger days and when I was really young, like 5-years-old, she would take me shopping and say, 'pick out anything you want and put it together however you want.' She said there are no rules, stripes with tartan is cool. That freedom to experiment had an impact. In this picture I'm wearing a fake fur leopard coat and guess what I wore last night?
It was a great way to express your personality. It made you different from all the other kids who were listening to Billy Joel. I remember one time going to some girl's house and she put Billy Joel on and was like, 'isn't this fantastic?' and I was like, 'this is the most heinous thing I have ever heard and I have to leave your house.'
Making music was my fantasy then, but not in a million years did I think that I ever would because I didn't think I was good enough. What I thought I would be doing was acting or writing, although around 16 music did overcome me so I had to teach myself how to do it. Loads of cool bands were cropping up everywhere and you thought if they can do it, so can I. I mean, The Ramones, they were like my heroes because it was three chords and you knew that you could make it work.
I joined a neighbourhood band around this time that did cover versions and we played parties but it was so bad, I can't tell you; it was horrific. Thank fuck I can't remember what we were called. And I don't know why they had me as the singer but we would cover Blondie and The Police and stuff. A few years later I taught myself bass at college and then that was it.
Brix releases new album 'Dammed For Eternity' with Brix And The Extricated on May 12th via Blang Records.
We're not being funny...
… but can you become a member please?
It's actually excellent value, and will help us continue to promote new independent artists and labels.
Sign up and you'll receive our physical magazines delivered to your door, our digital editions, exclusive podcasts and playlists and an actual bookmark, as if printing a magazine in 2021 wasn't old fashioned enough.
6-month and full year memberships are available now. Fancy it?