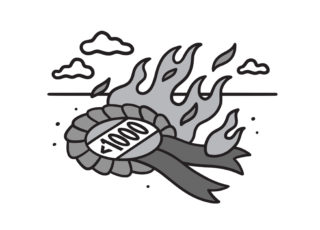 The community outreach of Grimalkin Records
This instalment of the <1000 Club focuses on queer arts collective Grimalkin Records
The <1000 club was formed to champion smaller artists who deserve better from streaming platforms, both in terms of play count and genuine industry support. Spotify, Apple, Bandcamp and Soundcloud all have a responsibility to the artists that keep their platforms afloat, and only one of those are currently meeting the moment in a meaningful way. This month's entry highlights not just the duty that streaming platforms have to support artists, but the responsibility that labels have to support their communities.
Grimalkin Records is a queer arts collective that centres mutual aid, community outreach and education as its core values. The label was founded on the idea of bringing greater inclusivity to the industry. It uses its releases to fund QTBIPOC civil rights organisations and grassroots social justice movements worldwide. It was founded by Nancy Grim Kells (AKA Spartan Jet-Plex), who was inspired while volunteering for mutual aid organisations like the Virginia anti-violence project.
"There is a lot of overlap between community organising, mutual aid and music in Richmond," they say during our chat. "Since we've grown, we're releasing a lot of people that are outside of our circle. Music is a bridge to community support, mutual aid. That's really where our centre is."
Grimalkin is non-traditional in its lack of a hierarchal structure. Its members are all involved in core decisions for the label. There's an openness and transparency around finances that is rare. The decision to be so forthcoming with potentially sensitive information came from Grim's own experiences as an artist. "I've worked with a label before and I was completely in the dark," they say. "I didn't know how much money my album made, and I didn't get any money. That's kind of the norm.
"I had no idea what I was doing when I started. I've been using the skills I've got as a Special Ed teacher for fourteen years and a guidance counsellor for seven years."
One of the recent decisions made as a collective has been to stream digitally as a label, with a view towards greater outreach, accessibility and exposure. Before, artists were given the funds by Grimalkin to stream on their own terms, rather than Grimalkin "taking a piece of nothing," as Grim puts it.
Since forming several years ago as a passion project, the collective has blossomed in the past two years into a full-time venture, spurred on by incredible releases like Backxwash's industrial hip-hop opus God has nothing to do with it leave him out of it, which earned international acclaim and amassed a large, unexpected fanbase. The label is now home to a varied roster of noise rock, twee electro-pop and club bangers.
Upcoming releases include Òrfãs, a new hypnagogic punk album from the Brazilian duo A/C Repair School, and As a Motherfucker, a sleek and expansive collection of R&B songs from Quinton Barnes. The two also have plans to work together on a project, despite the different musical worlds they operate in, which underlines the collective's focus on collaboration and communal support.
As with the rest of Grimalkin, the thing that ties all of it together is a shared ethos of emphasising BIPOC and queer perspectives, as well as ethical distribution. "We all hope that Grimalkin will be an example for other labels," Grim says. "Get to know what's going on in your community. Find out who is involved in mutual aid. Build relationships beyond 'this music is cool'. I think you need to get to know people and make sure your values align."
Right now, the collective is in the process of applying for a $2,500 business grant that will allow them to establish the educational resources that have long been part of their ambitions. Despite growing public exposure, the collective hardly makes enough to break even, in part because they refuse to take a large cut of streaming royalties.
"I thought I was going to retire at the company I worked for," Grim says, referring to their career as a counsellor. "It was a huge blow to me when I got laid off. I went to a very dark place that I hadn't gone to since I was probably in my twenties. I was devastated. But I had Grimalkin still, and after a few days I did what I normally do and picked myself up again. I just poured it all into Grimalkin. Now I think that's the best thing that's ever happened to me. I'm a work-horse kind of person."
Despite the stress and the financial struggle, Grimalkin has doubled their sales in a year. Their 2021 calendar is stacked with releases, without sacrificing their initial goal of community outreach.
"Maybe this is not a pipedream," Grim says.