We went to Venice Beach to meet The Internet for L&Q 125 – in stores this weekend
Also features in our June 2018 issue: J Mascis, Sink Ya Teeth, Hana Vu, Space Afrika, Johnny Marr, Bodega, Nico, DRINKS and ILL
Growing up there was this guy that haunted me. Maybe he haunted you, too. We don't mention him in Loud And Quiet. And then Sam Walton flew to LA to meet The Internet and they mentioned him straight away. They wouldn't shut up about him. They worship the guy. I was a fool to not see it coming, considering the proficiency of a soul band like this one, who are down on sampling and, it turns out, duck all preconceptions about them. If you know The Internet at all, you still don't. The Odd Future connection, Syd's sexuality, Steve Lacy's Compton home-life – they inform the group rather than define it, and never in the way that you think they do.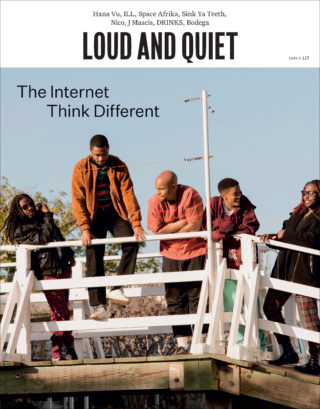 You can read all about them, their forthcoming album and the monster they love in Loud And Quiet 125, in stores from this weekend (May 26th). Pre-order a copy here.
Also in this issue: inside the home of J Mascis (yeah, it's pretty purple), Nico: the Manchester years, and DRINKS in conversation.
In depth new music interviews with: Manchester ambient duo Space Afrika, punk band ILL, Norwich dance duo Sink Ya Teeth, LA subway-surfer Hana Vu and Bodega – the NYC post-technology art band who are turning used iPhones into headdresses.
Also: Johnny Marr at 16, fixing a broken heart with any damn record you like, when to swap your blood for cash in the crowdfunding game and what Posh Spice did.
It sounds so good and the wait is almost over. Pick up a copy from Saturday. Order a copy to avoid total disappointment and to support your favourite independent music magazine.
Subscribe to Loud And Quiet here. UK readers also get to gift 3 months to a friend for free.
Support Loud And Quiet from £3 per month and we'll post you our next 9 magazines
As all of us are constantly reminded, it's getting harder for independent publishers to stay in business, which applies to Loud And Quiet more now than ever, 14 years after we first started printing a magazine that we've always given away for free.
Having thought about the best way to support the costs of what we do (the printing and server fees, the podcast and video production costs etc.) we'd like to ask our readers who really enjoy what we do to subscribe to our next 9 issues over the next 12 months. The cheapest we can afford to do this for is a recurring payment of £3 per month for UK subscribers. If you really start to hate it you can cancel at any time. The same goes for European subscriptions (£6 per month) and the rest of the world (£8 per month).
It's not just a donation – you'll receive a physical copy of our magazine through your door, and some extra perks detailed on our subscribe page. Digital subscriptions are available worldwide for £15 per year. We hope you consider this a good deal and the best way to keep Loud And Quiet in your life without its content, independence or existence suffering.