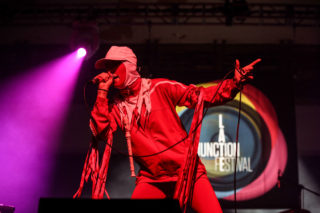 There's no such thing as too weird at the inaugural Late Junction Festival
Untamed sonic dissidence in east London
Towards the end of the first night of the inaugural Late Junction festival – a pair of gigs put on by the late-night Radio 3 programme that's home to the sonically strange and adventurous – a woman dressed like a jester in sportswear, her face obscured bank-robber-style by a pair of red tights stretched hard over her head, begins gadding about the stage playing an entirely unamplified recorder solo. From nowhere, there's a blast of coldly industrial techno, and our performer returns to the mic, augmenting the thump with an operatically virtuosic soprano. The scene is jarring, wild, thrilling, confrontational, outlandish, captivating, and – handily – feels like the Late Junction radio experience made flesh.
The performer in question is Gazelle Twin, whose responses both to Brexit and to pernicious English nostalgia via disquieting pagan grime and manic Maypole choreography cap a programme of boldly outsider music that here basks in its nonconformism. Before her, Hen Ogledd offer an everything-and-the-kitchen-sink approach to freakfolk chamber-pop DIY medieval futurism (as you do), providing equal servings of windswept moor music and bucolic romanticism, wild incantations and righteous headbanging post-punk, and Chaines opens the evening with glitch-addled guitar and flute, all digitally deconstructed underneath impressively looped vocal lines. The sheer pluck of the former is enough to charm a well-oiled, broad-horizoned crowd; by contrast, the latter's slightly aloof persona, somewhat nightmare-by-numbers arrangements and an early stage time all combine to rather stymie their ability to engage.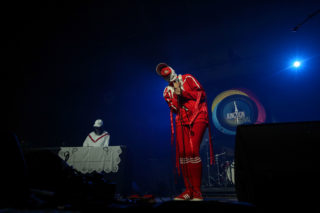 The evening's high point, however, arrives in the form of Pulled By Magnets, the new band of dummer Seb Rochford, saxophonist Pete Wareham and bassist Neil Charles, who resemble a jazz act as they amble on stage, then debunk that appearance over the ensuing 40 minutes: instead, they channel turbid dub, the doom of Swans and Sunn O))), all thunderous and sludgy and despondent drone, and even a little of the agonised prehistoric wail of Godspeed You! Black Emperor, to the extent that the closest sonic relative to Wareham's mid-set solo is that of imagined dinosaur song. The effect is a heavy, heady, downtrodden triumph, full of ritualistic chant and a feral sense of danger.
Indeed, as the evening progresses, that rather untamed, dissident quality emerges as the event's throughline, allowing what is essentially a long gig to justify its billing as a festival, and giving it an identity that trumps those of the individual acts – a sense also helped by the ongoing presence of Late Junction presenters Max Reinhardt and Verity Sharp introducing each group.
EartH's broad, amphitheatre-style seating aids the atmosphere too, and that distinctively festivalesque feeling of an audience exploring the unknown together is so charmingly replicated on a wet Thursday in February that when, at the climax of her set, Gazelle Twin mimes taking a shit beside her DJ – squatting, inspecting, and eventually burying the imaginary turd under the desk with her feet, like a wild cat marking her territory – the response is one of giddy, collective intoxication: gigs in isolation seldom conjure such allure.
Late Junction Festival @ EartH, Hackney, London, Thursday 28 February 2019. Photos by: Tricia Yourkevich. Recordings from the festival will be aired on Late Junction on Tuesday, Wednesday and Thursdays between 5-14 March. 
Please support Loud And Quiet if you can
If you're a fan of what we do, please consider subscribing to L&Q to help fund our support of new musicians and independent labels
You can make a big difference for a few pounds per month, and in return we'll send you our magazines, exclusive flexi discs, and other subscriber bonus bits and pieces
Try for a month and cancel anytime