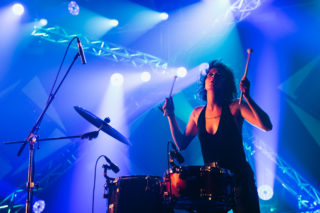 Two golden rules have turned Les Transmusicales into a new music festival that's thrived for 40 years
Camembert and future-pop – served side by side in Rennes
It's been a turbulent few weeks for the French (I know, not exactly tranquil here either). Blockades, originally designed to cause inconvenience protest against rising fuel costs, have mutated into larger, violent urban demonstrations. At recent angry gatherings in Paris cars were set on fire and tourism sites closed. These amorphous 'Yellow Vest' protests have been labeled an "economic catastrophe" by a leading member of the government, and under pressure President Macron has tried to move to calm the situation. People are largely glued to the coverage. And just this past 24-hours news broke of another unthinkable, unprovoked gun attack, in a Christmas market in Strasbourg.
In terms of the protests, that's the socio-political backdrop as the 40th addition of Les Transmusicales (Les Trans for short) took place over the weekend in Rennes. If anything, it seemed to offer those attending a temporary escape from that divisive national conversation. And it was a milestone one, too. As Les Trans enters its fifth decade in existence, it remains one of Europe's most dependable springboards for standout up-and-coming artists, attracting artists and festival-goers from around the world.
Mostly revolving around the cavernous aircraft hanger venues of Rennes' Park Expo, the iconic faces of previous performers plaster the walls of its enormous interior. The festival's illustrious lifespan is embodied by images of Nirvana smashing up their first European stage and Daft Punk before their masks were even a thing (weird). But since its days as just a modest congregation of art students, festival organisers and curators Béatrice Macé and Jean-Louis Brossard have tried to live by two rules only: invite those who are yet to play in France and never book an artist twice. Apart from a few exceptions, they've remained honest and true to their word.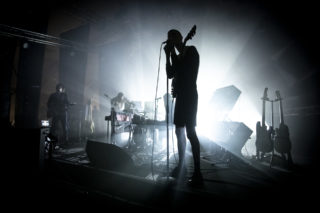 The Park Expo doesn't open its doors until 8pm each evening, so for the meantime, Les Trans is based within the walls of Rennes' more intimate downtown venues. Even for the bill's smaller print names, the festival's daytime appointments are still remarkably busy. With over 60,000 people in attendance, it's no surprise, often you're crammed elbow to elbow inside each tightly packed interior while someone's shoulder digs deep into your sternum.
Inside UBU, it's an awkward layout – you enter at the stage and then are forced to venture back through the oncoming crowd if you hope to find a spot of any remote comfort. Swiss folk duo Cyril Cyril (no prizes for guessing what they're names are) create the ideal intimacy for the occasion. Banjo-laden and bongo heavy, it's just as weird as it is wonderful. Managing to replicate the sound of bird song through a clever use of whistling into a loop station, Cyril Cyril's psychedelic tones manage to emulate the sound of the natural landscape, while somehow making unbearable claustrophobia worthwhile.
This time, with a little more room, I also manage to catch Praa – Rennes' very own newly established poster girl, who I can now confidently informed you is destined to touch the ceiling of stardom. She's almost instantly likeable and boasts a mesmerising stage presence. Her music traverses moody R&B and trip-hop whilst confidently assuring her power as an artist. Through the entire thing, I can't help but think how snug a fit she is with our own listening habits back home. Perhaps it won't be long until she gathers some momentum on the English side of the Channel.
The nightly shuttle bus ride from the centre to the Park Expo is a turbulent trip to say the least. For 15 minutes, my white knuckled, sweaty palms grip the handrail as we hurtle through traffic at what feels like 100mph. The French don't seem to mind though. Every night, I'm treated to choruses of "olé olé olé olé, c'est la Bretagne, c'est la Bretagne!" and it comforts me that the English aren't the only ones who like to mildly embarrass ourselves with an obligatory patriotic (slightly slurred) sing-a-long every once in a while.
Inside the Park Expo, the swanky mood and interior of the food hall is too dignified to be associated with the average festival offering of a kebab van and a bloke selling warm beer out of a backpack. Instead, it's everything that you might expect from the French: Oysters, baked Camembert and glasses of Côtes du Rhône are being sold from distressed wooden crate kiosks. I can almost barely believe my eyes, but you can even opt for a three-course meal, each selection complimented by its own wine pairing. The toilets are spotless too – a true hallmark of a society untouched by the unsanitary horror of Reading and Leeds festival. None of this makes it sterile though, people are definitely still indulging.
Each gaping hanger venue standing adjacent to one another creates a midnight labyrinth for wandering festivalgoers to get lost under and explore. Looking at the programme might gives you some sense of meaningful direction but it's better to just let the night take you. There really is no filter: one minute you're watching Dombrance's almost hilariously obscene Euro-trance, the next it's The Psychotic Monks' brutal chaos. One of fate's most exciting deliveries was the The Underground System. There's eight personnel, all of who span multi-racial origins, who concoct an Afrobeat disco by way of Ron Burgundy's jazz flute. Apart from the red telephone prop brandishing frontwoman, each member sways in hypnotic synchronised motion. It was hard to distinguish whether the cavorting crowd surrounding me were actually familiar with the songs or just as caught up with the drama of it as I was.
Meanwhile, watching French singer Alöise Sauvage was like watching a separate gig from within the walls of the festival itself. Filling this year's spotlight show slot (Benjamin Clementine and Nakhane have done it previously), it's a seated performance even kitted out with its own support act. Trained in contemporary circus performance art, Sauvage lays down a unique style of French hip hop while she literally swings from a suspended microphone. Her eye contact with the audience is piercing and, at times, almost uncomfortable. She likes to talk a lot too – I can't understand but from the reactions of those around me, I know she's funny. Pale legged and chapped lipped, she moves as freely as water across her carpeted performance area, spitting intricately woven bars as she goes.
To glance at one of the weekend's bona fide big hitters, Brooklyn's Bodega (photographed, top) were everything that you'd expect them to be. Easily a contender for 'biggest crowd of the weekend', their trademark Siri imitating introductions ("I use my computer for everything, heaven knows I'm miserable now") rattles the hanger's metallic shell. It's flaunting post-punk with manicured nails, and the huge crowd love it. "I hear you guys aren't paying taxes now?" quips Ben Hozie. With the crowd already in a frenzy of rebellion, they launch into the pulsating 'How Did This Happen?!' – a song relatable to France's current unrest (hell! and ours). It feels essential and timely, something Les Trans has always strived to be. Here's to their fifth decade celebrating new music.
Les Trans, multiple venues, 5-9 December 2018. Photos by: Les Trans / Elodie Le Gall / Nicolas Joubard / Alexis Janicot / Philippe Remond
Loud And Quiet needs your help
The COVID-19 crisis has cut off our advertising revenue stream, which is how we've always funded how we promoted new independent artists.
Now we must ask for your help.
If you enjoy our articles, photography and podcasts, please consider becoming a subscribing member. It works out to just £1 per week, to receive our next 6 issues, our 15-year anniversary zine, access to our digital editions, the L&Q brass pin, exclusive playlists, the L&Q bookmark and loads of other extras.