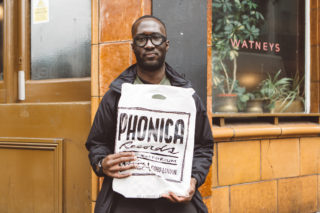 Watch Kwes spend our money at Soho store Phonica for episode 12 of Bands Buy Records
We got schooled in Soho
Record Store Day 2018 is coming this weekend (April 21), where shops all over the country will celebrate what it is to be servicing true music fans all year long.
Soho has more than its fair share of such independent emporiums, including electronic specialists Phonica where we filmed this episode of Bands Buy Records with Kwes, in partnership with ThisIsSoho.
Take a look and you'll see that Kwes knows his stuff – the guy schooled us, giving us something for the £30 we gave him to take up our crate-digging challenge. Last week Kwes release his new EP 'Songs For Midi' via Warp, so check that out next. The track playing here is 'Midori' from the new release.
Free Protomartyr flexi disc with this month's magazine
Subscribers to Loud And Quiet now receive a limited edition flexi disc of a rare track with their copy of the magazine
This month's disc is from Detroit punk band Protomartyr