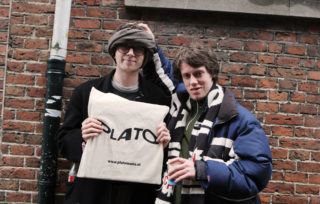 Watch Shame shopping for records when they hadn't been to bed the night before
Can you tell?
Back at the start of the year Shame were in Gronigen, The Netherlands playing a host of shows at Eurosonic Festival. Since that's where all the European bookers go to check out new bands, their shows ended up getting them something like 20 different festival gigs this summer. They also had a really good time.
One morning, singer Charlie Steen and bassist Josh Finerty arrived at Plato Records to film this episode of Bands Buy Records. They'd pretty much come straight from a party they'd been at on a boat with a free bar the night before – that probably explains why Charlie spent the whole thing with a scarf around his head and Josh, carrying a coffee to sooth his fragile head, decided to show us how he dances to Madness at home.
Here's what happened we gave them €25 and asked them to buy a minimum of three records.
Watch past episodes of Bands Buy Records, with the likes of Bobby Gillespie, Yeasayer, Whitney and more.
Filmed by Tim Cochrane.