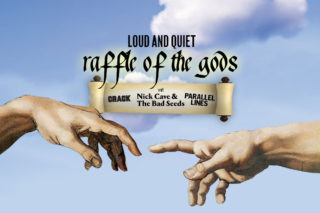 Win signed Nick Cave vinyl in our latest Raffle of the Gods
Plus prizes from ourselves, Crack Magazine and Parallel Lines
Update: this round of ROTG is now closed but will return shortly.
Finally, a ray of sunshine amid the darkness: it's another Raffle of the Gods!
It's the same score as last time: pay £3 to enter, supporting independent music in the process, and be in with a chance of winning a clutch of very nice prizes.
Purchase your (virtual) raffle ticket via the link below. All proceeds will go to a shared kitty for all of our partners, giving us all some vital cash to hopefully be able to resume normal service post-pandemic. We'll pick a winner next week. Good luck!