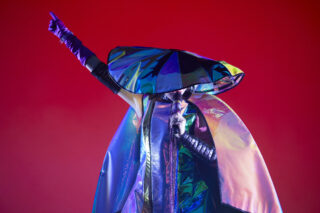 Yeah Yeah Yeahs showcase some huge-sounding new material at their first post-pandemic festival appearance
Wall to wall bangers
Nearly a decade on from their last record – the occasionally striking but often flat Mosquito – it's easy to forget just how thrilling Yeah Yeah Yeahs have been at their best. Tonight at Primavera Sound, their first post-pandemic festival appearance, they seem very keen to jog everyone's memories. It works.
They burst out ten minutes ahead of their allotted stage time as if they just couldn't wait any longer, Karen O clad head to toe in rainbow PVC and practically radioactive with the mischievous joy that made her such a magnetic performer from the start. The hits come thick and fast, with 'Cheated Hearts', 'Pin' and recent comeback single 'Spitting Off The Edge Of The World' dropped early for maximum impact. The band sound as lean and potent as ever, Nick Zinner's landslide guitars colliding with Brian Chase's supple drumming and spinning off over Parc Del Forum like shards of glass. All the while, Karen O's utterly instinctive charisma binds the whole thing together, her untrained croon frequently boiling over into a yowl of pure excitement.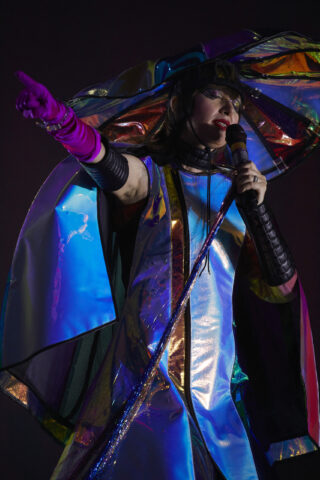 Before long, we're treated to several tracks from from their upcoming record Cool It Down. They sound enormous tonight, rounding up many of the Yeah Yeah Yeahs' most affecting characteristics – no wave ferocity, death-disco rhythm, somersaulting hooks – and blasting them through the lens of a band who sound revitalised with ambition after their long pause. Save for one false start – Karen forgets the lyrics, laughingly fessing up immediately to a crowd who are prepared to cut her as much slack as she needs – the new material is played with bulletproof conviction. This could be the start of an exciting new phase.
From there, they rattle through a near-perfect run of modern art-punk classics, with the likes of 'Maps', 'Y Control' and 'Heads Will Roll' making this panoramic concrete expanse feel like the best kind of sweaty Brooklyn club. A frenetic encore of 'Date With The Night' is the pièce de résistance; it's good to have them back.