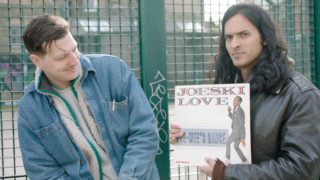 Vinyl shopping with Yeasayer – Bands Buy Records episode 01
Watch Yeasayer take our £25 vinyl challenge
Here's a new video series from us called Bands Buy Records.
It's the simplest of ideas – we give a band £25 to go crate-digging in a record store, come back out and tell us why they've bought what they have.
Rules are boring, but we do have two – bands are asked to spend the whole £25 (not a fiver of it and run off with the rest), and it's not really on to spend the whole budget on one record. That's not really getting into the spirit of the game, is it?
Yeasayer went first and managed to buy half the shop (Flashback Records, Shoreditch).