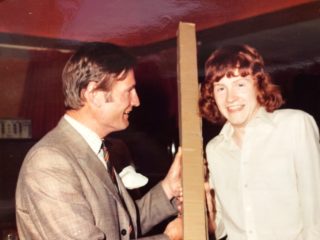 You already know what Steve Davis was doing age sixteen in 1973
And, no, it wasn't making prog techno
I used to play in the working men's club, and I was a really good young player, so the committee decided to present me with a cue case for being good. It was at Plumstead Common Working Men's Club, at the annual dinner and dance upstairs in the function room. My father loved playing snooker, and you had to go to social clubs to find snooker tables back then, and so I followed in his hobby footsteps opposed to any other footsteps.
It was the crappiest cue case you've ever seen. I look really happy though. That's the happiest I've seen myself as a snooker player – I went on to be a really miserable bastard on television.
Going into the club at 16, which is such an adult world, was a breath of fresh air in as much as my father was quite well know, so I was welcomed into the cliquey club of the snooker people. So very quickly I had a bunch of adult friends who looked out for me. There was a different type of humour there, so it was like a dual life between school and the club. It was a way of growing up quicker than sitting around at school with my peers.
As I started to get good and realise that all I wanted to do was play snooker, I was gravitating more towards the club than hanging out with my mates and doing what teenagers would have done. I lost a little bit of those latter teenage years of losing the plot with people who were the same age as you and finding yourself as an adult. I lost out on that in preference of a lone pursuit of trying to become very good at something I was drawn to like a magnet.
My mates at school weren't even aware of what I was doing. My French teacher knew I played snooker because on a Monday morning when we had a French class he'd be going around the classroom asking what people did at the weekend and my pre prepared answer was "J'ai joué au snooker". Everyone was like, "Great one. Good lie, Steve – where did you come up with that one?". I'd say the same thing every week.
My only other interest was music, but snooker became all-consuming. If you're going to be good at something like that it absolutely grabs you by the throat and you don't have any choice in it. I'm surprised I did anything else, but I did manage to go to some gigs, although never a festival – festivals are something I've only started getting into now.
The music I was listening to was prog rock. Everybody knew about Tubular Bells and Genesis and Yes, but I sought out stuff and was a child of John Peel's show and Alan Freeman's. The music I really liked was a band called Gentle Giant, another one called Magma, a Welsh band called Man. And then of course all of the Cantebury jazz rock scene that included Soft Machine, Caravan, Hatfield and the North and Henry Cow.
When you look at this picture of my hair, when I did go to a concert – and I had an afghan coat that I'd wear – I looked quite normal there; a bit stranger in the working men's club.
I certainly wasn't a rebel. I'm now trying to live my life in reverse and be a rebel now, which is much more fun. When I was 16 I was going to bed with a glass of hot milk at ten o'clock so that I could get up early to practice; my aim is now to wake up face down in a puddle at Glastonbury in a heap. And that's the way I want to go out.
As told to: Stuart Stubbs
Read previous Sweet 16 columns with the likes of Wayne Coyne, Adam Green, Carly Rae Jepsen, Riz Ahmed, Johnny Marr, Shirley Manson, Matt Helders and many more. Or listen to our Sweet 16 live podcast series.
Please support Loud And Quiet if you can
If you're a fan of what we do, please consider subscribing to L&Q to help fund our support of new musicians and independent labels
You can make a big difference for a few pounds per month, and in return we'll send you our magazines, exclusive flexi discs, and other subscriber bonus bits and pieces
Try for a month and cancel anytime