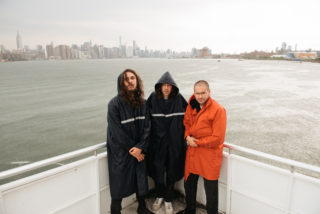 Battle For New York – a weekend spent with Show Me The Body
Everything's bigger in the city of New York. The buildings, the lights, but the gentrification too
New York City has always been dying and excelling at the same time, depending on who you're talking to. For visitors, it's incapable of disappointing. Ever. "One belongs to New York instantly, one belongs to it as much in five minutes as in five years," wrote Tom Wolfe, and he's right. But what about after five years? What if you were born and raised in New York, and some people are, you know? For a lot of those people – average, true, living New Yorkers – it's perpetually worse off than it was. That's the message I get from a weekend spent with native punk trio Show Me The Body, whose debut album, 'Body War', contorts and screams with appropriate fury.
In 1989 it was Lou Reed who felt disenfranchised with the city, then torn apart by the AIDS and crack cocaine epidemics, insufficient funding for local amenities and an out-of-control crime rate. He pumped it into his fifth solo album, 'New York'. "I'll take Manhattan in a garbage bag / With Latin written on it that says 'It's hard to give a shit these days' / Manhattan's sinking like a rock / Into the filthy Hudson, what a shock." Deadpanned by Reed, the level of sarcasm is hard to fully read on 'Romeo Had Juliette', but as he told Rolling Stone in '89, he meant every word of it. Maybe James Murphy did too when he sang: "New York you're safer, but you're wasting my time / Our records all show you're filthy but fine." Like I say, always dying and always excelling.   
Show Me The Body's fight isn't against anything as patently ugly as what New York went through in the 1980s, but neither is it a fashionable comment ran with by LCD Soundsystem. In a town that has grown fast and matured quickly, they've seen gentrification do its familiar work, and they care about its negative impact a lot more than most other 22-year-olds. "The city is dying," singer Julian Cashwan Pratt told The Guardian at the end of last year. "I can't really write love songs currently because the city is changing so hard and it's happening in ways that are really sad. It's displacing a lot of people. Friends and family are threatened with eviction every week."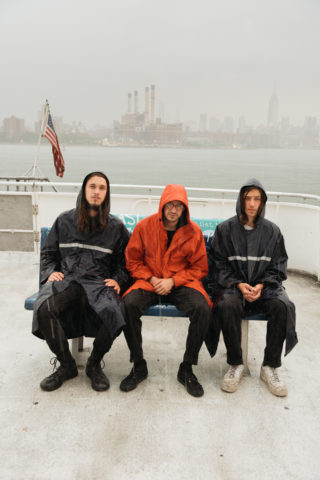 The day after I arrive in New York is Show Me The Body's first show in two months – a lifetime for a hardcore band like this one, who'll tell me: "What we do is play shows. That's the whole damn point." This one is to celebrate the release of their debut album, which they duly gave away via their single page website last week (you can still get it there).
On my first attempt to find it I walk straight past the launch party venue, or 'spot', to use a New York-ism that I'll hear a lot whilst here. It's not in Williamsburg or Bushwick or even the Lower Eastside. It's in China Town, on a street lined with crab tanks in windows and the hot smell of fish and exhaust fumes in the air. On this street there's also a staircase in a doorway that leads up to the Imperial Ballroom Dance Studio. It's a chintzy place, with all-wood floors and mid-red drapes that make it feel like Ving Rhames' place in Pulp Fiction. Owners Irene and Ming have been teaching Latin dance here for 20 years. Tonight, for the first and probably last time, it'll be slam dancing on the panelling, at an all-ages DIY punk show.
A bar is set up on the building's flat roof. Tables and chairs are taken up there, too. A wired, cartoonish roadie named Dennis hauls the PA the band have rented from him up the stairs and begins to assemble it on the floor. Man-with-a-van kind of stuff.
I meet Harlan Steed first – SMTB's bassist and sampler. He's a calmly spoken, polite guy who's just graduated college in Vermont, where he studied architecture and design. Harlan found tonight's show space on Craigslist.
Singer Julian initially seems pretty wary of me – this square looking British reporter who's about to step into a world that is inclusive by it's own definition but one that is extremely protective of itself, also. The less journalists snooping around the better. More than anything, Julian doesn't want himself and his band and his community misrepresented, which I fully understand. It's why Show Me The Body do almost everything themselves. They don't even have a manager to say 'no' on their behalf – they'll say no themselves.
Drummer Noah Cohen-Corbett – the youngest and most relaxed member of band – says a quick hello and takes a seat in the corner. He's cool rather than shy. And there's Gabriel too: Julian's cousin and the band's drummer before Noah, who produced 'Body War' and is still a tight member of this small team. He's done a little acting, also, landing bit parts in The Soprano's and Woody Allen's latest movie. It's Gabriel who asks the ballroom's manager to systematically turn on and off the countless lights and lamps in a million different combinations as he and Julian carefully work out their desired mood of the space. The red drapes have to go. Show Me The Body are the most no-frills band around right now.
As Dennis wrestles with the band's uncontrollable sound (he has to check with Harlan if that piercing feedback coming from his pedal bank is planned [it is], and if that other screech coming for Julian is too [it's not]) the Imperial Ballroom starts to fill early with New York's young hardcore community. Almost everyone who enters appears to be a personal friend of the band's, hugging one or all three members on their way up to the roof. Dennis is losing his mind.
Julian knows "the best spot" for food around the corner, so we slip out as more kids come in off the street to drop ten bucks in the jar by the door. Show Me The Body don't do pre-tickets sales so there's no real way of knowing how many people will be here when we come back, although their last show was shut down by the police after 300 fans burst a 100 capacity room.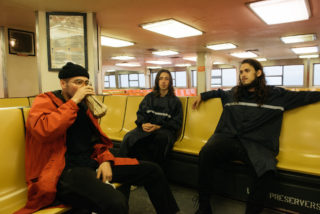 As the five of us (the band, photographer David and me) file into the busy Chinese restaurant a block away, I'm aware of how wrong I've been when I've visited friends who've moved to foreign cities and told others how I lived like a local whilst there. Julian embraces John, the owner, who finds us the last remaining space on a large, communal round table. "We've got these guys in from out of town," Julian tells him, "so we've got to show them all the best places to come to."
Food simply starts to arrive – rather than us ordering from the menu – while it turns out that the younger guys sharing our table are coming to the show. Julian coolly leans over to shake a hand when one of them says hi and how much he's been looking forward to it. "Half of the show is the people that show up," Harlan tells me. "It's not just the band or the music. It's about the people who are there to throw down and get us there."
A large part of that is making sure that the band has somewhere to play, where their friends and fans aren't denied access. A DIY show at the Imperial Ballroom Dance Studio makes that happen, as have the other non-traditional spaces SMTB have performed in, which include the alleyway beside Harlan's house (the band's rehearsal space is in his basement), the Queens Museum and under the Brooklyn-Queens Expressway (or the BQE).
The gentrification of Brooklyn, in particular, is closing down a lot of DIY and experimental spaces. More often than not it's to make way for more luxury condominiums, but in a particularly ironic twist it was Vice Media that closed Glasslands and the non-profit Death By Audio in 2015 when the company bought the repurposed warehouse that housed the two venues. Even more unfortunate was how The New Yorker featured Bushwick venue Palisades on its cover at the end of April 2016 only for it to be shut down by the NYPD a month and a half later due to building code violations. It might be paranoia that leads Julian to tell me "the press kills things" but the assumption isn't totally unfounded in this case, and I can see why I might be conceived as a whistleblower, even inadvertently.
A deal-breaker befalls the remaining venues of NYC – nearly all of them are over 21's only, and it's Show Me The Body's policy to play for people of all ages. "I think our scene is cool because it's both underground and it's for the kids," says Julian. "The crowd isn't inundated with young professionals and shit like that. It's just kids looking to have a good time and party and shit.
"It's an interesting thing," he says, "because in some ways there's mad places to play, you could say. But what are those places? The Mercury Lounge, Baby's All Right – these are places were young professionals can take their girlfriends and get a fancy burger. They're not places for kids – most of them are 21+. When I was a kid I couldn't go to any of the mad shows that I thought looked awesome, because I wasn't old enough, so I would never want to put anyone in that position."
"Part of it's also, why should we have to slot ourselves into those places to begin with?" asks Harlan. "That's the appeal of being an underground band. Why should we have to go to Baby's All Right to put on a show? The crowd can't even get in there. We're not into creating barriers. Maybe that's not the intention that those venues have, but that's what they do. Right now we're more interested in building our own spaces for people to go to. We're looking all over to find good spots to play where everyone can be and not feel like they're shut out."
John comps us one of our rounds of beers as we get the bill. We tip big and leave.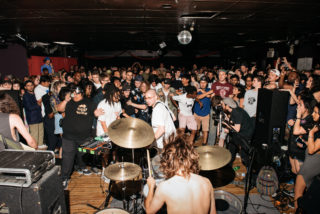 The ballroom is full when we go back, with 300 odd kids split between the roof and inside where supporting DJs play a mix of bass and noise. We'd left Gabriel finessing the lighting situation – seems like he landed on turning them all off, except for a couple of spots that the band brought with them. It makes for intense anticipation as SMTB, the only live band on the bill, pick up their instruments come 1.30am. From out of the darkness kids are itching to go, encroaching the band's floor space even before Julian steps onto a speaker and twists his jaw and retches his tongue above them, bug-eyed and freaky. If the show itself is half as exciting as these tightly wound preceding moments it will still be quite something – a ritual of chaos; a hidden community letting go in what might be America's maddest year yet. And that's exactly what happens.
As SMTB throw down their fierce amalgamation of hardcore, industrial noise and hip-hop, fans clamber to shout Julian's lyrics back into his face. They feel exactly the same as he does about the struggle of New York living, communally stuttering "I go so far I push so hard / Just to live under this monolith" at the top of 'Body War''s title track before it drops into its rolling groove, and screaming, "I think about my city when I think about hell" in the more straight-up punk rock track 'Tight Swat'. "Shit I never asked for / But it's shit I'm down to scrap for!"
From the opening, doomy 'Aspirin', which starts with the kind of metallic grinding that helps make HEALTH such an interesting noise group, Harlan's bass kicks out a low end pummel, accompanied by odd electronic accompaniments that he manipulates from a pedal bank raised on a table top. Julian butts towards and away from the mic between verses. Noah smashes the shit out of his kit. The crowd pushes forward. The band's own space diminishes. It's probably a good thing that it's all over in 20 minutes; with Julian pushing out through the crowd to god knows where. He never comes back.
The party finally winds down at 3am so we drive to the apartment I'm staying at in the East Village to share some beers, a couple of joints and an ice cream cake whilst listening to War. It's 20 blocks away and with a few of the band's friends coming along also there's no way we can all fit in Noah's grandma's space cruiser, which the band tour in and is currently also filled with gear. Still, we give it a good go, with David and I sharing the front passenger seat of what is a pretty small family car. A couple of days later Harlan will tell me how Noah and Julian share the driving on tour, and how when Julian's behind the wheel they always get busted by the cops, but never when it's Noah. "I don't know what it is," he says, "Noah's just got this calmness."
Tessa is one of the band's close friends wedged into the space cruiser. When I ask her what it is about SMTB that she likes, she says: "Show Me The Body are special to me because they awakened me to music I didn't feel I liked. They opened my mind."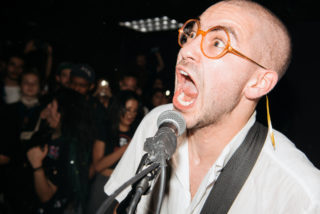 A couple of days after the show Julian texts me an address of where to meet him, Harlan and Noah for lunch, at Doabha Deli at the north end of the Upper West Side known as Manhattan Valley. Columbia University is a block or two away and some of New York's most affluent streets are a short walk in the opposite direction. Manhattan Valley itself is hardly the Bronx in the '80s but it feels like a relatively untouched neighbourhood, void of chain stores and alfresco cafes. It feels clean but authentic. The colloquial term for it, 'White Harlem', sounds about right. When I tell the band that I've never been this far up the island before, Gabriel says: "No one comes up here, that's why we like it." He and Julian live together nearby (they're New York lifers and their family has been in the area for a long time) and Noah, who grew up in the suburbs of Western Massachusetts, is also staying on a couch around the corner, although he seems unsure of where he'll sleep tonight.
Harlan has lived in Long Island City, Queens, his whole life. He met Julian at Elizabeth Irwin High School down in Greenwich Village, a 1920s "progressive commy school" earlier attended by Robert De Niro. The pair clicked over Lightning Bolt and Primus, whose thrash funk influence can be heard in some of SMTB's music. Julian's further introduction to the hardcore community came when volunteering at the Lower Eastside's ABC No Rio social space, which still hosts Saturday matinee punk shows today. The venue also features an art gallery space, a zine library, a darkroom, a silk screening studio and a public computer lab.
The Indian Doabha Deli is perhaps the smallest on the street, where the compact seating area is next door to where the dal is served straight from the guy cooking it. "This is the best spot," Julian assures me – the band eat here at least twice a week; once again the owners greet them like like old friends.
Over our trays of food we discuss Brexit (the referendum result is two days old and still raw), theatre (Julian's brother is a trained dancer currently performing in the hugely successful Punchdrunk production Sleep No More) and Donald Trump, although the latter only briefly before Julian points out that none of us should waste our time and energy talking about him. Indeed, inciting SMTB to slag off a neo liberal maniac like Trump is fish-in-a-barrel conversation. Instead I ask them if the show the other night was a typical one for them.
"We hadn't played in New York for a minute," says Julian. "It's always like that in New York – pretty hyped, pretty fun, pretty violent. I think that show was a little more violent because there was no stage. It was a little bit more like a warzone.
"We play spots like that to get away from the control," he says. "The bouncers. The BQE, we did that show because we had another show the week before and it got shut down before we were able to play because the cops got called, and a homie of ours then passed away that week, and people last saw him at that show, so the BQE show was a way for everyone to come together and not be alone. A lot of people were thinking about it, and that was our way of getting the community together. Like, fuck it – the cops shut down our last show, and they can shut down this show, and the next show, but we all need to be together right now. There's no money involved, or drink and tickets sales, just people coming together."
Directly informing SMTB's strong feelings surrounding community are their stronger feelings surrounding choice – something that Julian seems exasperated by.
"There are a couple of other artists that represent what we do as well," he tells me later, "but you have to make that choice. We have to make that choice every fucking day, at every show – to represent the kids and represent New York in a positive way. You can't just play the shows and hope that happens. We like to make that choice and other people don't.
"People are like, 'oh, you're it right now', or whatever, but buzz bands just get opportunities, and opportunities in life are beautiful things – that's the reason all four of us are sat here right now. We've got an opportunity and you've got an opportunity, you get me? So it's all about which ones do you take and how do you use those opportunities. How do you have the discussion with people before you walk into the room? What do you think about yourself sitting there? How do you feel about the dudes sitting across the table? Be sure it's a good feeling. If it's not, you should probably walk away."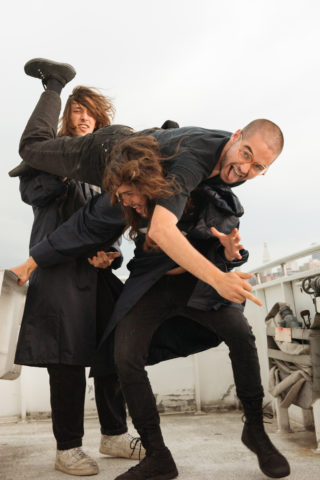 Show Me The Body continue to operate in this way – the three of them unapologetically calling the shots. It's that approach, and the fact that this is their first big feature and shoot, that leaves us in limbo for a couple of hours following lunch. The moment for photographs has arrived and Julian is particularly self conscious of being shot staring into the middle distance like he wants to be in U2, regardless of how much I try to assure him that we don't want to capture the band like that.
We first try a roof overlooking the Hudson, courtesy of a friend of Gabriel's. But after a joint there and a couple of games of X-Box (which none of us are cut out for, especially Gabriel, who I think might have even managed to kill himself in Call Of Duty), the roof is out of bounds to us, so we descend back to street level in the oak elevator. The second idea that we all seem happy with is the band and some police officers, on an ironic tip considering certain tracks on 'Body War' reference police brutality – an issue that the band take as seriously as anybody should. Problem is, Manhattan Valley is hardly crawling with cops, which prompts us to chance our luck walking into a precinct and innocently asking the officers if they'll come outside for a photo. Julian about turns at the door once he remembers what's in his carrier bag; the officers politely decline reasoning that they're understaffed today and sending us in the direction of Central Park – "they'll love you there." So there we are, hunting cops in the middle of New York's greenery, which is a pretty bizarre situation to be in – kinda fun and kinda awkward as the light starts to dwindle and I start to panic. No cops anywhere.
As we schlep south towards the Natural History Museum (Harlan has texted a friend studying there who might be able to sign us in via the staff entrance for unprecedented access – sadly it's another brick wall despite his brave fighting of our corner at the security desk), Harlan tells me about his studies at Vermont, and how he appreciates the band waiting for him to graduate, "because at one point it really did look like I'd only be able to do one or the other."
"Fuck it – the cops shut down our last show, and they can shut down this show, and the next show"
His father, who was at the Imperial Ballroom show with Harlan's brother, is a builder who studied visual art at prestigious NY music and art school LaGuardia.
"I'm more interested in the use of space," he says, "which is what the other night was about. I'm not interested in destroying buildings, I'm interested in saving them, and I'd rather use what I studied within the band."
He points out that SMTB apply the study of space to their music also – the dynamics of 'Body War' prove him right. Because for SMTB's fierce live show, strong anti-capitalist beliefs and anger at their unforgiving city, their music is far from mindless where even the most vital of hardcore bands often thrash at one pace. 'Body War' is a mix of Death Grips style noise, industrial punk, early Beastie Boys staccato vocals, hip-hop, sludge rock and drone. Harlan's bass always grooves but at different speeds and fuzz settings, from the quick scuzz of 'Tight Swat' to the much slower padding of the trippy 'Death Sounds 2'. On 'Chrome Exposed' it makes a weird forever ascending buzz; on 'Aspirin' it's the track's heartbeat that's both doomy and mechanical. Julian wires a banjo rather than a guitar through his amp for an unconventional grating noise that at first seems as though it might be completely electronic. In turn he raps, sings and screams his abstract lyrics. Just when you think you've got that one element sussed out he delivers 'Metallic Taste', a lullaby that is more like King Krule than anything else. Or the ambient spoken word 'Honesty Hour', on which his traumatised vocals crow "a response to music culture and hardcore culture, and taking it back to what I think it should be about, which isn't about what is 'proper hardcore' or the toughest shit you can do, but what's the realest shit you can do." You will have definitely heard some of the band's elements before, but never jammed together quite like this. 'Body War' is one of the most exciting experimental punk records in years.
We finally find a couple of cops down in the subway by Columbus Circle, which is at the complete opposite end of the park from where we started looking. In the interim we also rule out a photo at John Lennon's Dakota Building, smoking weed in a deli and a shot outside Trump Tower. Photographer David meets the band a few weeks later for a much more fruitful ride on the Staten Island Ferry… in the rain.
It's getting darker as we sit in the bottom corner of the park beside one of the city's two malls, full of designer shops that are so far removed from everything Show Me The Body represent they appear to mocking them. "No one's trying to reinvigorate community," says Julian, dejected, "they're just trying to push something. New York's all being sold."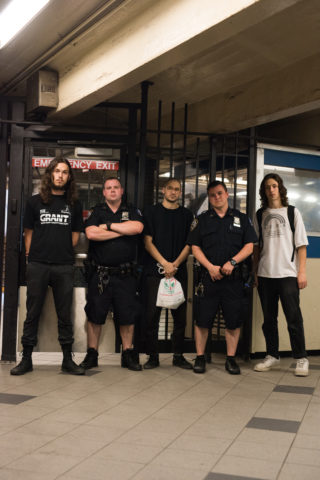 But this is still one of the greatest cities in the world, I say, admittedly as a tourist about to return home to his own great city that faces so many of New York's problems with gentrification. It's easy for me to say that, but seeing how much SMTB care about this place, I find it hard to believe that they don't still think that too, deep down. "It's shit I'm down to scrap for!"
"Sometimes I believe it," says Julian. "It's nice to hear you say that, but it's hard, man, to see everyone you know go through struggle to keep living. And everybody who doesn't know you are going through their own shit, but more than that, the powers that be in the city are trying to end you. That's how it feels sometimes. But it's good, too, because a lot of people say that New York is dead because it's being bought up, but that's not cool, because if you have that mindset you're not part of the solution. The city is brewing and a lot of anger is happening, and people are trying to find things and kids are trying to make things. That's something I'm super excited for, but it's not being talked about."
They say that people who move to New York do so to get away from their families and people from New York stay because of them. That's how SMTB feel to me, who extend that loyalty to the young people of the city that support them.
"People think we're nihilists because a lot of punk and hardcore does cop out," says Julian. "It's just like, 'fuck this, fuck that'. 'We're against this!' That's totally cool, but what are you trying to build? What are you trying to facilitate? When people come to your shows, is the object just for people to wreck the venue? Or are you going to church? You understand what I'm sayin'? I wanna go to temple.
Loud And Quiet needs your help
The COVID-19 crisis has cut off our advertising revenue stream, which is how we've always funded how we promoted new independent artists.
Now we must ask for your help.
If you enjoy our articles, photography and podcasts, please consider becoming a subscribing member. It works out to just £1 per week, to receive our next 6 issues, our 15-year anniversary zine, access to our digital editions, the L&Q brass pin, exclusive playlists, the L&Q bookmark and loads of other extras.