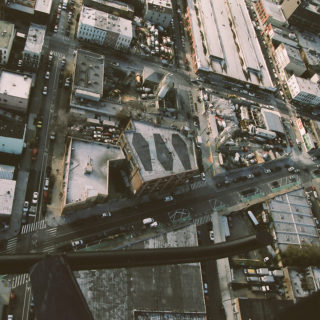 Show Me The Body
Dog Whistle
8/10
These Turbulent Political Times™ eh? At least they inspire some zeitgeisty art. That's the line that's been trotted out to a tiresome extent over the past few years. The very notion of that reddens the faces of hardcore band Show Me The Body; the suggestion that somehow they might be co-opting the fury around Trump and societal angst at large in the U.S.A. and turning it into a timely statement that might pick up some fans. "A lot of people have said to us this is the perfect time to make a punk record," says banjo-wielding frontman Julian Cashwan Pratt, "we are disgusted by this prompt."
Show Me The Body have, for the past decade (they formed as young teenagers), consistently conducted their ire at a far more local level. When we spent the weekend with them in their native New York three years ago – note, this means Manhattan – the prevailing narrative was that of gentrification, it's denigration of community and their spirited fight to not roll over, surrender and knock back an overpriced pint of craft ale. Subsequently their debut album Body War was a blistering statement – ironically a release that made New York's "scene" sound truly alive given that it was a protest against the developers's bid to flatten that vibrancy and build a shiny new block of penthouses. Shortly after the Corpus I mixtape showed the likes of Moor Mother, Denzel Curry and Princess Nokia were in step with their searing vision, too.
Dog Whistle is a continuation of their mission, written in Long Island but recorded in Los Angeles. And while the production ensures the edges are somewhat smoother that doesn't serve to extract their potent sting but simply to make it a smidgeon more digestible. And frankly, the songs are just better. 'Madonna Rocket' is a rush – maybe the best thing SMTB have produced; certainly the most accessible. You can't image the studio mic didn't end doused in spit after hearing the intensity of Pratt's delivery on 'Not For Love', while 'Badge Grabber' is a callback to the electronic-punk that made Atari Teenage Riot so compelling. Meanwhile, the toughened feel of 'Drought' is more reminiscent of the generator shows where SMTB would turn up, plug in and play in the street. Dog Whistle ends with a curtain of zig-zagging distortion on 'USA Lullaby'. It's fucking brutal, the sound of a band continuing to build something important and special.
Loud And Quiet could do with your help
We love making Loud And Quiet – our magazines, this website, our podcasts and more – but it's become increasingly difficult for us to balance the books.
If you're a reader who'd like to help us keep the show on the road, please consider becoming a Loud And Quiet member. There are options to receive our physical magazines and lots of other extras that are exclusive to our supporters.