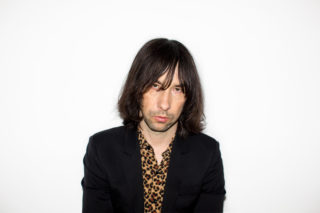 Tell Me About It: Primal Scream are still trying to write hit singles, as the world's last rock and roll band
"I'm not fucking sitting down behind a table." These are the first words I hear leaving Bobby Gillespie's mouth as I walk into a Bethnal Green photographer's studio. While he eventually agrees to the photographer's set-up, it's an auspicious introduction to the still-intimidating, rail-thin Gillespie. Three decades after leaving his post as The Jesus and Mary Chain's drummer to go full-time with Primal Scream, the frontman still cuts a daunting figure.
We're here to discuss the eleventh Primal's record, 'Chaosmosis'. A band of many styles, sounds and haircuts, the Primal Scream of 2016 has mutated into something of an elegiac synthpop act. It's arguably their most cohesive, consistent, engaging LP since 'XTRMNTR', switching that album's bludgeoning electro-paranoia with more gently insidious. 'Golden Rope', with a menacingly anthemic chorus and what Gillespie calls an "ominous, dark, apocalyptic" finale, is a particular highlight. When I tell the frontman that he might have just written his 'Gimme Shelter', he breaks into a boyish Cheshire cat grin that threatens to swallow his entire face. "Oh really? I love you! Your cheque's in the post."
More pressingly, though, the usually-wired Glaswegian is coming over a little drained when we start talking. Not a fan of doing press, then? "No, I like interviews. I just woke up really early – about half four. I don't usually remember having nightmares, but I woke up after having a weird cinematic fucking visual dream and couldn't get back to sleep."
"But my brain's OK," he assures me. "I'm super alert."
"Our manager made a remark along the lines of 'I think you guys should try and write some singles.'"
'More Light' was a 70-minute double album, with nine-minute songs – we definitely didn't want to do that again. Sometimes you need a bit of direction. Like when Andy Warhol said to Lou Reed, 'Why don't you write a song with the title 'Vicious'?' And Lou Reed said, ''Vicious'?' And Andy Warhol said, 'Yeah, 'Vicious'. Hit me with a flower.'
We wrote and recorded the last album in parallel with rehearsing for the 'Screamadelica' anniversary tour, so we put a few years of solid work in. We felt really up at the end of that tour, so the first week of January 2014, we went back into the studio and started writing 'Chaosmosis'. Sometimes we can go weeks and weeks without a good idea. This time, the good ideas came in the first week. I think 'Where The Light Gets In' was written on the 8th of January, 'Trippin' On Your Love' came pretty closely after that. So it was fruitful. It's normally a little bit more drawn out. It was happening.
"No one puts everything into just making a classic single. We still do."
We're kids of glam rock, we were teenagers during punk, so we grew up on hit singles. My favourite album by The Who is 'Meaty, Beaty, Big And Bouncy'. For us, it's a very important thing to come back with a really great single – it means you're still creatively or aesthetically relevant. Whether we're commercially relevant, I don't know, but I would love it if it was a hit, because you fuckin' penetrate the culture.
When we had a hit single with 'Loaded' we were in the charts for weeks, and we went from being unemployed to being on a wage as musicians and being able to build a studio. It gave us the confidence to write 'Screamadelica', but we had to follow it up – next song, next song! If you listen to the Terry Farley mix of 'Come Together', it's got a gospel choir, strings – we were really trying to make this classic, epic, pop record. People put that much effort into an album, and we were putting it into a single.
Everybody just makes cool interesting albums now, but there's no big songs. We knew 'Where The Light Gets In' was a great, great song. I saw Noel Gallagher at the end of last year, and he said, 'Best chorus you've written in years.' I took that as a compliment, because he's a guy that spends his days trying to write big choruses. So, good one. Thanks Noel.
"That's the idea of 'Chaosmosis' – to make something beautiful out of the chaos."
I came across the word 'chaosmosis' while reading a book by a writer I really admire called Franco 'Bifo' Berardi – an Italian post-Marxist, workerist anarchist academic writer. A lot of the time with cultural theory books, they're talking to other academics or kids who are at uni. I love Berardi because he's actually a good writer, and he makes it easy for people like me and my friends to understand – he's aware that he's trying to widen peoples' consciousness. The book's called 'Heroes', and it's about how we're living in an age of mass suicide and depression, which he links directly to the effects of financial capitalism.
Berardi was quoting Guattari, who said that in the future there's going to be a 'miasma of fog', and it's never going to go away. People are going to have to try and live through it otherwise they're going to be suffocated. And one way of doing this is to make 'chaoids', which I guess would be works of art that would give you some kind of strength or affirmation. And Berardi said that when he was writing his book, he was trying to make a chaoid.
I guess what he's saying is you've got this overload of information which is impossible to decode. Apart from the existential fucking blues of everyday life, you get the confusion of the infosphere, and images and radio messages and voices – just a constant barrage of sound and information. And I guess as an artist you try and absorb it, but you don't keep it in your system, because it will psychically poison you. But you can try and make an artwork out of it, which makes, maybe not sense, but something beautiful out of the chaotic information that you're being assaulted with, and has entered your consciousness and your body. Because I think you take this stuff physically. If you're a sensitive person, that stuff definitely lodges in your psyche, and it affects you. It affects me.
And Berardi's going to interview me tomorrow for an Italian arts magazine. It's fucking beyond amazing. The way he described chaosmosis, I thought we could apply that to our music, and our album. I think we've made a chaoid. So that was that. That's what I take it to mean, anyway. I might meet Berardi tomorrow and he's like, 'You've got it all wrong, baby.'
"It's very rare to hear real rock and roll anymore."
We're one of the last bands who can actually do it, and it's a fucking fact. And I know that when we play 'Rocks', people go fucking nuts, because people go nuts when they hear real rock and roll. It really is the music of the people. It really does generate a strong, powerful emotion in people when it's done right. Same with 'Country Girl' – another one people go fucking nuts for. But when we play 'Rocks'…bang!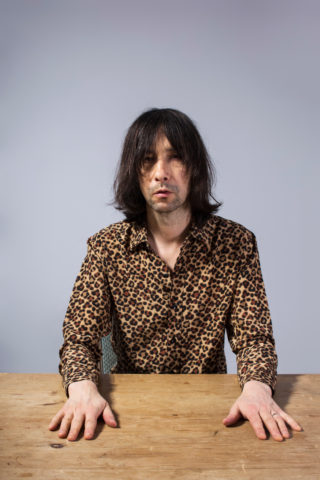 "I'm not saying I know a lot about music. Everybody thinks I do, but I don't."
Have you heard 'Jesamine' by The Casuals? It's a big sixties pop song, and if you hear that and forget about the words, the melody is pure Bowie. It's like 'Starman'. I think all the really good artists – like the Stones, Bowie – they synthesised their influences and made all the great records we love. I think when you're younger, music touches you in a certain way – you never forget that, and you never let go of it, and you always try and – not so much replicate it, but get that feeling in your own music. It's a language you try and learn and use.
But we've been going for so long now that our records aren't what we listen to anymore, they're just what we make. It's just pure Primal Scream music. The title '100% or Nothing' came to me, and I just thought it was a great title for a soul song. "The antidepressants don't antidepress" – that's my favourite line; it's mocking. That's aimed at somebody.
This record's got a lot of soul on it – '100% or Nothing', 'I Can Change' – all black American sixties/seventies soul, me singing in a falsetto voice trying to sound like a black guy. It's a dream of mine, to be like one of those black harmony bands like the Stylistics or the Delfonics. To sing like those guys would be beautiful.
"Sky Ferreira is a hard act to follow."
'Everything Is Embarrassing' is just so soulful, and it sounded to me like she was wounded – there was a real hurt to her voice. So I thought she'd be perfect to represent and carry that lyric in 'Where the Light Gets In'. We're like movie directors, and we're casting the right actors for the part – that's all we're doing here. Sky never had a hit in Britain, I don't even think she had a big hit in America. She's well known, but it's cult pop. We had a relationship with Sky because we were writing songs with her for her album – I don't know what's going to happen with that. The lady is unique. She's a really amazing singer, and an amazing presence. I would love it if she came on tour with us [laughs] SKY! But we're still trying to work that one out.
"How many records do you hear where you really believe the singer?"
I don't hear that many. Even the ones that I love – old seventies and sixties soul songs – you listen to them, and they sound like they're really bleeding. But they just turned up at the studio with a sheet of lyrics, and they sang it, got $100 and split, and got fuckin' fucked up, wasted somewhere with some chicks. It was just like another job to them – so they were good actors or actresses. But we don't care, do we? As long as it turns us on.
The other thing is that people want authenticity. It seems to be that they need to believe that someone is bleeding for them. But sometimes I love that as well – sometimes I love the artifice. I think it's all valuable, it's all relevant. I mean, like Roxy Music – people would say it was all artifice, but Bryan Ferry is really fucking soulful. He managed to hide it with a kind of ironic distance – the way he dressed it up with his image and his humour, but there's really moments of pain in there. I guess he did that to protect himself.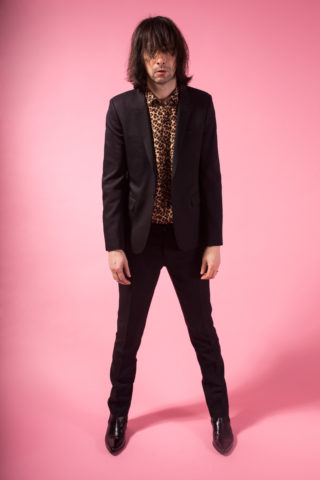 "The best stuff that we ever do is always personal"
They're all personal records, some more than others. A lot of 'More Light' is very personal – everybody always says it's political because it's very – not didactic, but… [opens and closes his hands, chatterbox style]. The two best songs on 'More Light' are pretty personal. I'm not gonna say what they are [laughs]. And 'Walkin' With The Beast' – I forgot about that one. That's a real song. That song was written after seeing someone that I really love in trouble, but there's a lot of me in there as well. Lots of our songs are empathetic songs; they're painful, sad songs – death, people suffering. Am I allowed to say that? One day, I'd love to do a real strung-out, psychedelic country record.
"The first Stooges album basically is The Troggs"
The 'Sunday Morning Coming Down' compilation is very personal too. The Evie Sands song on there ['Anyway That You Want Me'], you know who wrote that? Chip Taylor, the same guy who wrote 'Wild Thing'. If you listen to the chorus, [sings riff] he can only write one song! He wrote 'I Want You' by The Troggs, which The Stooges nicked for 'Real Cool Time'. Listen to the Troggs, then go and listen to the Stooges – it's a bubblegum pop album, not a punk album. Iggy was just too smart to stick with it. Yeah, the Troggs – I think they must have been big in Detroit. When they were really primitive, they were really great. Fucking cool band, man.
"We had no connection to the other C86 bands – we just happened to be on the same compilation!"
I know a lot of people your age that still like it. Sky Ferreira texted me two years ago and she was like 'I'm watching Slowdive, they're amazing.' It's really interesting the way that stuff's influential now. The way we looked back to the 13th Floor Elevators and The Chocolate Watch Band when we were 22, 23 – kids seem to be doing the same with C86 or shoegaze. It's quite mad.
Everybody says this, but we never really felt part of a scene. The bands that we liked were Felt, and The Loft, and I was friends with Stephen from the Pastels. We never played with any of those other bands. I don't even know who else was on that fucking compilation! I know that we were track one, because the NME got behind that, and they created a scene.
But I love 'Velocity Girl'. About a year and a half ago, I was sitting with my acoustic guitar, and I worked out 'All Fall Down', 'Gentle Tuesday', 'Imperial', 'Velocity Girl' and 'May the Sun Shine Bright for You' from the 'Sonic Flower Groove' album. Y'know, these are the first songs we wrote. 'Gentle Tuesday' is fucking beautiful, I love that song. Andrew wants us to play 'Imperial' on this tour.
"We promoted Sonic Youth's very first Scottish gig. We gave them £500."
I was part of a collective who ran a club called Splash One in Glasgow. The bands that we promoted were Felt, Jasmine Minks, The Pastels and the Shop Assistants. The Mary Chain played – not at our club, but at the place where we had our club. Jim Reid's friend basically nicked our idea and did a poster like ours, so I had to play the gig at the bootleg club. We did it every couple of months on a Sunday night, and we DJ'd using cassette tapes. We'd make a playlist and put that on, because everybody was, I don't want to say anal, but nobody wanted to take their records out and get them fucked up. That's real record collector stuff.
"We had kinship with the Mary Chain, obviously."
Because I was a link between the two bands. And I would get Alan McGee's record sleeves printed – they were like A3, you folded them yourself. I knew a guy who had a printing machine in his garage, so Alan would bring up the artwork. That's how I met Stephen Pastel – he gave me his artwork for 'Something Going On'. Then people would sit with McGee and fold sleeves in his back room in Tottenham. And then we'd sleep on the mattress on the floor, three to a bed – all of the Mary Chain. Glamorous. New Sex Pistols, eh?
We're not being funny...
… but can you become a member please?
It's actually excellent value, and will help us continue to promote new independent artists and labels.
Sign up and you'll receive our physical magazines delivered to your door, our digital editions, exclusive podcasts and playlists and an actual bookmark, as if printing a magazine in 2021 wasn't old fashioned enough.
6-month and full year memberships are available now. Fancy it?