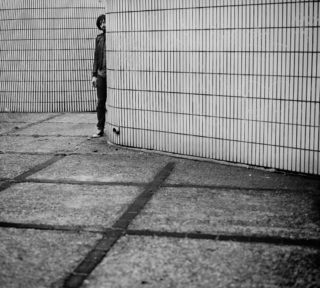 Erol Alkan – the man who changed the face of indie clubbing – still refuses to welcome celebrity over his compulsion to create
No celebrity DJ
The man who keeps kids dancing is showing me his favourite toys. "There's only 100 of these in the world," he says, flicking to the next picture of a rare vintage synth on his iPhone. "I bought two, and gave the other one to Soulwax". It's clear Erol Alkan was raised to share and share alike – it's that youthful enthusiasm that has earned him lots of friends to play and share his toys with. And that enthusiasm hasn't dimmed since he started sneaking out of his parent's house to DJ at clubs as a teenager, nor has it diminished over the course of ten years of his Trash club night. It's what's seen him produce albums by the Long Blondes, Mystery Jets and Late of the Pier, be named the world's best DJ by the world's leading dance magazine, and found his own label, Phantasy Records. As the t-shirt says, 'E.R.O.L. keeps kids dancing' – and that compulsion to do so remains intact, despite the plaudits and myriad offers to sell-out that will (and have) come his way.
Paul Van Dyk, Erol Alkan, Armin Van Buuren, Tiesto – it's not hard to spot the odd one out. The list of winners of Mixmag's DJ of the Year award mostly testifies to the enduring global appeal of stadium trance, except for in 2006 when the DJ in charge of indie's most exciting club night took the accolade. Despite all of the above being amongst the most in-demand DJs in the world, there's very little common ground between them. Whilst the kings of trance play ever-bigger shows and release track after track of the same cookie-cutter productions, Alkan is busy getting DJ bookings under his new Disco 3000 guise: a shift away from the indie-electro that he has become synonymous with, to share his love for the strains of – as he puts it – dance music's DNA: disco, italo, old school house and funk-influenced sounds from 30+ years of kids dancing.
It's not what DJs are supposed to do when they hit the big time. Right now Erol should be headlining his own Trash festivals, playing the same Soulwax remixes and Tiga bangers that made Trash one of the world's most talked about club nights. He should be raking in massive amounts of money for producing the next Killers album, or churning out remixes for the likes of Girls Aloud and Mika. After all, Alkan is a big fan of Girls Aloud. So why has he decided to take a break from producing bands immediately after helping make one of the decade's most brilliant indie albums? Why is he not churning out the remixes and instead deciding to collaborate with his friend Alex Ridha (aka Boys Noize) to release a double A-side single which doesn't even have guest vocals from Jamie T?
Let's start with the new single – 'Death Suite/Waves': two very different tracks that Alkan and Sidha originally conceived as DJ battle weapons for their sets, until the reaction from DJ's they passed the track to convinced them to release them on Sidha's Boys Noize Records. Despite the success the two artists have achieved, neither track is a big electro anthem for the masses. 'Waves' is a Balearic-tinged effort that will fit snugly into the sets of any number of nu-disco DJ's, while 'Death Suite' is uncompromising, almost disorientating, techno. Neither track features vocals, or samples or huge hands in the air breakdowns. It's not what many expected Alkan to do next, so how did it come about?
"I've known of Alex for a long time, since he was Kid Alex when he was making strange pop music," explains Erol, putting the iPhone down. "I was obviously aware of him morphing from Kid Alex into Boys Noize, and through picking up the records he was putting out and sending me. It's like with any of the friendships that I've had with people in this scene that I'm a part of – first you become a fan of their music, then a friendship develops, and from there it just turns into whatever it is when you're in sync with people. I was one of the first to book Boys Noize in the UK, when I did a party at Bugged Out! where I programmed the line-up. The next day he came round to my house, we hung out and he played me a load of his album he was making, and an early version of his Feist remix.
"It was about a year and a half ago, Alex said that he was going to be in London and did I want make some music and see what happens? You always kind of agree to these things to work with other producers, but the great thing about duos is that there's usually one person who is an ideas person and one person who is technical. Not to blow our own trumpets but in ourselves me and Alex are both those two people in a sense – the dynamic of being a solo artist is knowing what you're gonna do and how you're gonna do it. When you've got two people in a room who do both things, both constantly fighting over the keyboard or computer trying to lay a part down, it's quite a fragile environment – it's one that you have to accommodate the other person as much as you want to be accommodated. But with Alex it's totally natural – it's actually having fun, there's certainly no ego. That's why it wasn't 'Erol Alkan vs Boyz Noize' – I really hate the whole notion of it being a 'versus' thing, of 'battling'. It was all just very natural – we made 'Death Suite' in 4 hours. And in that time the computer had crashed and we'd lost everything and we had to go back and rebuild it! 'Waves' took a bit longer 'cos it kept changing so much. I think there were about 22 different drafts to it; we wanted to do something that was more sublime than people would expect."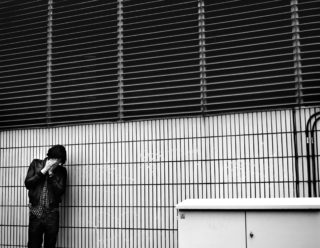 Mission accomplished there. As the man that allowed Late of The Pier to reach the cosmic heights they were stretching for, ask anyone what they'd expected Alkan's first double 'A' side to sound like and most would have said words to the effect of, "A good Filthy Dukes", which translates as a commercially viable indie/dance hit from Radio 1. Clearly, neither 'Waves' nor 'Death Suite' are that (Zane Lowe has played the former on his show but it's certainly not for Fearne & Reggie's audience), and there's more to come.
"We've got about 10 unfinished tracks that we're working on together," confirms Erol. "I think it's only fair when you work in that collaborative sense that there are two people in the room when you finish it. That whole thing of doing a mix and sending it to the other person, them checking it and writing notes and stuff, that takes ages. The one thing I want to do when I make records is have two very distinctly different pieces of music on either side. If 'Waves' or 'Death Suite' had come out on their own, I would have felt it wasn't complete without something juxtaposed to it. If people think 'Why's he making such hard music?', on the other side there's something that's still very soft. It's the same thing I did with the Bugged Out! / Bugged In! CD – It couldn't be two bangers, or two Balearic tracks, I need to have the other side to express myself.
"At any one given time there's a lot of amazing music out there, but for the kind of stuff that we were playing or wanting to play, there hasn't been that much. At the same time, there's some incredible stuff happening in the dubstep and dancehall side of things; you can hear really inventive great records out there. But I'm never gonna turn into a dubstep DJ overnight, so if there's a hole in your set then make the records to fill that hole. That's how it began, we were playing them and people were asking what they were. Whatever it is, it kind of fits but it's still quite out of step. 'Death Suite' is extremely uncompromising, but it's not relentless and mindless. There's a lot in there – it's almost like a sheep in wolf's clothing."
Among the fans of the single have been the Chemical Brothers, for whom 'Death Suite' has been a big track in recent DJ sets, and in many ways is reminiscent of some of Tom & Ed's own Electronic Battle Weapons. As a multi-million selling dance act, they made their name with music that was, on the surface, quite in your face, but there was a lot of subtleties to it – perhaps that's why they've been big fans of the track?
"The reason Chemical Brothers (and Daft Punk) have had the success they've had is through their subtlety, their detail – it's not mindless. Not to dismiss the current scene, but there is stuff that has got a bit too hard and a bit too mindless – if we're not careful we're only a few steps from Hard House or stuff like that. Let's bring some funk back, let's not just bang our heads on walls!"
Does that tie into doing Disco 3000 sets (of which Erol has just put out a podcast on dance website Resident Advisor)? Is that a deliberate attempt to bring some funk back to the scene?
"My love of disco runs right back into my childhood," says Erol without need for a pause. "I've been collecting those records for a long time. It wasn't just to get that swing and that funk back into people's ears – that was part of it, but that was also aimed at the people who visit my website and forum and stuff, to illustrate that the music that they love now, the music of the Ed Banger scene and what we're all inspired by, much of its roots lay in that end of disco music; not disco as such, but that strange, dark, satanic club music. It's something people can listen to and pinpoint inspirations for stuff they like now. I do feel that as a DJ it's kind of my job. If all these people are willing to listen to what you've got to say, instead of just playing all the latest tracks in a DJ set, challenge them a little bit. 'Check this music out, this isn't what you might normally listen to but it's great music that we're all inspired by'. It's exciting for me not to keep doing the same thing over and over again. I feel that if I just sat about and listened to dance music all day, I'd lose a bit of my soul. I can't exist just doing what 85 of the top 100 DJ's do every week.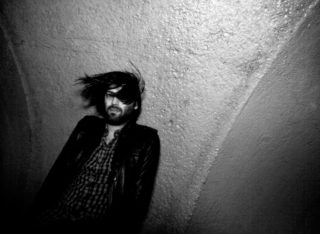 "I do feel DJing is a constant challenge. The moment you rest on your laurels, it's over. I have to keep challenging myself in what I do. Even to the point when you're gonna end up pissing off your fanbase a little bit. I genuinely need to put forward what I find exciting; I don't think your audience should limit you. When Mixmag named me Best DJ in the World, I was chuffed! But what do you do? You don't go and produce a Mystery Jets album after that, you get a manager and you set up a massive tour around the world for the next 18 months… I went and made a Mystery Jets album. That's me though, that was fun! They'd ask me what it was like to be the 'Best DJ in the World', and I'm playing the acoustic guitar trying to work out a part! All my favourite people haven't done just one thing. The people who I look up to as DJ's, someone like Andy Weatherall; I love the fact he's going out playing rock'n'roll records to 50 people in the back room of some place – it's inspiring. We're slaves to the music we love. There's always that element where people are standing there waiting for you to do something – I've come from a background of indie clubs, where now you'd be lucky to get out of there without getting beaten up for not playing a certain request! One of the driving forces behind Trash was for people to accept alternative clubbing in the same vein as they did in the dance clubs. Back then when you looked through the pages of the NME you looked at the club guide and it was all dance clubs, but Trash was embracing all different kinds of music, and being something that encouraged people to treat Monday night like a Saturday night."
Once again, Erol has ignored what's expected of him. Before, he chose producing Mystery Jets over living up to his DJ award, now, after his third album as producer (on Late of the Pier's brilliant 'Fantasy Black Channel'), he is apparently reluctant to take on another. Was there a feeling of not being able to top that record?
"It was more a case of having said everything I'd wanted to say right now as a producer – I wanted to get back to my own stuff and make the music I want to make and DJing. I didn't want to step onto a treadmill with production. I was getting a lot of offers to work with similar bands, but I wanted to create other opportunities for myself. Maybe in 5 years time I'll want to do more production, when I can learn again. It was a great adventure, but by the end of the Late of the Pier album I felt like 'OK, I know what I'm doing now'. But when I get that feeling I feel like I want to unravel something else. It's like when I was remixing, they'd always sound different – no two remixes back-to-back sound the same, 'cos I was always trying to find something new to explore. I'm just trying not to bore myself."
Being given such high profile remixes when you were still quite inexperienced at production, was that kind of like growing up in public?
"Totally. I was always thinking 'what's the strangest thing that could happen in this track right now?' And then integrate that into it."
In its own way, that's what sums up Erol Alkan's career path – he could just play the game, but why do that when you can have much more fun pulling the rug from under people's feet and do the opposite of what a big name DJ is supposed to. He cites outsider music, by the likes of Daniel Johnston, as a big influence – artists who aren't technically proficient musically but can make some of the strangest, most beautiful music through their sheer compulsion to do it in the way that makes sense to them. This might explain why, instead of signing the next Boys Noize to his Phantasy label, he's signing a Brazilian bedroom artist by the name of Babe, Terror who makes ethereal electronic music solely from distorted recordings of his own voice. He continues to push his Disco 3000 project, with the aforementioned Resident Advisor podcast, and as well as a Beyond The Wizard's Sleeve debut album, he's working on a couple more tracks with Late of the Pier's new single in mind – including a new track so mental it apparently makes previous single 'Focker' sound like a wet ballad by Snow Patrol.
Who knows what he'll end up doing after all that: E.R.O.L. Keeps kids on their toes.
Loud And Quiet needs your help
The COVID-19 crisis has cut off our advertising revenue stream, which is how we've always funded how we promoted new independent artists.
Now we must ask for your help.
If you enjoy our articles, photography and podcasts, please consider becoming a subscribing member. It works out to just £1 per week, to receive our next 6 issues, our 15-year anniversary zine, access to our digital editions, the L&Q brass pin, exclusive playlists, the L&Q bookmark and loads of other extras.