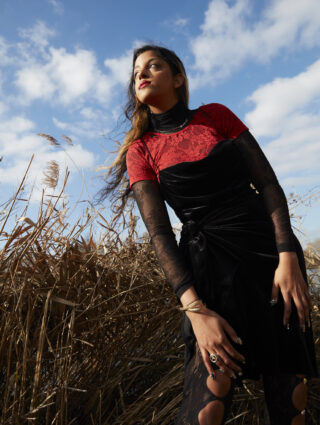 Fran Lobo: "I like challenging what you think a song should be"
Topping up the good juice
On a cold February night at Servant Jazz Quarters, an intimate venue just off Dalston's Kingsland Road, fans and friends pack into the low-ceilinged basement in anticipation of Fran Lobo's first London headline show since 2018. Flanked by an all-star band of collaborators including Marc Pell, Laura Groves, Lucinda Chua, Amy Fitzdoyley, Jemma Freeman, CJ Calderwood, Aga Ujma, Pascal Bideau and Coby Sey, Lobo alternates between her seat at the piano and the front of the stage, where she bounces around and runs into the crowd, staring audience members down as she sings – equal parts R&B star and punk frontwoman. 
The gig comes days after she released 'All I Want', Lobo's first single since 2021 and her first through new label Heavenly. "I hadn't released music in a little while, and the headspace of putting a single out and then all the rehearsals, it was quite intense leading up to it," the North London based musician tells me when we meet for tea at The Standard hotel a few days later. "But the love of my friends and the musicians I was playing with was really beautiful and emotional. It felt like a celebration of our community, not just my show." Watching the nine players interact on Servant Jazz Quarters' tiny stage, these musical bonds were evident, as was the excitement and joy of making noise with friends. Lobo has performed with Groves and Chua as part of singing collective Deep Throat Choir, and often plays with the others at the semi-regular Desire Paths jam nights, held at the buzzy Soho basement bar Below, adding to the improvisational feel of her Dalston performance; the singers had only done one rehearsal together, the night before, whilst Calderwood and Sey "just turned up on the night." "Everyone's so musical," she assures me, when I ask how it all came together so quickly. "I trust everybody that they're not gonna mess anything up. There was a framework, but a lot of the moments were essentially improvised. I wanted the musicians to feel like they could have time to enjoy it as well."
It was Pascal Bideau, the French musician and composer who performs as Akusmi, who was her first introduction to this world of experimental, left-field musicians. The pair met when Lobo was taking a free production course at the Roundhouse, which Bideau was tutoring on, and they've been firm friends and collaborators since. "He's always the first person I show things to," she tells me, whether it's a music video or the latest mix of a track. 
When taking the Roundhouse course, Lobo had recently graduated from Warwick, where she had studied Theatre and Performance. "I always enjoyed performing," she admits. "I always loved being on the stage." As a child growing up in Edmonton, North London, she was exposed to an eclectic mix of cultural references. "My dad liked to play acoustic guitar, and my mum used to listen to a lot of R&B and Bollywood songs. My older brother was really into music, and he actually studied music. He played guitar, but he's like, very metal." For her part, Lobo was "obsessed" with Queen, and watching music videos on cable TV. As she got older, she got into indie acts like Yeah Yeah Yeahs and Fever Ray, and at university she ended up fronting a band: "Quite a fun, silly rock band." After uni, having established that music was what she wanted to pursue but not sure how she was going to make it work, she began training as a teacher, and was working as a teaching assistant, taking production courses on the side. "When I started doing music courses and meeting people, at the Roundhouse and stuff, that was when I was like, 'I really want to do this.'" 
In 2015, she released her first EP, Beautiful Blood, and has been putting music out ever since: at first a slew of self-releases, then two more EPs through tastemaking London label Slow Dance in 2020 and 2021, before being tapped by Heavenly. Her output through the years has been varied in genre, but defined by a unique approach to production, creating bold soundscapes that underpin often quite vulnerable lyrics. "Sometimes when I listen back I think, 'Oh, poor little Franny', 'cos every track is like struggling, struggling, struggling… I don't think I'm doing it intentionally, I'm not like, 'I'm going to make music  that's dark,' it's just how it comes out. But I think what I try to do a lot with the production is bring it into a different world." 
She still works as an educator, but now does so in a musical context, working to facilitate music workshops and classes for young people as well as adults with cognitive issues such as aphasia or dementia. It's more than just a side hustle.
"It feeds me a lot actually," she says. "It's nice, because that's the essence of what music is. We're working with groups that are making music to express themselves, it's the purest way of making music – that's been nice to come back to this week, to get away from the music release world."
I'm reminded of a similar sentiment Lobo expressed earlier in our chat, talking about singing with Chua and Groves, and how working on stuff outside of their artist projects allows them to top up "the good juice. Trying to navigate the industry side of things can get really draining. The joy of making music – it's not about promoting yourself, it's about making noise, communicating with each other."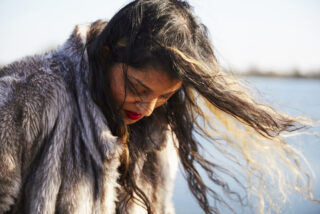 Despite her acknowledgement of the challenging aspects of commercially releasing music, Fran Lobo is unashamedly ambitious. An album is currently in the works. "It's always been a goal to see my record in the shops," she tells me. "My dream when I was a young kid was: I want to be in a band, and I want to have a little van and we just go on tour. That's my life, and even if I don't have much money I'm living my dream."   
Her dream goes well beyond straightforward album campaigns. In the past, Lobo has worked on installations: her piece Voicescolourmotion, a sound and light installation created with the artist Gawain Hewitt, was shown at the V&A and Snapes Maltings in 2019. The piece was a meditation on losing her voice a few years earlier, from pushing herself too hard. 
"I was leading two choirs, doing lots of teaching and workshops, and doing gigs all at the same time. And going out all the time," she recalls, telling me she'd like to make more such work. "In an ideal world when I put out a project, I wanna have a launch show where there are installations and visual art as part of it." 
Another aspiration is to make her own films; she directed the video for 'All I Want', as well as doing all her own styling, which she describes as a "crazy experience". The result is an impressive short which is as much early-2000s MTV as it is gothic thriller – Lobo lists Dario Argento and the Coen Brothers' Macbeth as influences alongside Madonna, Kate Bush and Björk. Like the track itself, the video takes a drastic turn at the last minute. After four minutes of sultry, eerie balladeering, Lobo cackles and the beat speeds up drastically, turning the song on its head completely for the remaining 40 seconds, as the camera spins and the lighting turns blood red.
This element of surprise and expecting the unexpected is a theme in Lobo's work, which has never been easy to categorise or define by genre. "I like things where you're throwing paint at something, it should never be like, 'This is the song,'" she says with a glint of mischief in her eye. "I like challenging what you think the song should be – I'm not going to do what you think I'm going to do."
Free Protomartyr flexi disc with this month's magazine
Subscribers to Loud And Quiet now receive a limited edition flexi disc of a rare track with their copy of the magazine
This month's disc is from Detroit punk band Protomartyr