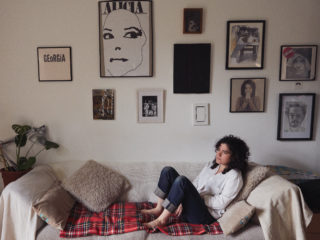 Georgia – How going to clubs sober can make for the best deconstructed pop music
"I suddenly realised how good DJs are"
A lot has changed since the world last heard from Georgia Barnes. Known mononymously as Georgia, the now twenty-seven-year-old singer broke out in 2015 with her self-titled debut album. A heady mix of electroclash, hip hop and global influences from her time studying ethnomusicology at SOAS, it introduced her as a critical darling and a daring new voice in the world of alt. pop. In places brash and often led by Georgia's sensibilities as a professional drummer, Georgia was one of the year's most in your face debuts and soon won her plenty of fans across the music industry.
She's spent the last four years revelling in her newfound connections, making frequent trips back and forth to Oklahoma to write with Flaming Lips' main man Wayne Coyne, as well as joining Africa Express for two recent projects and lending her skills to fellow up-and-comers like HONNE and Empress Of.
"It's been full on," she laughs as we settle down in her home studio. Situated at the end of the garden in her family's north west London home, it's a space that's served as a constant through all the changes in Georgia's life of late, brightly painted with orange walls and sealed by two ludicrously heavy soundproof doors. It's also where she wrote and recorded the majority of her second album, due for release later this year.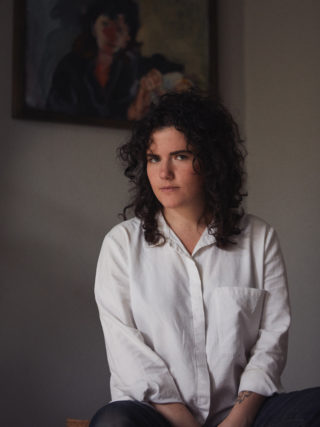 By her own admission, she has matured in the four years since her debut. "I've become a vegan. I've been taking my health seriously. I was sober for two years," she tells me. A carton of strangely coloured juice sits on the mixing desk in front of her as we speak. After a stint at the BRIT School, cutting her teeth among some of London's finest new talents and years of festivals and touring, Georgia needed a change. "I made a lot of choices and decisions making this record," she muses thoughtfully.
Those choices bought with them a new approach to her music, not least because she'd begun going clubbing sober for the first time. "When you're sober in a club you suddenly see the importance of it," she explains, her anthropological tendencies revealing themselves. "I was in Berlin at the Berghain, and that was weird… I was taking it all in, dancing, meeting people and chatting to them, and they were all off their fucking heads, but I enjoyed it." Satisfied that she could enjoy Berlin's most notoriously hedonistic club on nothing stronger than Club-Mate, Georgia set about exploring London's nightlife solo and sober, making sure to catch the DJs she wanted to see rather than heading aimlessly into the night as so many of us do at the weekend.
"I suddenly realised how good DJs are," she exclaims, laughing in the way only someone who's just got it can. "It suddenly hit me how amazing the whole culture is. I guess before I was just wasted and hadn't really thought about it." Having rediscovered the dance music that sound-tracked much of her youth – Georgia's dad is Neil Barnes, one half of Leftfield, whose iconic debut Leftism was made in her childhood bedroom – Georgia set about researching every strange tale and tune ever to emerge from the factories of Detroit and Chicago.
What she learned redefined her own approach to music and her understanding of modern pop. "[There were] all these pop stars that were going over there and being inspired by it," she enthuses. "You had Depeche Mode, Madonna, U2. They're seeing this scene happen, and slowly in the studios you see people like Eno bringing in drum machines for U2 and people like that… suddenly all this technology that's been used to create techno and house being used in pop music!"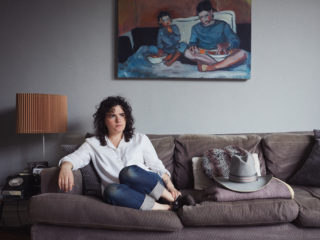 "The first record was great," she tells me, reflecting on her journey so far. "It set me on the way, it got me a record deal, and I'm still proud of it, but I knew for this one where I wanted to go with it, and I focused on achieving that." Ever a fan of collaboration and musical collage, Georgia seized on the legacies of Kate Bush and other British electronic pop weirdos, be they Eurythmics or New Order, and started to build her own shimmering, techno-pop wonderland, folding in elements of the bratty electro-clash and punk that made up her debut as she went.
The result is a record that refracts the last thirty years of western pop music, from Mr Fingers to Kate Bush to Justin Bieber, in all directions. If on her first record Georgia saw herself as a producer that sang, on her second things are more balanced. Inspired by the way production and vocals were so intertwined in the early days of Chicago house, Georgia embraced her inner diva. "You get these vocals that come in and out and go all over the place, and I got quite influenced by that," she explains. "There's a moment on the record where I do really go for it with the vocals, and it goes quite jack." There are even are a couple of ballads of the album's tracklist where Georgia's voice takes up most of the mix. "I really feel at the moment that I am a singer actually," she says. "I never saw myself as that on the first record."
While details about the album's name and release are being kept under wraps, hints of what to expect have begun to emerge. Of the three singles released so far 'Started Out' and 'About Work the Dancefloor' are the most indicative of the record's sound. Both tracks fuse pulsating 909s with writhing vocal melodies and flashes of the Londoner's experimentation. The reaction has been almost universally positive, with 'Started Out' racking up plays on Radio 1 and clocking over two hundred thousand views on YouTube since November. When we meet up to chat in mid-March, Georgia is still being sent clips by friends and fans of the track being played in students unions, cars and clubs.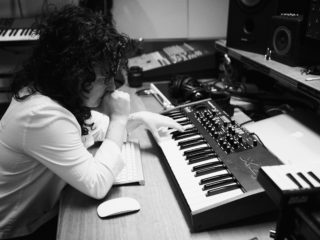 All this is something of a departure from her debut. Praised for its eclectic sound, it saw Georgia grouped with long-time friends Kate Tempest, Kwes and other south London underground artists as part of a rebellious new movement. Looking back over reviews of the album, grime and hip hop are cited as core influences far more often than house, techno or pop. "I'm not a purist really; I'm not ashamed of pop music," she shrugs when I put it to her that people might be surprised by the shift in tone. "I think it's a very British thing; I think we get bogged down in how cool it can be. It's a hangover from punk." To Georgia, experimental artists flirting with the pop world is nothing new, and she again cites the likes of Bush and Depeche Mode as examples of 'cult' or formerly underground artists who broke into the upper echelons of the charts on a regular basis.
Not that she's particularly interested in charting. For Georgia, it's all about deconstruction. "There's always been that element of sneering at pop music [but] I think it's important to hear where all the sounds on Radio 1 are coming from." As she well knows her strength so far has been her ability to dissect music and reassemble it in her image. On her debut album, she drew on the worlds of MIA and Missy Elliot, on her second it happens to be Giorgio Moroder and Donna Summer.
Georgia hasn't entirely succumbed to the glamour of Paradise Garage and glimmering synths though – this is an artist who is on record expressing her love for Death Grips after all. The raw energy that made her debut so vital still runs through every moment of her work, and I guarantee this is the only album you'll hear this year that can turn a girls' holiday to Tenerife into a work of brooding dystopian electro punk. The Georgia of her debut can still be heard in the album's more chaotic moments, it's just that in the process of recording its follow up she's discovered new facets to herself as an artist. To borrow a metaphor from the video game universe, her new album is an expansion pack rather than a relaunch.
Throughout our conversation in the studio she praises the work of Kanye West, Frankie Knuckles and Cuban drum bands alike, flitting from one musical extreme to another in an attempt to explain the makings of her own work. It's a personal, occasionally convoluted discussion, as you'd expect from someone who has spent the last two years dissecting their own musical taste and examining it for clues about what to make next. In the middle of it all, in a lengthy chat about drumming, she finds her thesis – "Groove is everything on this record."
Loud And Quiet needs your help
The COVID-19 crisis has cut off our advertising revenue stream, which is how we've always funded how we promoted new independent artists.
Now we must ask for your help.
If you enjoy our articles, photography and podcasts, please consider becoming a subscribing member. It works out to just £1 per week, to receive our next 6 issues, our 15-year anniversary zine, access to our digital editions, the L&Q brass pin, exclusive playlists, the L&Q bookmark and loads of other extras.