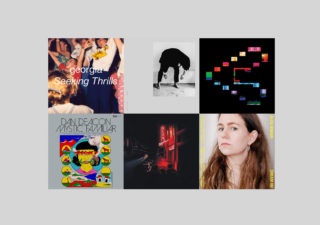 10 albums to make you feel less miserable about January 2020
Only 11 months to go until Christmas
January's over, which is a good thing, right? Take a look through the ten albums that made us think twice about being miserable.
Artist: Georgia
Title: Seeking Thrills
Label: Domino
What is it? A one-woman drum machine sweeping up the electo-pop euphoria of early 80s Chicago House and Detroit Techno dancefloors.
L&Q says: "a synth-charged, carefree soundtrack to going out and happily not giving a fuck in a way that wasn't as destructive as it had been before."
Read Reef Younis's review here.
Artist: Keeley Forsyth
Title: Debris
Label: Leaf
What is it? A melancholic and deeply devastating debut album from a 41-year-old former Happy Valley actor.
L&Q says: "Whilst the performance is very Nico, the lyrics are very Virginia Woolf, all fragments of lonely thoughts competing with each other."
Read Sam Reid's review here.
Artist: Andy Shauf
Title: The Neon Skyline
Label: Anti
What is it? Another intimate concept album from the Canadian singer-songwriter, about confronting the memories of an ex-girlfriend who's back in town.
L&Q says: "Throughout the record, Shauf's warm melodies and dry humour make the atmosphere inside The Neon Skyline feel tangible."
Read Jamie Haworth's review here.
Artist: The Innocence Mission
Title: See You Tomorrow
Label: Bella Union
What is it? Another unobtrusively profound release from a band quietly adding to their vast catalogue.
L&Q says: "an introspection of people and how life's daunting uncertainty impacts the love and anxiety attached to those we cherish."
Read Ollie Rankine's review here.
Artist: Squarepusher
Title: Be Up A Hello
Label: Warp
What is it? A comforting return to Tom Jenkinson's old stomping grounds of free jazz, rotted electronic textures and heady DnB.
L&Q says: "Each track is complex and lovingly crafted, while the urgency and frenetic energy of the best IDM doesn't get lost in how familiar some of these ideas are."
Read Stephen Butchard's review here.
Artist: Yorkston/ Thorne/ Khan
Title: Navarasa: Nine Emotions
Label: Domino
What is it? From Delhi to the East Neuk of Fife, the understated supergroup of world folk mesh Sufi and Indian classical with meditative jazz to unpick the fabled nine emotions of performing arts.
L&Q says: "They write and perform with such tightly embroidered harmony that their diverse backgrounds are now indissoluble."
Read Max Pilley's review here.
Artist: Poliça
Title: When We Stay Alive
Label: Memphis Industries
What is it? A redemptive album of minimal synthpop bangers born out of lead singer Channy Leaneagh's spine-shattering fall, when clearing ice from her roof.
L&Q says: "That kind of focus sets When We Stay Alive apart from its predecessors in that there's an inherent universality to it; this album is scored through with a soft urgency inspired by Leaneagh's life-altering spell in hospital beds and wheelchairs."
Read Joe Goggins's review here.
Artist: Dan Deacon
Title: Mystic Familiar
Label: Domino
What is it? A rare look into the absurdist mind of the Baltimore experimentalist, that only serves to compound his mystique.
L&Q says: "The darting, clattering vivacity of the synths of the suite's first half is rugby-tackled by the squirling chaos of Andrew Bernstein's saxophone and the latter half's pounding nervousness of sub-bass rhythms."
Read Max Pilley's review here.
Artist: TORRES
Title: Silver Tongue
Label: Merge
What is it? Mackenzie Scott's fourth album and first on a new label harnesses a new confessional side of her boundary-pushing pop music.
L&Q says: "where her last LP tended to sag under its indulgence, Silver Tongue is tightly-coiled and whip-smart, rendered beefier than its scant 35 minutes by synth washes, esoteric percussion and, best of all, an even more ruthless penchant for melody."
Read Dafydd Jenkins's review here.
Artist: Alice Boman
Title: Dream On
Label: Play It Again Sam
What is it? A long-awaited full-length debut from the Swedish songwriter with a slow-burning, steady ambience.
L&Q says: "Dream On is utterly transporting, its ten sublime tracks almost blending into a single haunting experience."
Read Katie Cutforth's review here.
Please support Loud And Quiet if you can
If you're a fan of what we do, please consider subscribing to L&Q to help fund our support of new musicians and independent labels
You can make a big difference for a few pounds per month, and in return we'll send you our magazines, exclusive flexi discs, and other subscriber bonus bits and pieces
Try for a month and cancel anytime