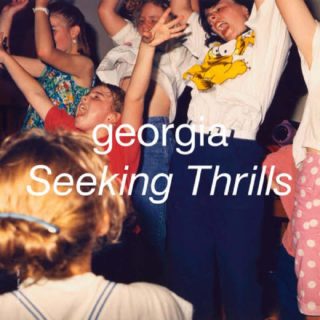 Georgia
Seeking Thrills
(Domino)
8/10
As a 35-year-old who's wasted more time staring at a computer screen than is healthy or recommended, every so often there's a little serendipity when the gaming and music worlds pleasantly collide. Back in September 2019, I could have hummed you the hook of Georgia's 'Started Out' by virtue of playing PES2020 – not that I could've told you what the track was or who it was by with any real confidence. Until now, obviously.
Thanks to the latest version of PES, I was listening to Georgia before I actually knew I was listening to Georgia. It seems like a strange lead-in for an artist releasing her second album but Seeking Thrills isn't just a step removed from her self-titled debut, it's almost in a different world – and Georgia sounds like an artist rewired.
Her debut was a brilliant mix of broken beats and brooding basslines that owed as much to MIA's scything delivery and Death Grips' sonic brutality as it did Kate Bush. But at the time of creating Georgia, she was mired in the separation of her parents, tracks like the menacing beat-driven intensity of 'Move Systems', the angry, industrialism of 'Be Ache', the heart-on-sleeve rawness of 'Heart Wrecking Animals' and twisted Fever Ray-evoking 'Nothing Solutions' hinting at the depths of that emotional struggle.
"I was going through quite a heavy period with drinking and other sorts of substance abuse," Georgia admits. "My friends sort of gave me an intervention. I always thought that when I'm drinking I'm just a fun person. But actually, deep down, I was in a bad way."
The result: she went vegan, quit smoking and went to clubs sober, focusing on the concept of dancefloors as places to heal, rather than just forget. For two years, Georgia didn't drink, went to bed early and dedicated herself not only to creating the new album, but to working out her own place in it. After years as a session drummer for other artists, it was a realisation that helped give the new album a sharper focus and put Seeking Thrills into a fresher context as the synth-charged, carefree soundtrack to going out and happily not giving a fuck in a way that wasn't as destructive as it had been before.
This time, instead of darkness, there's vulnerability and empathy, and a sweeter sense of melancholy in lyrics like "Although your skies keep changing/ You know, I will still be waiting" on 'Never Let You Go' or the hopeful admittance of "I don't have much in terms of money now/ I don't have material gifts for you" on 'About Work The Dancefloor'.
LISTEN: Georgia was a guest on our Midnight Chats podcast
Buoyed by the buzz around the lead singles, Georgia decided to push back the album release from mid-2019 to early 2020 in a move that's helped to make her ascent feel even more familiar, and, who knows, even potentially reel in a few more unsuspecting PES fans.
An ode to the dancefloor, the record's appeal lies in its unashamedly literal spirit with songs about jaunts to Tenerife set against playful pop lyricism and the rhythmic drive of Chicago House and Detroit Techno – influences Georgia was keen to incorporate into the album's sound.
"I was listening to the whole of Trax records," she explains. "Frankie Knuckles, Mr Fingers, Marshall Jefferson and that whole scene, but also Detroit, like Underground Resistance, Jeff Mills, Kevin Saunderson. I got into a rabbit hole of that scene, and just how it shaped pop music of the '80s. Like, seeing how Depeche Mode were at Frankie Knuckles' Powerhouse nights; Madonna was on the floors in Detroit listening to Underground Resistance."
It's an energy that characterises the album's standout moments, none more so than on the trio of openers, 'Started Out', 'About Work The Dancefloor' and 'Never Let You Go'. Where the former combines dreamy electro-pop with a house bassline, the latter two tracks shift into '80s synth nostalgia and Belgian electro – and it's unlikely any album in 2020 will deliver a one-two-three punch that walks the line between pop craft and dancefloor intent as gleefully or as credibly.
Frontloading the album with the singles was a bold move, and while Seeking Thrills doesn't quite sustain the hook-laden energy throughout, it's no real sleight considering how high the bar was initially set.
As a session drummer for the likes of Micachu, Kwes, and Kate Tempest – and as it did on her debut – rhythm and percussion plays a defining role here. Where '24 Hours' is a big, bright statement of twinkling melodies and driving synth, and 'Til I Own It' is a slower, more vocal-led meditation for the after-hours drive home, 'I Can't Wait'  hits with a percussive, poppy offbeat; the deep bass bump of 'Mellow' slaps; and 'Feel It' – a track initially released in 2017 following the release of her debut – harnesses the rawness of that more tumultuous period with a snapping breakbeat as Georgia ditches the vocal tenderness for a more raucous Landan twang.
Amidst more familiar rhythms, 'Ray Guns' nods to her time at London's School of Oriental and African Studies where ethnomusicology led her world music interest to Balinese Gamelan (percussive ensemble music), reproduced here as something that falls between MIA and Boys and Diamonds era Rainbow Arabia.
Elsewhere, 'The Thrill' celebrates Georgia's inner drummer with a cavalcade of drum machines, pads and handclaps set to a chunky, voguing bassline ("I used 909s – the drum machines that would have been used in Chicago and Detroit, and everything you hear on the album is analogue. I'm obsessed with the sound of drum machines!") before 'Honey Dripping Sky' theatrically closes the album out. It feels like the first time in the album's 13-track run that Georgia takes a breath (apart from 'Ultimate Sailor', perhaps) as she briefly steps back to let her vocals take centre stage.
As a standalone track, it's not the album's strongest but it does help crystalise her low-key range. From tender to deadpan, soaring to searching, it's easy to overlook how varied her vocal delivery is on the back of the stellar production, but it's even more impressive when you consider that she had to be cajoled from behind the bass drum to do it in the first place.
It's unlikely she'll ever truly step out from behind the kit (her live performances are a testament to "working hard" as she puts it) but the idea of transformation seems to be a pretty poignant one, even if cementing the transition from session drummer to solo artist in her own right has come down to a burgeoning sense of self-confidence and literally moving the drumkit a few feet to front and centre.
From the percussive, punk-inflected pain of her debut to the transformative sound here, Seeking Thrills feels like the result of healthy release. Like all the best pop albums, it doesn't concern itself with being too clever, too cool or too serious, and it conveys that intent brilliantly: raising smiles, moving limbs, hearts aching for something more. And when those themes of freedom and transportation – and the idea that on the dancefloor you can be whoever you want to be – are the driving force, it lends the album a carefree purity that's your best mate harassing you until you get off the couch on a Friday night when you're too tired, too poor and too lazy. It's a rallying call for a lost weekend of hopeful promises you both know won't be kept. But, ultimately, it's the blissful knowledge that it doesn't even matter.
Free Protomartyr flexi disc with this month's magazine
Subscribers to Loud And Quiet now receive a limited edition flexi disc of a rare track with their copy of the magazine
This month's disc is from Detroit punk band Protomartyr