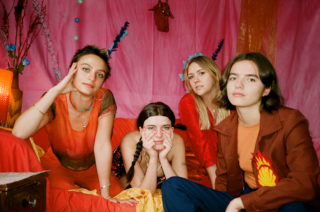 Goat Girl: A house band for your contemporary dissatisfaction
A chat over tea and tom yum noodles with South London's surreal art-punks
In the gospel according to Goat Girl's drummer Rosy Bones, tom yum noodles with shrimp are the best noodles in the world.
"You don't have a microwave, do you?" L.E.D. (guitarist, Ellie Rose Davies) asks Rosy.
"Nooooooo-www," comes the stretched-out reply, as they carefully ladle the noodles into a bowl from a big rusty wok balancing on the stove. "They're not very hot," says Rosy, pausing a little, placing a plate on top to trap in the remaining temperature, as they sit down to let Ellie make a cup of tea with an equally oxidised kettle.
The kitchen table is covered. Replica prints of the album artwork designed by lead vocalist Clottie Cream (Lottie Pendlebury)'s boyfriend are stacked next to a box of white label test pressings that the band have all personalised with characters from the record, pissing squatters and zoetropic goat heads. Next to them, an ashtray sits by an open window, a share bag of chilli Wotsits, leftover daal and now Rosy's noodles. "I don't think I'll ever get bored of these," says Rosy, inhaling deeply. "Tom yum shrimp. Zesty, creamy, slicey goodness."
Ellie brings over some mugs, as Lottie and Holly Hole (bassist, Holly Mullineaux) sidle through from the living room, which has been newly decorated in pink and red drapes, bunches of dried flowers spray-painted in shades of blue, and just the one wooden satanic goat head on the wall. Their friend Flo, who designed the set and recently painted every surface in her own house, follows in and sits down at the table. "The band's team currently think I'm a nutcase," Flo laughs, "Only because I accidentally posted them my invoice instead of emailing it, and then next time we were speaking I broke my arm." She shows me her arm, still very broken despite being out of the cast, and in desperate need of re-breaking. She says she's looking forward to reading all about it in this issue of Loud And Quiet.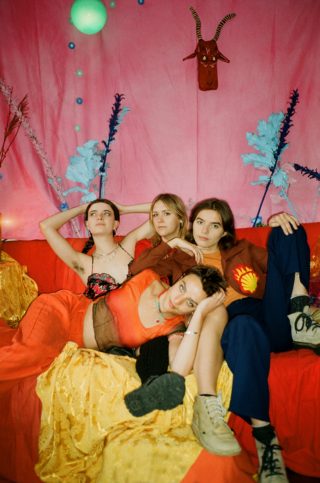 Ellie's moved back in with her dad in East London, and Holly lives north of the river, both having vetted off their manager's suggestion that they all move here for lockdown. The cupboard under the stairs was even cleared out in preparation, previously home to a ghost named Vera. I'm told she's become quite a skimpy ghost in recent months, who looks a bit like Lottie. "Fucking sexy legend," rebuts Lottie, rolling her tongue. "Big brrreasts."
Lottie's and Rosy's house feels like some kind of homely Lynchian props cupboard – a staging area for the performative but acutely realised chaos and sociopolitical world of Goat Girl. On the wall opposite the goat's head is a framed picture of a horse called Petong, which the two bought from Deptford Market along with most of the other objects strewn around the room. "I've even got one of those face masks now that looks like it's got an air filter," says Rosy. "But it doesn't do anything. I've wanted one for so long, but it gets floppy on my nose."
"What was her name?" Ellie interjects, mid-different conversation about the lead character in the music video they've just released for their new single 'Sad Cowboy'.
"Just Wild Woman," says Rosy. "They all have names. There was Bow and Arrow Lady, Wild Woman… But she wasn't that wild."
"No, but she became a bit wild when she started doing that…" Holly throws her arms above her head, mimicking the Wild Woman's starring moment in the song's instrumental break, where she flails her limbs about and leads a circle procession around a field. It's like you're watching a medieval summer fete through a thermal lens, where a well-meaning maypole dance coincides with an exorcism.
"Yeah, but it's not like she said, 'lovely to meet you all, I'm the Wild Woman,'" says Ellie.
"I was thinking about this," Rosy stops. "It's a very literal name… like, you know, in Shrek. All of the characters are called exactly what they are, you know?" Rosy starts listing the characters: "Donkey, Dragon…"
"Princess Fiona," says Holly, smiling.
Rosy ignores her.
"I don't know how they get away with that. It couldn't be any other way, but they made a conscious choice to keep all those names."
"Lord Farquaard," says Holly.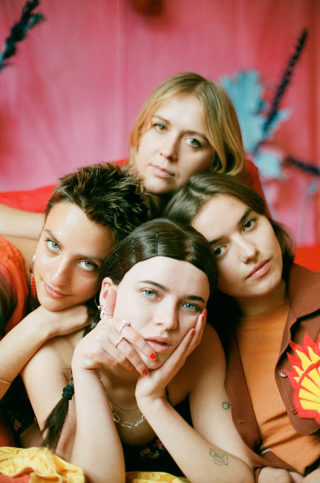 For all its surreal, very Goat Girl qualities, 'Sad Cowboy' marks a definite step away from 2018's self-titled debut, where the songs rarely scratched three minutes in length, and the band saw themselves grouped with the swathes of fashionable post-punks, if only by virtue of their guitars, politics and association with South London, producer Dan Carey and the Brixton Windmill scene. In contrast, the new single is more of a head-on collision between Arcade Fire's 'We Exist' and Daft Punk's Tron: Legacy soundtrack. And as for the video, until the face off between Wild Woman and Bow and Arrow Lady, we're following the showdown between a cowboy with a blue cloth over his face and a smartly dressed octopus man.
"We didn't get to keep the octopus costume," says Rosy, as Lottie recalls various actors who do get to take mementos from their big films, albeit in secret.
"Like Mark Wahlberg in Boogie Nights, where he took the fake dick that he wore," says Lottie. "Yeah, he stole the prosthetic dick and has it framed in his house. It's kinda weird, though, I mean, he's got kids. Imagine sitting down for breakfast and saying, 'look kids, this is the dick I wore in Boogie Nights.'"
You'd think a music video with this thriftiness in mind could be a good chance to make some practical additions to the house. Like a scene with a lifetime's supply of Tom Yum noodles, or some new mugs. Rosy casts an eye over the current selection on the table – one plain, one branded with a slightly faded Liverpool crest – "You'll never walk alone" – and one blue, with a picture of housemate Charlie's dogs on it. They look up to the gap between the top of their kitchen cupboards and the ceiling, where a bucket-sized blue and white striped mug sits, chipped by the very same dogs. "I just can't bring myself to get rid of it," Rosy says.
Lottie grins. "No, for the next video we're inside a giant pink slug, shuffling across a beach."
For an album loosely about losing a grip on reality, Goat Girl are the real thing, from the synth arpeggios that skelter around a lament of "the suits of today" in the brilliant album opener 'Pest' to the queasy, foggy riffs of 'Jazz (In The Supermarket)' written mid-heatwave in Dan Carey's Streatham studio. A plaintive, beatific melody numbly dispenses anti-depressants in 'Anxiety Feels' as the bleak garage-pop of 'Bang' willfully launches into hallucinatory escapism. On All Fours is an album rooted in contemporary dissatisfaction; it's easy to become disillusioned, say the band, when you're consistently being steamrollered with ever-increasingly ridiculous and dreamlike bad news.
"I really thought this when we had to write quotes for each of the songs," says Lottie. "Each one was like 'hmm, depression' or 'hmm, anxiety.'"
"But we have put a lot more thought into it," adds Ellie, comparing it to the debut album that spiralled too quickly into the arms of eager music journalists. "We're much more careful with how we're framing these songs now. Even with the whole set design."
"If you don't take that control, someone else is going to frame it for you," says Holly.
Lottie pauses. She's someone who you feel would be very content for Goat Girl to write the songs and leave their involvement at that, without worrying about deciphering the art.
"I've never thought about it before as something that you really needed," she says. "Like, before, I'd always think why does it matter how we look or what we say. And I still think that to an extent, but I suppose it's nice to have something so consistent between the music, the art and the image."
The cohesion within On All Fours is even more impressive with it being the band's first fully collaborative album, mostly written last summer, and recorded over an intense week last October with Speedy Wunderground's Dan Carey, while their songs changed and developed constantly around them.
"Yeah, I mean, we all wrote the first album, but I brought a song to the band and everyone would write their parts – we worked in that kind of way," says Lottie. "With this album, we were still relying on someone bringing an idea, but that didn't make a song."
"And it was different people who brought the initial idea," says Ellie. "We've all brought ideas to the table that have been the starting point for songs on this album, whereas on the last one the starting point always came from Lottie, apart from 'Viper Fish'. But now someone might have had a demo or a bassline, and it takes a lot more time to figure out what we're going to do with it together."
"We still don't really know what it sounds like," says Holly. "There's just so many different things and influences and genres within it, which I really like about it. All of the songs have a completely different vibe to one another."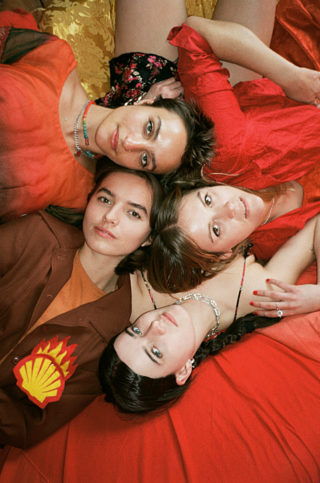 Goat Girl's eponymous debut was occasionally typecast straight from the Fat White Family school of sardonic pseudo-aggressive-cum-passive rock'n'roll, but the band counter that comparison. Scattered among the first album's nineteen tracks are much less confrontational interludes, recorded a while after the "song songs", there simply to explore the sonic makeup of the band. The following Udder Sounds EP showed just how restless they were – Goat Girl covering Goat Girl – a bridge to On All Fours, obscuring the hooks in the hits to see in just how many ways their songs could exist.
"I feel like even when we were touring the first album, we kind of already knew we wanted to experiment with electronics, we just didn't have the equipment for it," says Rosy. If you caught one of their Windmill sets in the wake of penning a deal with Rough Trade, their vocal harmonies would be drowned in reverb, and feedback patches would interrupt spaghetti guitar sections. There were all the tells of a guitar band who wanted to go beyond their guitars. "But I didn't know this album was going to sound like it does," Rosy continues. "I didn't know it was all going to be bangers. Hit after hit after hit."
"We've all always had eclectic tastes," adds Ellie. "When we wrote the first album, that post-punk sound was just the beginning of our rebellion in a way. It was the sound of going out and finding ourselves as individuals, at the pivotal point of becoming an adult. Or," she corrects herself, "not being a child anymore. Just finding independence."
"It's quite nice to have this really different sounding album as well, I think," says Lottie.
"With the first album I always saw it as something that wasn't how it ended up being spoken about. It was always like 'guitar rock', or 'women rock', which was kind of bullshit anyway. Yeah, I dunno, there was this restrictive bubble we were put in that didn't quite describe who we were or what music we were making. The sound was actually quite strange. Having two songs back to back called 'I Don't Care' and both being, I don't know, weird. There was so much going on with the guitars – strange rhythms, jazz chords, time signatures never stayed the same – we didn't have the rock format that we were told we had. So this album doesn't feel that shockingly different. Sure, it's gone into a new sound, but it's still based in that alternative mind."
"But Nev on YouTube didn't like the synths," says Holly. "He was not convinced"
The YouTube comments have been a source of reliable entertainment for Goat Girl, ever since their armpit hair shocked primetime BBC viewers on Later… with Jools Holland.
"I like reading the sexist comments. I find them quite funny," says Rosy, looking around at everyone else's bemused smiles. "And sad," they say. "I find them sad. But if I see something bad, I don't know, it gives me fuel. One of them was like 'hairy armpits, oh my god. OH MY GOD.'"
"And then the one below," says Holly, "who's like 'c'mon mate, get in the 21st century, everyone has hairy armpits now.'"
"I like MexicanCowboy," says Lottie, with a glow – a regular commenter on all of the videos. "Marry me, Lottie." She wraps her arms around herself. "Come to Mexico if you are reading this – Lottie for president!"
"I've always thought it could be fun to reply to people on my account, because it's not actually me," says Rosy, again to bemused smiles. "No really, I share my YouTube account with somebody I don't know. It's my email address, but there are these videos uploaded of a jumping dog. Someone's speaking Spanish and filming their dog but uploading it on my account. Or maybe it's their account. But it's my email address. I don't know who hacked who. Can two people have the same email?"
Beyond all the party house surrealism, the stage names and battles between Octopus and Cowboy, if you were to have walked by the front room of this house in the depths of spring's lockdown, you'd have seen a very direct image of activism through the window: Justice for Belly Mujinga, Trans Rights Now, PPE Not Profit. From the top window: Government Won't Help, Community Will. They'd have bus drivers come around the corner honking their horns in solidarity, Lottie tells me, which felt like the only tangible resistance amid a domineering reality. On the day I visited, the fallout from EHRC's report on anti-semitism in the Labour Party ended up with the controversial suspension of former leader Jeremy Corbyn.
"I feel like…" Ellie pauses, picking up one of the prints on the table. "Just looking at the On All Fours album artwork… that's quite a political thing. That's kind of how we see the world going, you know, this fucking crazy place where all this fucked up shit's going on. That's how the world can make your mind," she laughs. "We're all going a bit insane at the moment."
"I think if you want to be politically active you need an escape as well," says Rosy, "A place to recharge and find the energy to do all the things you want to do. Having different worlds in your head or a space reserved for imagining things and being creative is really important."
"I find the two worlds merging constantly," says Lottie. "I can be an activist outside of Goat Girl but I can use Goat Girl as a platform to spread a message I think is important. The band isn't the escape. I like that we can collectivise people in that kind of way. But also, I feel like I can express my agenda with a nuance. People can find the meanings for themselves. It's a safe space for people to explore their own politics, more than a direction that says this is how you need to feel."
As the album closes, there is one moment of euphoria – 'Where Do We Go?': a song whose climactic sci-fi synth swirls around Lottie's heady vocals; it sounds like a call to arms.
"Oh no," she corrects me. "That bit's meant to be sad too. The chords and the epic-ness of it all… I think it feels like you don't know what to do with yourself, so you just cry. That's the album in a nutshell."
Loud And Quiet needs your help
The COVID-19 crisis has cut off our advertising revenue stream, which is how we've always funded how we promoted new independent artists.
Now we must ask for your help.
If you enjoy our articles, photography and podcasts, please consider becoming a subscribing member. It works out to just £1 per week, to receive our next 6 issues, our 15-year anniversary zine, access to our digital editions, the L&Q brass pin, exclusive playlists, the L&Q bookmark and loads of other extras.