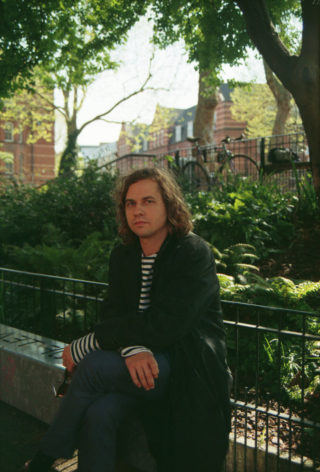 Kevin Morby's new album is a thank you to Lou Reed, Television and the world's great cities
The former Woods and Babies member discusses new solo album 'City Music'
"We can still talk about hotels," says Kevin Morby, after a last minute location move from London's Ace Hotel to an office down the road. "I'd actually love to talk about hotels," he continues, with unexpected vigor. "I am on kind of a crazy trip right now. I have done South by Southwest, then two weeks solo and then I flew straight here to do press so I have been kind of burning it. You do end up staying in so many hotels. The sterile hotel, everyone knows the ones I mean, right, it feels like you are in a Kleenex commercial or something. The air is so weird in these hotels and the smells that come from them… I don't sleep well in these places." Later on Kevin tells me he is pretty tired, despite staying in an OK hotel, but he never loses his passion across a variety of subjects, mostly of his choosing. Painting, Portugal, his new album 'City Music' and of course hotels get zealously covered in equal measure.
Kevin's been in two notable – and great – Brooklyn bands, Woods and The Babies, before embarking on his solo career that's already three albums deep. I ask him if it still seems strange travelling on is own. "Yeah, at certain times," he says." I always say I like the solo work and being in a band equally as they both feed into each other. I like to be alone for periods of time, and then suddenly I'll want to go out every night for a month." I am unsure which Kevin is in front of me today but he seems accustomed to life on the road. "Well, I have two homes right now," he says. "I have a place in L.A. and I bought a house in Kansas City where I am from. I split my time between them – it depends on my mood where I'd rather be. If I am just coming off tour then I prefer Kansas as it's way quieter. If I have down time I prefer L.A. as it's easier to be entertained there." Right now he seems perfectly happy with a simple chair in East London.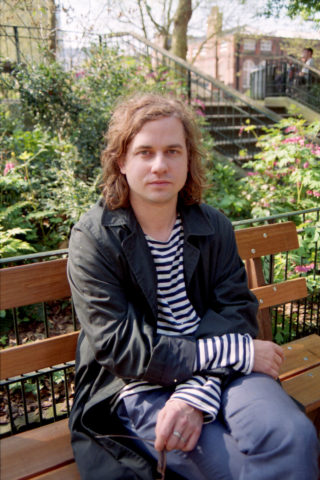 'City Music', Morby's fourth album, comes right off the back of 2016's autobiographical collection of songs, 'Singing Saw'. Both are wide-screen love letters to landscape, but if 'Singing Saw' was mountains and desert, 'City Music' is inspired by the metropolitan experience through America and beyond. The differences are remarkable, despite the creative spark for each occurring at an identical time. He tells me that it was quite intentional. "I am trying to think of a good analogy," he says. "Like, if you were cooking food and you were making something that is sweet and something that is savoury, you know? From the moment you got all the ingredients together it became kind of apparent, I had a batch of songs and I thought, well there is a lot of salt here and a lot of sugar here, maybe I should make two separate things. I was writing so much at the time and I was writing these kind of Americana, canyony type songs that really reflected what I was doing but I was also writing these songs that were meant for the electric guitar and speak to New York. The moment I noticed that I thought, well, let's make two different records that speak to each other but they are opposites."
'City Music' feels like a man cutting loose, I tell him. He smiles.
"It's almost like 'Singing Saw' is a conversation with my everyday listening, like Leonard Cohen, Nina Simone and Neil Young. Whereas 'City Music' is more like Patti Smith or Lou Reed; also bands that I used to listen to a lot but don't so much anymore, like Television or The Ramones. I want to pay homage to them, just to let you know that all these bands meant a lot to me. 'City Music' is my thank-you for that. I love 'Singing Saw' so much and I am very proud of it but I have had moments where I am like…" He goes uncharacteristically quiet for a second. "It's pretty meditative and quite slow and sometimes live you just want to let go and rip into a song!"
A more surprising influence has also taken Kevin away from Patti and Bob – Pablo and Vincent. "I got really into painting at the end of last year," he tells me. "I was spending a lot of time by myself painting and I would love to have more time to do that. On the road it's fucking tough; it's the hardest thing in the world not to just look at your phone all day.
"Painting is for my own personal use at the moment. I would like to have some sort of show or put them online. I thought maybe there would be some fans out there who would maybe want to buy them. I had a painting party recently with Ty Segall – he's also got really into painting; his work is insane, really fucking good. They're crazy, kinda abstract, he has this character called Assman. It is just insanity but really good. I feel like a lot of people in LA, particularly my circle of friends, they're getting into stuff like that."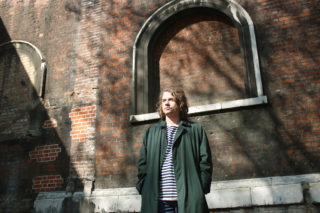 Despite having his roots in Kansas, Kevin seems overcome by big city buzz, a feeling he relentlessly tries to capture throughout his new album. "It's more of a thing where you are touring these cities, right? Like London, for example. I have never spent a long time here but I have been here so many times. All these places become characters in my annual life. I just love cities, they are fascinating and there are a lot of things that make a city a city and each city shares those things but each place is very different. From the cobblestones to the water fountains, they are all unique and they are all neat."
Surely one has made an impression beyond the others. "I can see myself living in Porto in Portugal," he buzzes. "I stayed there for two weeks once and I really loved it. I saw my girlfriend there for like 5 days and then I was alone for the remainder. There was a show promoter there who is now a very good friend of mine and he contacted me on social media and said he would love to show me around. It quickly became my favourite place. He was like Mayor of Porto or something – it's a small city and everyone knew him. 'Are you a friend of Andre's?' people would say. I have seen him many times since. He asked for what it's worth do you want to play a show. I told him I'm on vacation but in the end I said why not and he set up a solo show in a café and made it free. The whole tour was like 50 to 60 people per venue but 150 people came to that one, everything about that trip was amazing!"
We discuss the pros and cons of social media, and the fact that meeting Andre wouldn't have happened without his phone. But Kevin's vehement belief in limiting time online keeps cropping up. "Social media is probably, like, 80% horrible for our brains," he calculates, "but something like the protests at the airports in America for the Muslim ban, that was all social media, that was the first time I noticed the big picture of people using social media for good. To be able to organise a protest within 24 hours is impressive."
Recently Kevin's become more vocal in his political views, too – something he seems keen to discuss here.
"I have chosen a life as an artist so that in itself is kind of political," he reasons. "Whether you want it to be or not it's a radical thing to do. You are siding with the beats of the world and you're stepping over that line. I think I have just become politically conscious in the same way everyone has recently because of the turn of events with world leaders, which I think is a good thing. What's happening is horrible but it's not too much different to what was happening before, it's just exposing it.
"Trump has highlighted how crazy it is. Take these bombs in Syria, it is so fucked up but Obama was doing the same thing – difference was we trusted the guy. Those drone bombs were just as fucked up. So yeah it's really horrible what's going on and Donald Trump is a psychopath but I am hoping for change. We are going to get rid of Trump and the way we have been living for many years. There is a tide of progression that will eventually take over.
"It's getting heavy," Kevin jokes so I ask him for some travel tips, y'know, from the mouth of the expert. His reply is instant. "Have your outfit for the next day ready to go next to the bed for the morning. Like, the suitcase shouldn't need to be opened, it should be closed and ready to go. Sleep naked and be ready."
We're not being funny...
… but can you become a member please?
It's actually excellent value, and will help us continue to promote new independent artists and labels.
Sign up and you'll receive our physical magazines delivered to your door, our digital editions, exclusive podcasts and playlists and an actual bookmark, as if printing a magazine in 2021 wasn't old fashioned enough.
6-month and full year memberships are available now. Fancy it?