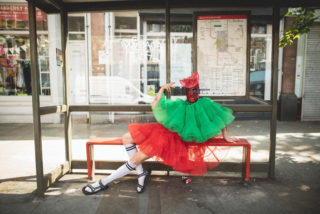 Lynks Afrikka – Queer empowerment in the Bristol avant-garde
"Modern pop and alternative music alike are very concerned with looking cool, and less so with having fun"
Today, Bristol is a vital place for 'serious music'. With its abundance of avant-garde electronica, cerebral art-rock and compelling hybrids of the two (SCALPING, Giant Swan etc.), a commendable reverence is held for projects designed to challenge, wrong-foot, or outright antagonise their audiences.
However, the recent breakthrough of Lynks Afrikka – the alter-ego of producer Elliot Brett – has confirmed that there is a place in this landscape for sonically unusual projects which provide a more straightforward, gleeful species of 'fun'. Setting tongue-in-cheek ruminations on sexuality and art to a propulsive brand of avant-pop, Lynks Afrikka has become a local phenomenon through their ecstatic live shows, incorporating drag, theatre and dance.
Beyond the fun and games though, a coherent and subversive set of ideologies behind the project has been established by new single 'Str8 Acting'. A satire on the 'masc4masc' ideal in queer culture, set to a deconstruction of popular club music, the single establishes the twin pillars of Lynks Afrikka's manifesto: to empower queerness and mock the joyless stoicism (and sonic conservatism) of contemporary club-culture.
"Lynks Afrikka, above all, is a mask," Brett tells me when I ask about the project's origins. In a literal sense, the producer only performs entirely disguised in elaborate costumes, with past examples including a peacock-inspired ensemble and a set of tentacles made from loft insulation. "I think the anonymity of Lynks brings out a really pure, distilled essence of my personality when I'm on stage," he explains. "There's a pre-requisite for how a 22 year-old, slightly effeminate Jewish boy in a white t-shirt and jeans acts, but there isn't one for how a masked demon standing on stage wearing a mop acts.
"Have you ever heard the whole 'do you tell jokes to make people laugh or to make people think you're funny' dilemma?" he asks me, citing this as the distinction between Lynks Afrikka and his earlier line in introverted, rather ordinary folk music. "I think I was making music to make people think I was a good musician, rather than to actually entertain an audience," he says. He abandoned this in frustration two years ago after his laptop was stolen from a show, and all of his recorded music with it. Forced to re-evaluate his priorities, he began a new project focused on audience entertainment, in a landscape where this is an overlooked or even risible consideration.
"I reckon in 2019 it's pretty unusual to consciously act like an idiot on stage," he says. "Modern pop and alternative music alike are very concerned with looking cool and less so with having fun I think. We would never get a 'Hollaback Girl' in 2019 – and yes, I'm aware that's not a cool reference."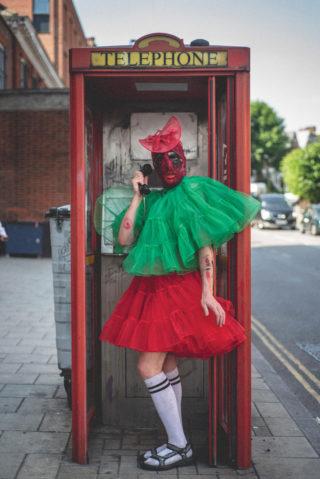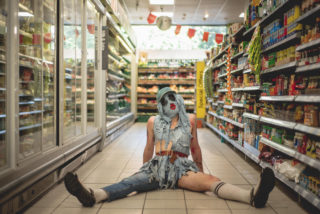 The shows are a true spectacle. Lynks Afrikka delivers call-and-response chants, crooning choruses and dry one-liners over beats from his laptop, supported by a cast of costumed backing dancers, vocalists and performance-artists. Past shows have included choreographed routines, baptism skits recalling Oh My God, It's The Church! and a 'fragrance launch' in which Buckfast was handed out to the audience in spray-bottles. "In drag slang they call these gimmicks 'gags'," Brett explains, helping to create "an atmosphere of fun and unpredictability". I have seen Lynks Afrikka support some of Bristol's most transgressive EBM artists (BAD TRACKING, Salander, Kinlaw etc.), and whip their audiences into a laughing, dancing frenzy.
A pause in the action has been made at recent shows to deliver an earnest introduction to new single 'Str8 Acting', which, under the guise of a "club banger", he describes as an "angry, personal, political" piece of work. In the press release, Brett argues that the gay community "constantly tells us we need to embrace our queerness, and yet simultaneously there's this total fetishisation of The Straight Man to the extent that every third Tinder or Grindr bio you scroll past will have 'str8 acting looking for the same' or some shit written in it".
"Of course gay people want to be 'str8 acting' because in our world to be straight is to be human," Brett tells me. "I've said this before but I feel like it bears repeating – the straight world views LGBTQ+ culture as sex and clubbing, while straight culture gets to be everything else. LGBTQ+ culture and the stereotypes associated with it are viewed through such a twisted lens that, quite frankly, I'm not surprised that people who have never met a gay person are homophobic.
"With this song, I wanted to see what happens when you view the straight world through the same twisted lens that society views LGBTQ+ people through," he states. However, the song's presentation of straight clubs as joylessly uniform, often predatory places – incorporating recordings from Bristol club 'Lizard Lounge' – might strike listeners as both clear-eyed and authentically angry.
Anger, Brett argues, is something that gay men are often excluded from expressing in our society. "There's shades of this for almost every minority I reckon. Women are 'bossy' or 'shrill', black men are 'aggressive' and gay men are 'sassy'. It's just a way of shutting up a group that society sees as not worthy of an opinion. I sometimes take stuff that pisses me off and turn it into something positive or funny – if you can laugh at something you take away its power."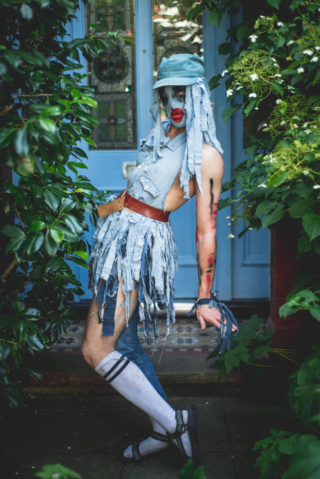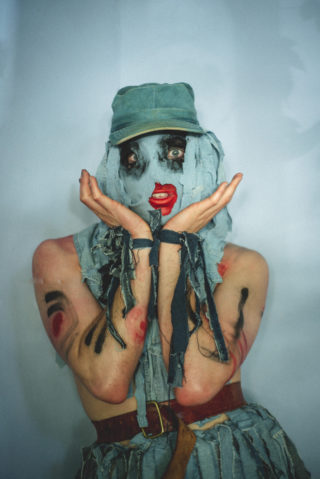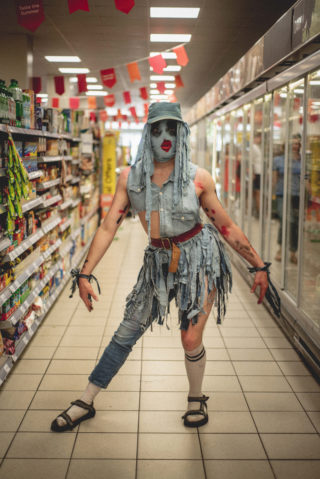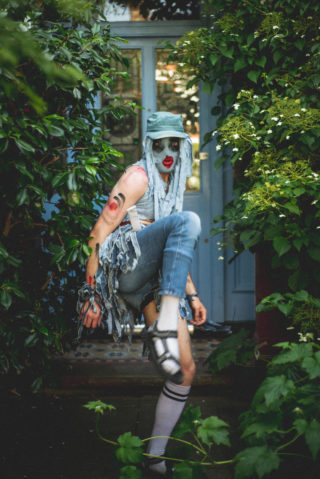 Humour plays an integral role across Lynks Afrikka's work, and 'Str8 Acting' itself is not short on laughs, with highlights that include, "Drinking cold, cold beer in a hot straight club/ It's a lot like a pub, but with slightly less chairs". New song 'B.L.L.T' centres around a series of sandwich-based proclamations: "I'm a toastie / The boys they never ghost me / (Not all the time, but mostly)". Ode to urban pretentiousness 'Arts & London' emerged from watching stand-up comedian friend Mikey Bligh-Smith chanting the phrase, "Arts & London, that's what I'm about!" to a room of confused, Red Stripe-cradling London bohemians.
In this capacity, Brett suggests that jokes can play a valuable role in conveying more serious messages about art, sexuality and gender. "Humour opens you up to be vulnerable," he says. "Once you've laughed with someone you're immediately connected. I'm a firm believer that bringing an element of humour to something will never make it worse."
If the ecstatic live shows and liberal use of jokes are seen (as Brett has suggested) to reject the po-faced joylessness of contemporary club-culture, this is paralleled by a musical disassembly of generic pop and dance music. His combination of rotund, industrial-tinged beats and soaring synthetic textures is, by his own admission, rarely highly polished (Brett is entirely self-taught, and can't play an instrument). However, this is music deriving from an original and coherent set of ideas, and – for all his self-deprecation – it may become a staggering force in itself.
One of his interests is "playing with familiarity", he tells me. "So much about the act is so bizarre, so it is cool to put something with a shade of familiarity in there that audiences can grab onto – old '90s rave arpeggios, or cheerleader chants, or a trap hi-hat," he says. "I find that it can be a bit exposing being in an audience, so sometimes it's nice to hear something and be able to go, 'oh! I know how to dance to that!'."
As he prepares to re-locate to London, Brett claims that the development of Lynks Afrikka benefitted hugely from living in Bristol. "I can't describe how lucky I have been with the community of artists and creatives that I've been surrounded by," he says, citing the amount of "complex, subversive and abstract" new artists in the city. He highlights the support of local venue The Old England and promoter-turned-label Spinny Nights (on which 'Str8 Acting' was released), which has become a lodestone to rising Bristol artists such as Zebrafi, Norman and Jemima Coulter.
While one might assume that Lynks Afrikka – given its lyrical themes and use of drag – is a project focused on subverting discourse around gender or sexuality, Brett claims this is not the case. "I don't think that's my role," he says. "I'm really privileged in a lot of ways when it comes to my sexuality – I'm a cis gay man from a household that's incredibly accepting of me.
"That being said, being vocally queer in itself is a big thing. From my experience, as gay people we get presented very few different versions of ourselves while growing up. That's changing now, I think, but when I was younger I really thought the only way to be an adult gay man was to be an Alan Carr or a Gok Wan. That's not to say that there's anything wrong with that at all – but when you grow up with only that, you think people are only accepting of gay people when they're laughing at us.
"It's important to show the diversity of queer voices. I think that's all I can do really – be very myself, whether in costume or not."
Loud And Quiet needs your help
The COVID-19 crisis has cut off our advertising revenue stream, which is how we've always funded how we promoted new independent artists.
Now we must ask for your help.
If you enjoy our articles, photography and podcasts, please consider becoming a subscribing member. It works out to just £1 per week, to receive our next 6 issues, our 15-year anniversary zine, access to our digital editions, the L&Q brass pin, exclusive playlists, the L&Q bookmark and loads of other extras.