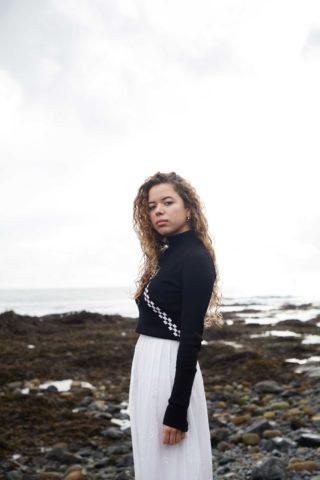 Nilüfer Yanya – Finding a quiet mind
The London musician has finished her debut album, made all over the place but intrinsically tied to the Cornish coast and a place of introspection
The night before, the storm hit hard. In the darkness, the waves hurled themselves against the seawall, sending great arcs of water inland drenching roads and shop fronts. A bus shelter cowers, rubbish is whisked down the street and small boats rattle on their moorings. As a defence, umbrellas are all but useless. The morning after, and the temper has gone. The Cornish town of Penzance is tranquil once again. It's a weekday in early November, and the atmosphere is fresh. Like the wash has reset the place. The promenade slowly begins to dry as stoic ramblers emerge from their old fashioned B&Bs with walking sticks and flasks of tea heading for the coastal path. Overhead, a grey sky – brittle and fractured. The sun finds odd pockets to peer through and throws shafts of light shaped like UFO tractor beams onto the flat sea surface. A single fishing trawler bobs on the horizon.
Until the next shower, the view from Penzance headland is clear. To the west is the adjoining town of Newlyn. Curve around the coast from there, and the UK's big toe (Land's End) is just 10 miles or so away. From there it's out to the vast expanse of the Celtic Sea, and further still, the Atlantic Ocean. Look east, and the bay curls away to reveal St Michael's Mount, a castle island out in the water, only accessible via causeway when the tide is out. Set against the charcoal clouds its ominous silhouette looks like a mythical construction described in the pages of a Tolkien novel.
To the south, out to sea, are the Battery Rocks, a jagged family of boulders, still covered in a slippery membrane from the angry waves. Next to that, Jubilee Pool – an art deco lido. In the summer months this triangle basin sees hundreds of bathers set their towels out around its edge. Today, it's closed and deserted, just like the day Nilüfer Yanya filmed part of her video for 2017 single 'Baby Luv', where the songwriter floated around on a lilo, sipping a carton of juice and strumming a pink inflatable guitar. It encapsulated a kind of uniquely bleak English glamour.
There are no crowds right now. In fact, there are few noticeable locals. At this time of year the takeaways only open part-time, tearooms are sleepy and the tourist stores selling plastic are packed away. A worker at Jubilee Pool (who kindly allows us to take some photos inside) explains that from October onwards Penzance enters hibernation.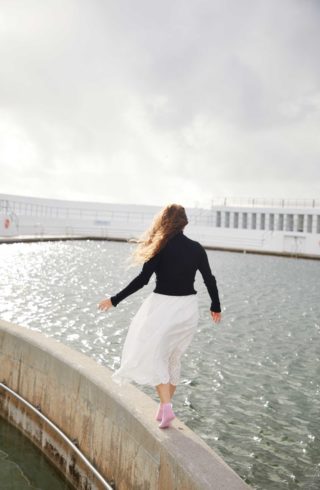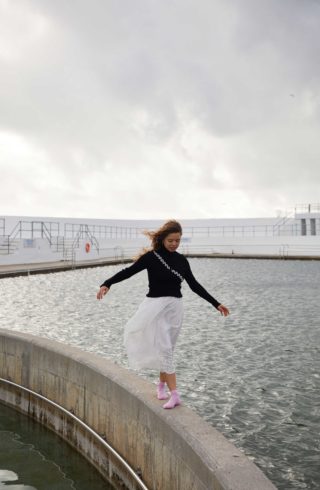 The first member of Nilüfer Yanya's family I meet is an affectionate black dog with soft ears called Snoopy. A few winding, uphill streets up into town from the Jubilee Pool is her aunt Vicky's and uncle Joe's home. We bundle through the door in big coats with carrier bags of fish 'n' chips, into the warm dining room kitchen. It's a beautiful home; a seaside take on a country cottage, all chunky furniture, personal touches and high ceilings. Snoopy weaves in and out of chair legs as lunch gets eaten.
Cornwall, and these four walls in particular, are key to Nilüfer's story. Now 23, she started visiting Penzance when she was 10 or 11. The family – her mum Sandra and dad Ali, two sisters and brother – would squeeze into a rental car in summer or at Christmas and make the lengthy journey from their home in west London. For family vacations the main attraction at that point was the beach, with days spent on the sandy stretches of close-by Marazion or Porthcurno. Long walks, surfing, bodyboarding. "You're at that age where you're almost a teenager," Nilüfer recalls. "You're like, 'arrrgh man, I don't want to be here', but you're actually having a really nice time."
These annual breaks began after Vicky (Sandra's sister) and Joe decided to up sticks from the South East. Done with the suffocating commutes and work pressures, the dream had long been to live and work in the same place. Joe, a former bass player with '80s Brit-funk band I Level, had gone on to carve out a successful career as a session musician and then as a producer, predominantly working with recording artists from Spain and Latin America.
If you walk through the kitchen of their home, out via a side door, nestled in the garden, is the studio that Joe has built – Riverfish Music. While it looks like a stone outhouse, inside, across two floors, it's fitted out with a live room, vocal booth and a sizeable mixing desk crowded with speakers, cables and ornaments. There are cabinets, tape machines and a clutch of proudly maintained guitars, plus a nodding dog sat on the side. These days many of the studio's clients are local artists, but it still acts as a residential studio attracting foreign-language musicians (including some multi-platinum selling artists, lesser known to UK audiences) to stay and record.
Of those formative family visits, the thing Joe recalls most vividly is Nilüfer's inquisitiveness. "In the evenings she'd be checking out the guitars," he says. "Even at that age. She was always focused on it." The timing, in many ways, was ideal. A musician in her early teens arriving on holiday at a playground of music. Joe, encouraging her interest, would help teach her chords and rhythms before eventually, at 15, she recorded her first original song (called 'Promise') here in the studio. Her sister Molly made the music video for it ("in the studio… miming along. It looked pretty good for what it was," she says), but Nilüfer cringes when she says they only got around to deleting it from YouTube four years ago.
"When we first started doing little demos, I noticed that she was so sure about what she liked and what she didn't like," says Joe, sat with Vicky and Snoopy on a sofa in a front room that also acts as the studio's office. "Very individual, very original. She has very strong ideas – that's what makes her who she is. Without that she could be manipulated into all sorts, but she knows what she's doing. She just doesn't like mediocrity."
"Level-headed," says Vicky, when I ask about Nilüfer's character. "She's actually quite like Ali, her dad, in some respects. Independent and confident… a quiet confidence."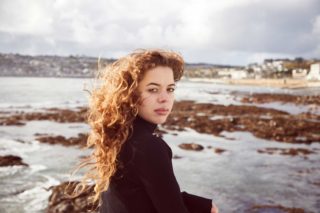 September 2016 was the first time I met Nilüfer Yanya. Close to her family home, it was in the basement of the Chelsea cafe where she planned the music video with her sister – now a frequent collaborator on her visuals, sometimes as part of her film collective Energy Force – for, at that point, her recently released debut single 'Small Crimes'. That clip, which features balaclava wearing figures smashing furniture and Yanya clasping a baseball bat, filled my head with preconceptions about the person I would meet. In person, she was no hard nut; instead, she was polite, studious and a little cautious. She told me about her parents (both working artists, mostly watercolours, her father has work in the British Museum), how she played classical piano before picking up guitar "because it was cooler", the influence of early school teacher Dave Okumu (from The Invisible) on her style, how her music taste had evolved from Blink 182 to the likes of Nina Simone, her part-time job in a fancy dress shop and the voluntary project she'd recently begun running in Greece with her sister for refugees, Artists In Transit.
A lot has happened in the two years that have passed. Following the 'Small Crimes' EP that autumn, she went on to release 'Plant Feed' (2017) and 'Do You Like Pain?' (2018), and has been evangelised by almost every major music site and broadsheet title in the UK and U.S. She embraced that momentum in 2017 by playing a lot of shows, and appeared at almost all of the major festivals.
At the beginning of 2018 Yanya was faced with a deadline, plus the consequences of a decision she was adamantly sticking to: her debut album would be completed this year, and wouldn't feature any music she'd previously released. It'd be all new stuff. "It's not even that that stuff is the old me, because that stuff is still me, but I'm just not really willing to present it again," she reasons. "It feels pointless. Why would I do it?"
Ultimately, she set the parameters of her own challenge, and met them. The first of those new tracks, 'Heavyweight Champion of the Year', is shared online as she's parked outside the neighbourhood chippie during the car journey to her aunt's house for this interview. Somehow that feels pertinent.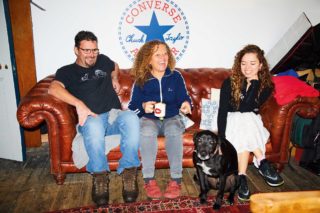 Sat by the mixing desk in the studio, Nilüfer hugs a steaming cup of tea, as she explains that making her debut album wasn't quite what she'd first imagined. The reality was it had to be assembled between other things – touring, festivals – in different places and with different people. Originally, she says, she'd have liked to have made the whole thing with her live bandmates (and friends from school) Jazzi Bobbi and Luke Bower, but "we were touring so much, and because they do their own music, there was just no time. It would have taken us three years."
The eventual reality was more fragmented. There was music written and recorded with synth-pop songwriter M. T. Hadley, Grammy award winning producer John Congleton in London and L.A. and Domino Records artist Wilma Archer, who formerly performed as Slime. Oli Barton-Wood, notable for his recent collaborations with Mellah and Alaskalaska, was also involved.
But somehow Cornwall, and Joe's and Vicky's recording space in the back garden keep returning to the heart of it. In the preliminary stages of the process Nilüfer would make the journey to Cornwall and work on ideas with Joe. At first it was about generating a spark. "I'd have ideas, but a lot of the time Joe and I would set ourselves little projects. Like, 'today we're going to pick names out of a hat and try and write a song in another style'. We had some titles, maybe some colours. Some songs. Names of bands. Some of the things we never used again, some we did. It was almost like an exercise in writing."
Those hours of practice and exploration were key. So too was the fact that working with family meant she felt less insecure about making any mistakes, writing a "bad song" or thinking "am I doing it wrong?". "You just don't really worry about those kind of things. You're both honest with each other," she reflects. "You don't feel the need to impress anyone so the ideas you present are maybe more you than you might try and present to someone else. You're just presenting yourself. It's quite rare, I think."
Crucial as well was the distance from home. Not just the commotion and distraction of the family flat she shared with her parents and siblings (she's recently moved into her own place, an experience she describes in low-key fashion as "just really chilled, I guess"), but generally the claustrophobic cycles of London. Unsurprisingly, this Penzance retreat – fresh air streams through the studio's skylight windows – became an inspiring escape. "It's the fact of being so far away from everything – there's nothing blocking your mind," she says. "So you're not like, 'oh no I shouldn't do that idea,' or, 'it's already been done,' or, 'I don't want to do that because they'll think that,' 'I can't call it that because of this.' In London it's this over-stimulation. Even when you're at home it's really hard to put up a barrier between that. When you're here no-one's watching, no-one cares."
Proximity to the water helped too, providing a breathing space. "If you're on a day where you're not 100% – a little bit anxious about something – and the sea is just like [makes the sound of crashing waves] you can be like, 'I'm not really enjoying this!' But it also has that soothing ability, the coldness, the sudden impact. It can be quite therapeutic as well." Saying that, Yanya also explains that she's instinctively drawn to the vitality of the city. "It's just nice to break out every now and again, then go back when your mind has reset a little bit. When I'm down here, I'm still working, it's just without everything else surrounding you."
The cliché goes that an artist has their whole life to make a debut album, so it should be the most straightforward thing. The pressure increases on LPs two and three. Not for Yanya though, mostly because of her of her dedication not to rework past material. "I didn't want to rerelease stuff. I did want to finish it this year. I did put pressure on myself… when you want to do something… it's hard," she tails off. "Maybe I'm stubborn, I don't know."
That choice did provoke a fresh set of feelings, doubts and emotions. "I never had it [insecurity] before. I wanted to make music as a career – before you speak to anyone about it, it's just you writing songs. You judge whether they're good or not. There's no other input from anyone else, or just from people that you already know. The second you open the door to all the good criticism and all the bad criticism it starts to mess with your head a bit. Because you're like, 'what was I doing again?'"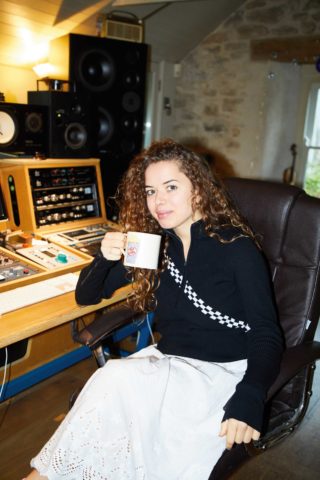 However, the album (both title and release date remain under wraps for now, but it is coming early 2019) doesn't sound like one that comes from someone uncertain of her direction. While it retains the breeziness of previous material like 'Keep on Calling', 'Baby Luv' and 'Thanks 4 Nothing', overall it feels like an assured step forward. The first voice heard is Nilüfer's, but not as you may expect. There are five interludes that act like chapter headings nestled throughout that group of songs into tribes of similar themes or styles. Those short recordings, set to music, resemble less a story, more of a concept. In a voice that imitates those painful pre-recorded corporate phone options when you just want to speak to an actual human Nilüfer introduces "Way Health – our 24/7 care programme". "We are here for you, we care for you, we worry about, so you don't have to," she says in a cheery but ominous robotic auto-tone over some wavy elevator music. "Please choose from one of the following options…" she recites. It comes across like a controlling version of the NHS 111 helpline.
The 'Way Health' organisation returns on four more occasions throughout the album – the final one ends on a malfunctioning conversation that worryingly implores the caller to "please give up" before the phone goes dead. These punctuations are weird and darkly comic. Nilüfer says they're informed by Charlie Brooker's Black Mirror and Aldous Huxley's Brave New World. How the songs interact with this framework is more ambiguous.
Given that the interludes were only recorded recently, and that at this point the album still wasn't officially completed, sat in the studio Nilüfer wrestles with trying to articulate the universe she's created for the first time. "It's not really set in stone what it is or what it isn't… it's just, there's an organisation behind it, which is a health organisation, suggesting things, or helping you through things, but also being really unhelpful and useless at the same time. Does that make sense?" she says, sensing my puzzlement and bursting into nervous laughter.
"I'm trying to find a way to explain it better. I guess a lot of it is to do with the way you're thinking about things. So it's a perception on a situation and on reality and how you perceive it and that's what makes it totally different. I guess each song is dedicated to a different perception of the reality." I must still look bamboozled. "Something to work on… explaining that," she smiles. "I still haven't quite finalised it. When I've finished everything then I'll be like, 'ok, this makes sense'."
Or maybe not something to work on. The essence of its appeal is in the multiple interpretations. In the past Nilüfer has spoken about how many of our favourite artists have an "elusive" quality, either an ungraspable distance in their songwriting, explanations or presentation. "I like songs that have stories and situations that you can almost catch, but you can't quite ever catch properly," she told FACT last year. A conversation with her can be like that – she's amiable, but emanates a sense of being either shy or slightly guarded. Over a handful of meetings, I'm still not sure which. Or both. Or neither. A pleasant enigma.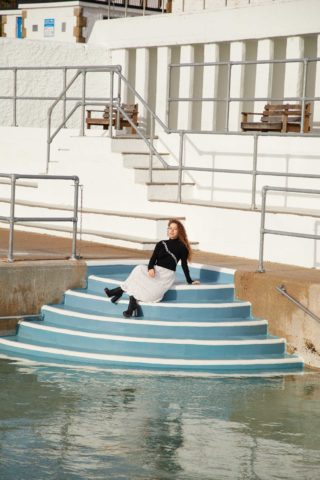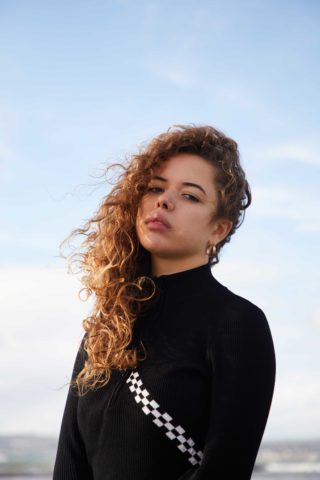 In contrast to her sometimes reticent demeanour there's little uncertain about the tracks on the album. If early singles like 'Keep on Calling' and 'Baby Luv' were outward commentaries on past relationships, this collection is more introspective. A scrutiny of her own thoughts, processes and habits. The product of a mind doing overtime. There's still plenty on turbulent romance, and plenty of references to religious phraseology ("I'm not sure why that is," she tells me later on, adding that she was brought up Muslim, though not practising, and that there's Catholicism in the family).
To start there's the powerful 'In Your Head', by and far the most direct, noisy, crashing song she's written to date. "I've hit bottom rock/ Swear I'm telling the truth/ But down here I'm dark and confused," it begins, driving along on a riff that's not unlike Bloc Party or Hard-Fi (don't hold it against her) that summons images of people hugging on an indie disco dancefloor. After that 'Paralysed' is flecked with a Santana-y guitar lick and 'Angels' builds to a swinging chorus.
The saxophone-featuring 'Paradise' – a potential festival anthem in the making – ushers in a slower, more reflective passage of the album. 'Baby Blu' is a gripping gospel soul song about letting go of past attachments. "Giving up all our love/ I guess it's just too bad/ We're moving on now/ Somehow." 'Heat Rises' is then built on a skittering drum machine beat and a rippling guitar that features the recognisably misty vocals of Dave Okumu from The Invisible, a neat call back to their past. "It was great. Just like when you see someone you haven't seen for a while," Nilüfer says of rekindling their partnership.
'Safety Net' and 'Tears' are both vulnerable and determined. And 'Monsters Under The Bed', written when she was 15, is the only "old" material included that hasn't been penned since she turned 22. It strips things back to just her and her signature crisp jazzy guitar sound. After the final interlude, the album is drawn to a close with recent single 'Heavyweight Champion of the Year'. "Something like 'Baby Luv' [the lyrics] is like "do you like pain?" questioning the idea of why you would do something again and again," she says. "Why do you keep putting yourself in that situation? 'Heavyweight Champion…' is more like, 'I've decided this is not a good idea, I'm not going to do that to myself.'"
It's a track, and fitting finale, that distils Nilüfer's ability to write a pop song that's both intriguingly aloof but also a roaring anthem. In short, her assertive decision has more than paid off. Like Joe says, "she doesn't do mediocrity". There's none on display here.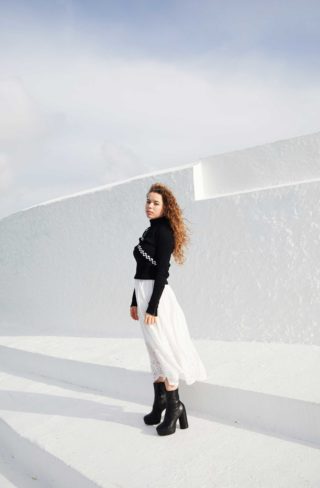 The next time we speak, a fortnight later, Nilüfer is in a van with her band somewhere in south east England on her way to Harwich to catch an overnight ferry to continue a European tour supporting Interpol. Those are her final shows of the year. Looking ahead, she'll spend February on tour with Sharon van Etten in America, before heading out on a headline tour that, appropriately given her family's cocktail of Bajan-Irish-Turkish ancestry, will begin in Istanbul in March.
"My heritage is something that I haven't explored enough, there's still so much to uncover and learn about," she says. "I guess it feels more significant because I have family there – every time we go there it's like you're going back but you were never from there. You bring a bit of that back with you each time."
The night after our Cornish meeting Nilüfer drove back to London, went straight to the studio and made her final adjustments to the album. She sounds a little more assured. "I walked home and I was like, 'oh, I've finished my album,'" she says nonchalantly.
However, she admits to some apprehension, mostly down to the fact that other people were involved with her creative process for the first time. "There's a lot of co-writes on the album, which wasn't really originally part of my plan," she elaborates. "I guess I feel less confident about that. I don't really know."
It's a reminder that this process is still a relatively new experience for her. In conversation she's never evasive – quite the opposite – but I'm moved to ask if she considers herself a shy or private person?
There's a hesitation before she replies: "I think I would definitely come across shy to some people. I don't really feel shy about much. I guess I'm not really an extrovert.
"In the normal day-to-day I wouldn't put a lot of myself out there. I'm kind of conserving it, I don't know what for. I don't have that extra energy… which is interesting, because a lot of stuff you do around music you kind of need to be that person sometimes. Like shows, interviews or making videos… you kind of need to perform."
She has one thing to add before she gets back to the journey: "I guess you can choose, what you put out there about yourself and what you don't. I think everyone is making that choice, even if they're not."
Loud And Quiet needs your help
The COVID-19 crisis has cut off our advertising revenue stream, which is how we've always funded how we promoted new independent artists.
Now we must ask for your help.
If you enjoy our articles, photography and podcasts, please consider becoming a subscribing member. It works out to just £1 per week, to receive our next 6 issues, our 15-year anniversary zine, access to our digital editions, the L&Q brass pin, exclusive playlists, the L&Q bookmark and loads of other extras.