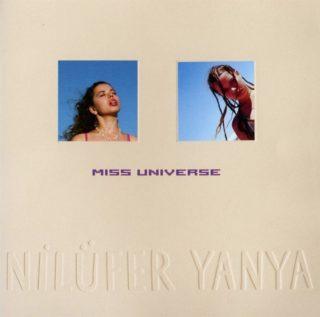 Nilüfer Yanya
Miss Universe
(ATO)
8/10
Every so often there's a buzz around an artist and you don't know quite how it's got there. For Nilüfer Yanya it comes in the form of a bouncer laughing you down as you turn up for her Great Escape set ten minutes early expecting there'll be space for you in the venue; in the form of unusually hushed crowds for big name support slots with Interpol, The xx, Mitski and Broken Social Scene; a BBC Sound of 2018 longlist; a starring role at the End of the Road festival's Loud And Quiet-branded tent (a career highlight, of course); in the stony-faced lines of fans queuing up to buy a limited pressing of her debut EP when the Independent Label Fair comes around; in the lines of fans queuing up to buy a limited pressing of her second EP; in the lines of fans queuing up to buy a limited pressing of her third EP.
You get the idea: 'Miss Universe' arrives with its own hefty context. But when she appeared as Loud And Quiet's first cover feature of the new year, it was all about finding a quiet mind (however contrary to journalism's elephant in the room that is). Her debut album's been made in between worlds, with some of indie music's most-acclaimed producers and two of London and New York's most-esteemed labels. But she still shared the first single from the album while she was parked outside the neighbourhood chippie before our interview with her. It's hard to be discreet when the world's watching, but not if you go and spend some time in Cornwall.
The album also comes with a fictitious and over-friendly health management company. "You sign up, and you pay a fee," she explains in the accompanying press release, "they sort out all of your dietary requirements, move onto medication, and then they'll work out if anything's wrong with you, maybe you can get a better organ or something… and then suddenly it starts to get a bit weird. You're giving them more of you." WWAY (We Worry About Your) Health also lends its name to the opening track – a conceptual spoken word piece that plays like an automated message on top of sunny steel drum hold music. Users can select possible symptoms: an abnormal feeling of discomfort from the light, a sense of being watched, a sense of being followed, deep paranoia and a longing for validation in others.
COVER FEATURE INTERVIEW: Finding a quiet mind with Nilüfer Yanya
The punchy second track, 'In Your Head', hits with grungy fuzz-ridden guitars and sharp synth singes. It's several steps away from the soulful pop 'Golden Cage'-era Yanya, but the jazz inflections are there in the breathy vocals somewhere between Karen O and Zara McFarlane. Its accompanying video is the perfect portrayal of digital identities in different worlds, rotating through glamour shots in swimming pools and wistful desert scenes to cheap Motel rooms showering dollar bills, mayo-soaked pastries and curly fries. It plays like a tongue-in-cheek audiobook of The Downsides to Being a Touring Musician 101.
Then 'Paralysed' – a hook driven dose of alt-rock that could be a Velvet Underground cover if Lou Reed found a greater vocal range. 'Angels' has the signature short punchy strums of 'Baby Luv' before succoring another anthemic chorus line, this one taking inspiration from Edgar Allan Poe and Malorie Blackman, about loving something to the point of killing it. Just as Yanya's own Turkish-Irish-Bajan heritage, comprising a childhood in Cornwall and a feeling that London is home, has led her to recently unlock more physical spaces in which she feels like she can naturally exist, the grunge-rock stagger of the first half of 'Miss Universe' couldn't be further away from squelchy dance floor tracks and smooth saxophone appetizers that come later.
'Baby Blu' is a gorgeous arrangement of plucked guitar patterns, digitised basslines and a minimalist Fugees-soul, RnB production. A 20-second warning foretells our entry to a "high temperature zone" as we're met by the song she co-wrote with her old guitar teacher, The Invisible's Dave Okumu; a brooding cinematic dose of bantamweight soul for a modern day Fun Boy Three. Extrapolated sax in 'Melt' from school friend Jazzi Bobbi isn't just a cursory nod to a DIY and Soundcloud heritage, but feels like a compassionate demo take pining after freedom and debauchery. The same balladeering intoning vocals run through 'Tears' with a soft italo beat more in-line with a Christine & the Queens disco track than something you'd expect from an up-until-now stationary stage strummer.
True to years of writing and recording, this debut album plays like a burst river pipe at the height of monsoon season. More and more songs spill out, 17 of them in all, each tarnished with sharp distinctive hooks and the nasal jazz-pop tooting of Yanya's voice. It's full of intrigue and playfulness, a careful but bolshie response to any pressures of expectation. The closing automated message plays through an endless loop; you have finished phase one of your WWAY Health induction and you must now "give up or try again." These part-fun/part-bleak messages of performance and health have already been perfectly captured in the album. But the clever concept still hits more with the critically satiric edge of Little Brother's 'The Minstrel Show' than some needless add-on, even if she didn't have to register with Company's House.
Please support Loud And Quiet if you can
If you're a fan of what we do, please consider subscribing to L&Q to help fund our support of new musicians and independent labels
You can make a big difference for a few pounds per month, and in return we'll send you our magazines, exclusive flexi discs, and other subscriber bonus bits and pieces
Try for a month and cancel anytime