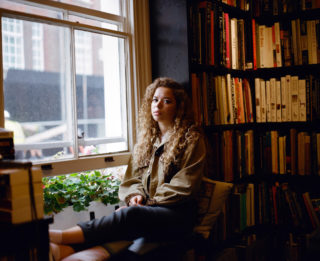 How a petty thief inspired Nilüfer Yanya, a young, understated voice of west London
Two years ago Nilüfer Yanya's bike was stolen from her garden shed. It meant, that day, she couldn't cycle to work. She was annoyed. A year later, she found it down the road, by the bridge, chained up without a saddle. She thought a lot about the act, the perpetrator's motivation, and wrote her first proper single, 'Small Crimes'. "I'm a petty thief / What I find, I keep," she sings on the track over a trembling, jazzy guitar before an expansive, haunting chorus kicks in. "They're small crimes / some things I just wouldn't do."
Today, a few leafy streets away from her family home in west London, she's sat among the strewn novels and teacups of an independent cafe. In the corner is the table where she planned the 'Small Crimes' video with her sister and her sister's boyfriend (director Patrick Chamberlin).
If you haven't seen it, the clip features the 21-year-old Londoner performing in front of a number of grimey backdrops. There's a guy violently smashing a chair. Two threatening individuals pace around wearing leather jackets and balaclavas. Nilüfer sits on the back of a stranger's motorbike in a dicey lookin' metal scrapyard. As she sings she looks deep into the camcorder lens and grips a baseball bat in a way that says don't mess.
In person, Nilüfer is petite. She offers water around the table, and replies to questions with short, sensible answers. She's philosophical, polite, quietly spoken, conscientious and kind of shy. She enjoys seeing friends, and at the moment, is reading Life Lessons from Nietzsche. She works a few doors down in a clothes store, and used to do shifts in a fancy dress shop. Not really the hard-ass at all. "You thought I was going to be tough?" she giggles.
"Patrick really likes a lot of, like, trap and rap videos," she explains. "A lot of that came off in the video. Like, the whole bike scene. It feels like a nice contrast to the song. I didn't want it to come across as soft or, like, weak."
Nilüfer grew up in these parts, a short walk from the pretentious fashion boutiques of Sloane Square where the customers' dogs have more expensive haircuts than their owners. That's not her scene though. You'll sooner find her swimming in the local leisure centre's pool, taking in the free exhibitions in the Saatchi and buying books from her favourite local store where we first meet (John Sandoe).
"Do I like it around here?" she shrugs, "It's okay."
"It's always been posh, but now it's really posh. It's like the people here on the weekend, they don't actually live here. They come in to shop, and then everyone goes away.
"It's just not that fun sometimes, unless you have money. If you have money it's fun, if you don't you feel a bit left out."
The night before we meet she's been drinking in a pub in Shadwell, the following week she's off to investigate the thrum of Berlin's nightlife. Not Made In Chelsea, then.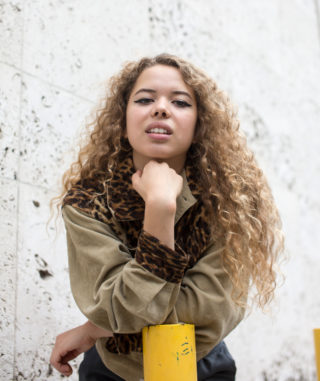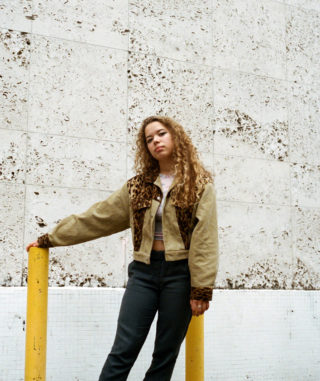 One of four children, Nilüfer's parents are the artists Ali and Sandra Yanya. She has an older sister – a youth worker and documentary maker – a younger brother (just off to university in Southampton) and a sister. Her mother plays piano, her father often picked up the traditional Turkish instrument the saz (it looks like a guitar). Growing up, the sounds of jazz and classical music would be playing around the house.
At six and a half she started learning piano, until, as she approached teenagehood, she discovered her older sister's CD collection. "Simple Plan, Blink 182, skater punk stuff," she laughs with a tinge of embarrassment. "'Enema of the State' – it's a pretty good album!"
These days, to relax she listens to Chet Baker and Nina Simone, Jeff Buckley or Leanne La Havas. Her recent obsessions have been with Rosie Lowe ("I love how strong she is") and Connan Mockasin.
With her other siblings learning violin and cello, Nilüfer was keen to pick up something "cooler", the guitar. "They didn't really stick with the music. Just me," she recalls. "Which is a shame because I would love to be in a band with my brothers and sisters. That would be so much fun."
She enrolled for secondary school in Pimlico, because "it had a really good music department". The school had funding and employed decent teachers. Little did she know, or care, at the time, but aged 12 she was being taught guitar by a guest lecturer – The Invisible's Dave Okumu.
"No-one knew who he was, everyone just thought he was really cool because he could play guitar and looked cool," she says. "I remember being in his lessons thinking, wow this is great".
Those sessions led her into the school band where she joined other students playing Stevie Wonder and The Cure covers.
"His advice was that he didn't start singing for ages," Nilüfer tells me, "and that you should start now. He said, I know it's horrible but if you start now you'll really appreciate it when you're older." After that, music was all she wanted to do.
Post-school, Nilüfer applied to go to Goldsmiths twice but missed out, instead opting for a music foundation course in Stratford. She wrote her first songs and got noticed by DEEK Recordings (releasing a cover of 'Pixies'' 'Hey' on their compilation), then joined up with her label Blue Flowers.
At home is where Nilüfer writes most of her music, in her bedroom, often late at night. It was there that 'Small Crimes' came together, up above the spot where her bicycle was nicked.
"I was thinking about how it was a small crime," she explains. "It affected me, but it wasn't like the worst thing that could happen to me. My life is exactly the same. I was thinking about how smaller crimes always seem to have a lot of stigma attached to them, but like, the bigger crimes can kind of go unnoticed. They happen all the time.
"We all kind of accept them," she continues. "It's kind of a comparison – 'Small crimes / something's I wouldn't do'. Maybe if I was desperate I might steal someone's bike but I definitely wouldn't send bombs to another country, steal data, privacy, or all of those things that happen."
She admits that she sometimes thinks about the person who had the bicycle away.
"I sympathise if they were desperate to do that, but I don't think it's ok to steal people's things. It's not cool. I hope they needed it more than I do." She pauses. "There's so much stigma attached to it. Those people go around in that circle again and again, and for them there's no way to get out. Prison, it really doesn't work the way it is now – I don't think it's working."
Thinking of others – it's a theme that crops up a number of times in our conversation. Later in the year, before she plays a number of London headline shows, Nilüfer's travelling to Athens where she's a volunteer at a refugee camp. As part of the scheme (Artists In Transit) she'll run music workshops along with her mother and sister.
"We live in a bubble," she tells me, "especially in London, or even like Europe and the West. It's so insular and you don't feel like it's affecting you.
"I just feel like I've been really lucky in my life, nothing really horrible has happened to me. If nothing horrible is happening to me, then I kind of don't have an excuse to not help other people."
Nilüfer's next single 'Keep On Calling' is more of a traditional love song. Well, rather a song that takes aim at timewasting men. Again, the video, like the track, is simple but arresting. It sounds like The xx, a band Nilüfer first heard when she was in year 10 at school.
"Boy, I'm getting tired of your games / You just don't stop speaking / But I'm done with feeling / Boy, I'm getting bored with your games," it goes. She's just released the track, as an EP, with 'Small Crimes'. "It's lighter," she says simply, "but still dark."
As the Dictaphone goes off Nilüfer escapes to go and see a friend play a show that night. "You thought I was going to be tough?" she repeats, smiling and shaking her head. "That's so funny."
Please support Loud And Quiet if you can
If you're a fan of what we do, please consider subscribing to L&Q to help fund our support of new musicians and independent labels
You can make a big difference for a few pounds per month, and in return we'll send you our magazines, exclusive flexi discs, and other subscriber bonus bits and pieces
Try for a month and cancel anytime