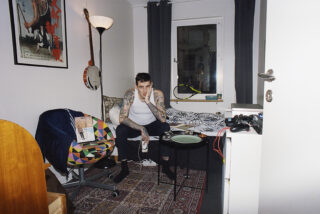 Spam, incense and Magic the Gathering: at home with Viagra Boys
Frontman Sebastian Murphy shows us around his flat in Stockholm
It's early January, and that means release week for Viagra Boys' second album Welfare Jazz. The record is an exercise in post-punk, continuing the musical satire that carried their debut Street Worms, once again leaning into Viagra Boys' tendency to make the mundane strange. It's snidely political and lovingly absurd, and singer Sebastian Murphy is ready to be done with it. 
"I'm looking forward to it coming out," he says. "We recorded it over a year ago, so I'm over it. I want to move on to the next one."
At the moment, the whole 'moving on' thing is complicated. Naturally, there'll be no touring this record internationally in the foreseeable future. With most of Europe still closed down, Welfare Jazz is largely an at-home experience.
Home, for Sebastian, is the Södermalm area of Stockholm. Having lived in the States until he was seventeen, with a Swedish mother and an American father, Sebastian's stuck around Sweden ever since. (When asked why he simply says "socialism", to which I have to say: fair enough). 
Stockholm is a cluster of islands at the south-western end of Sweden, peppering the Baltic Sea as if the country has simply started to disintegrate into the water. Södermalm, which literally means 'Southern Island', is where the hipsters live. It was once the working class area, Sebastian says, but gentrification has crept in here just like everywhere else. These days Södermalm regularly crops up in lists of Europe's coolest neighbourhoods, praised for its cafes, its fashion, its unflinching good taste and underground Shuffleboard clubs. By all accounts, there are worse places to ride out a pandemic. 
That being said, there's not much 'riding out' being done in Södermalm. In fact it's business as usual in Stockholm, more or less. Unlike many other places, and despite daily case numbers over the 30,000 mark in the first weeks of 2021, Sweden hasn't gone into lockdown. It's still a Scandinavian winter out there though. The end result is more or less the same.
Sebastian gestures to the square outside his bedroom window, blanketed in snow.
"It's so fucking cold here," he says. "No one really wants to go out."
He's been spending most days with his girlfriend, just hanging out. Otherwise, he stays at home in his self-described "gaming cave". 
"That's all I really do, is play video games," he says. 
It's a laid back time, and he's happy to keep things local. Why wouldn't you be, if your house was in the epicentre of Stockholm's creative hub? You might as well hang around. 
"I don't think I ever really leave this island," Sebastian says. "It's where I feel at home and where all of my friends live. It's a nice place to be."
For the rest of us, confined to our houses, Södermalm sounds like a dream. Imagine being able to leave your house and wander around Stockholm's southern island. Winter or no winter. For anyone not already in Sweden, that seems like a dream of a bygone era. 
Thankfully, we can still snoop around a little bit at a safe distance. Sebastian let us comb through his apartment, one piece of Viagra Boys ephemera at a time.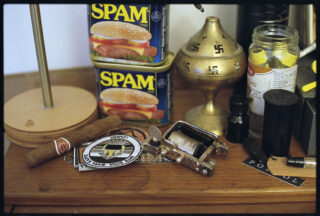 Spam and Incense Burner
I love Spam. I think it's really tasty. So a friend of mine was back in the States a few weeks ago and I asked him to bring some Spam back for me. So if there's an apocalypse, I've got really salty food to eat. And hopefully some water. 
That thing with the swastikas, I've collected a lot of Buddhist shit from India. It's just some shit that somebody brought back for me from India and I think it's for burning incense or something like that. It's just for decoration.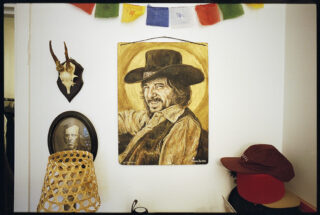 Portrait of Waylon Jennings
That's [country and blues musician] Waylon Jennings, painted by a friend of mine for me because he knows how much I love Waylon Jennings. Waylon Jennings is my musical hero. I love the way he sings, and I've always loved his lyrics, and his songs, and just the way he lived his life. He was a true outlaw. He kind of settled down in the '80s before he died. He promised his wife, Jessie Coulter, that he'd never take cocaine again. And then since that day, he never did it again.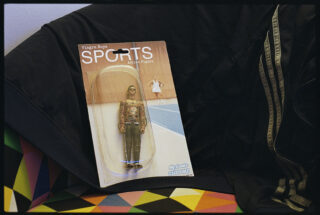 Sebastian Murphy Action Figure
This is by this dude named Mr Cook's Customs. Really nice guy. I met him in Northern England somewhere, I don't remember where. But somewhere in England. He made that for me, and it's just cool. I don't collect that much Viagra Boys shit, but I did keep that one. I didn't request [for it to be made]. I never thought in a million years that I would be an action figure.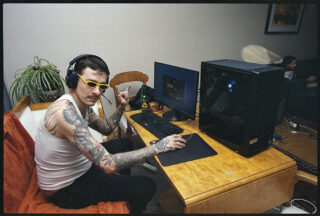 Playstation 4 / PC
My main console would be the PC. But sometimes when I'm in my room I'll just play Playstation because the PC is out in my living room. I play a lot of Dark Souls and Metal Gear Solid, and stuff like that. I've put in way over 200 hours on literally every single Dark Souls game. Same thing goes with Metal Gear Solid. I've played every single game in the series. Finished every single one. You get the picture.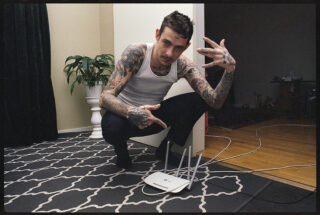 Wifi Router
I've got good internet connection [laughs]. It needs to be there because I live with another guy and he needs it to go to his room and I need it over in my room. So we need to have it in the middle of the floor.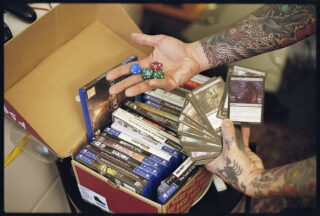 Magic the Gathering Cards and Dice
I play Magic the Gathering with my friends like, once a month maybe. We just get together and drink beers and play Magic. I play with a few other tattooers out here in Stockholm as well. It's a common hobby among certain tattooers, I don't know why. I think it has a lot to do with [the fact that] the imagery is really cool.
I got into Magic when I was like thirteen, and I played a couple of Friday night Magic games down at the card shop in California. Back then I was a little bit into it, but I wasn't super into it. And then, six years ago a friend of mine was like, 'oh man, I started playing Magic' and I'm like 'oh yeah, shit I used to play that as a kid', so I started playing again as an adult and I just thought it was super fun. It's the best. It's the best game ever created. It's super, super fun. Some people call it the best game ever created after chess. Chess is number one, and I think Magic is number two.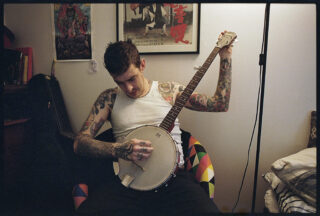 Banjo
I play all sorts of instruments, but I'm not good at any of them. I have a bunch of guitars, and a banjo, and bass, and I have a huge collection that's in boxes because I don't have room for it here. Playing and making music in the studio all day kind of makes me tired of it, and I don't want to do it at home. When I'm at home I want to do other shit. The banjo doesn't feature on any Viagra Boys tracks. Maybe in the future. My solo album will be just me and a banjo.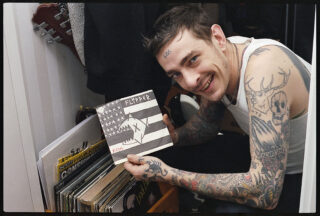 Flipper Record
My record collection is pretty small. I've acquired a few records along the way, but honestly a lot of them are stolen from my dad. Sorry dad. I bought the Flipper '45 in the states as a teenager. They've always been one of my favourite bands, from the first time I heard them as a fourteen-year-old. 'Ha ha ha' was actually one of the first songs I tried to learn on a guitar.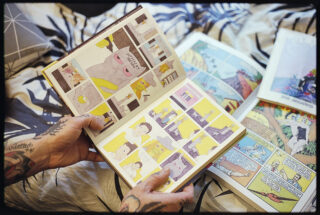 Comic Books
This one's called Megahex by Simon Hanselmann. It's a really good comic book. My girlfriend writes comic books, so she showed this to me. She's friends with him. She's gotten me into a lot of comic books lately. 
I used to read a lot of that shit. And I used to draw comics as a kid as well. So I've always had a love for comic books. I remember my dad always used to get pissed off at me because if he wanted me to get a book from the library, every time I went I would get a comic book. And he would get all pissed off because it's not a real book. But it's just a bit more visual, which I prefer. I have too much ADD to read. I very rarely read actual books.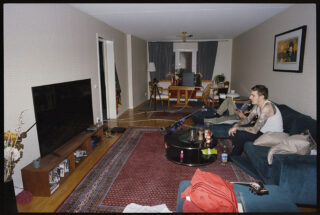 Tennis Racquet
I actually play tennis once a week. Actually, three of the guys in the band all play tennis. We all started playing in this group. There's a lot of other musicians like that in the same group, and it's super fun. We're all trying to get healthy.  
Gift subscriptions are now available
It's been a long time coming, but you can now buy your pal/lover/offended party a subscription to Loud And Quiet, for any occasion or no occasion at all.
Gift them a month or a full year. And get yourself one too.
Whoever it's for, subscriptions allow us to keep producing Loud And Quiet and supporting independent new artists, labels and journalism.