Viagra Boys find themselves in a bind: on the one hand, they write songs that revel in the indulgences of yesteryear's rock'n'roll cliché; on the other, they exist at a time when the romanticism of those supposed glory days has been overtaken by the clear-eyed reality check that such decadence was achieved at some moral and ethical expense. 
The Stockholm five-piece's second album, 2021's Welfare Jazz, dealt with the projections and connotations associated with the band's choice of musical aesthetic with admirable directness. How to tackle issues of toxic masculinity and the unmanaged violence of the patriarchy while splashing around so gleefully in the waters of supercharged, lascivious, macho cock rock? Well, by talking about it. By exploring the themes, and gently untangling whatever confusions may arise for listeners that equate the two things. 
That album's lyrical content tackled misogyny and personal responsibility head-on, while darkly pastiching the image of a feral, wildman rock persona, or, as frontman Sebastian Murphy put it at the time, "the art of being an asshole". They became adept at holding up a black comedy mirror to themselves. The album expunged any lingering doubts about the group's hidden intentions and with it behind them, the path is now clear on Cave World for Murphy and band to turn their artillery outwards.

The same excoriating character work that Murphy previously applied to himself is this time around targeted at a very particular group in our society. They are personified in the track 'Troglodyte', which finds Murphy addressing the fact that without us realising it, our world has become overrun by a tribe of over-reactive and under-considerate blowhards.
"He says he don't believe in science, he thinks that all the news is fake / And late at night he sits on his computer and writes about the things he hates," sings a disdainful Murphy. His argument follows that if we were to trace these people's lines of logic to their ultimate conclusion, they could only be made truly happy if society returned to its most elemental, basic form. And there, even then, goes Murphy's dastardly punchline, the pre-hominids would spurn them too: "But if it was a million years ago and we were still living in caves / You would not be welcomed by the other apes, cuz you evolved a bit too late."
Murphy goes on to put some flesh on the bones of these troglodytes on the track 'Creepy Crawlers'. Over a rumbling bassline that almost recalls the most paranoiac stretches of The Dark Side of the Moon, Murphy embodies one such meathead: "I can't believe what I read last night…They're putting microchips in the vaccines, little creepy crawlies with tiny little legs that creep around your body, collecting information," he sings, with mock outrage. The 'they' in question, it transpires, are your lizard overlords and they are busy harvesting your children. Astoundingly original observations these may not be, but Viagra Boys' full-blooded commitment to the absurdist satire is still an irresistible joy.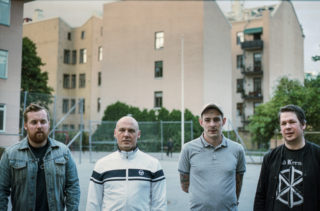 If it seems like the familiar dirtbag misanthrope lead character of their previous albums has gone, though, tracks like 'Punk Rock Loser' are here to give you your hit, the song's grinding, prowling spirit further sullied by Murphy's surly, snarling delivery. 'Baby Criminal', which tells the story of the degeneration of a cute baby Jimmy into a tinfoil-suited, nuclear device-building adult Jimmy, bottles the energy that remains the band's primary strength, driven as it is by the double prong of Tor Sjödén's punchbag drumbeat and Oskar Carls' chaotic, sprawling saxophone. Murphy's vocals, meanwhile, sound more and more like what would have happened had Nick Cave come up through the Brixton Windmill scene, and one cannot help but wonder whether the album's title was intended to have a dual meaning.
'Ain't No Thief' is a genuinely laugh-out-loud funny tale in which our protagonist tells increasingly tall tales to get off the hook for the theft for which he is accused. There is a wild-armed abandon to the track's structure, the band marching triumphantly as one maniacal beast, care-free and apology-proof, excited by their own hysteria, like an early Beastie Boys song.
The same disregard underpins 'Big Boy', with Murphy once again turning the spotlight upon himself, hoping that an excess of feigned machismo might bulldoze its way through his insecurities ("I got a big hat on that makes me look like a cowboy from a film"). The track is mastered to sound like an old 1950s blues record, albeit a little closer to Screamin' Jay Hawkins than Howlin' Wolf, with rudimentary guitar lines and fuzzy production values. It also conceals in its final act the album's one outside contribution: a guest verse from long-time Viagra Boys admirer Jason Williamson, whose acerbic, obstreperous addition only brings more unruliness to an already disreputable atmosphere. In terms of their place in the current pantheon of alt-rock iconoclasts, perhaps Viagra Boys could be said to lack the uncompromising bite of Williamson's Sleaford Mods or the sharp fury of Benefits, and yet they present something more constructive and pointed than the cartoonish snowflake bravado of IDLES.
'The Cognitive Trade-Off Hypothesis', named after the theory that our human ancestors sacrificed their short-term memory skills in order to develop complex language, returns the album to its recurring milieu of tree- and cave-dwelling prehistory. Murphy's falsetto over the chorus is an addictive listen, but for once the band exercise patience and restraint, and as a result the mood takes on a (slightly) more serious tone. The lyrics draw parallels with Murphy's own real life ("But what's all of this got to do with me / Is there some sort of connection to my ADD?"), and suddenly the jokes seem to have dried up. 
Later in the album, the subject returns. 'ADD' discusses, one assumes, legitimate matters familiar to the band, and we see the Swedes' parodic, performative masks momentarily disintegrating. It could signify an intriguing evolution for the band moving forward, further convoluting their already deceptively complex interplay between the layers of fiction they present to an audience and their real selves. The band suffered an immense tragedy in October 2021 when their co-founder and guitarist Benjamin Vallé passed away at the age of 47; there is no obvious reference made to it on Cave World, but they are at the stage now where it would not appear entirely out of character for them to do so.
Album closer 'Return to Monke' grounds us back in the literal cave world, the record's subtexts now blooming into full and glorious technicolour. Even in the native land and time of the troglodyte, there are deep and unhealed social divisions, the song contends: "Well, I'm afraid of my neighbours, they look much different from me / I think they're planning something sinister with the global elite." Perhaps our current blight is nothing new at all, Murphy asks us to wonder, and the human race was simply born this way. It is one thing to ridicule the small-minded, badly-reasoned arguments of these people that now appear to wield power over us, but to draw an album-long metaphor for their bogus mindset that both points and laughs and their ignorance and offers some degree of oversight into how we might always have been destined to arrive at this point, well that is more than you might expect from a band like Viagra Boys at first glance.
Please support Loud And Quiet if you can
If you're a fan of what we do, please consider subscribing to L&Q to help fund our support of new musicians and independent labels
You can make a big difference for a few pounds per month, and in return we'll send you our magazines, exclusive flexi discs, and other subscriber bonus bits and pieces
Try for a month and cancel anytime