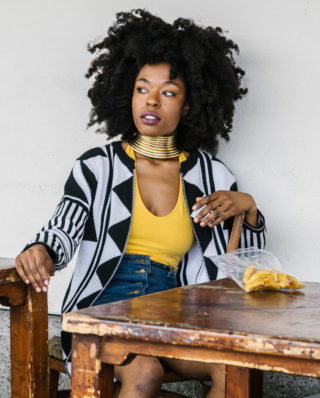 Sudan Archives – when iPad drum machine meets violin and Dr Seuss
There's a jigsaw piece missing from the centre of Sudan Archives. Speaking from LA, the former Brittney Parks ("not even my Mom calls me that now") can explain the how, the when and the what of her budding career, but the reasons why she's chosen to put herself in the limelight remain tantalisingly out of reach.
Seemingly more at ease in the background than being centre stage, Sudan Archives has a natural reticence. She's courteous and has a warm laugh, and her conversation contrasts with her on-record braggadocio. "I ain't got no friends / I'm too confident," she sings on 'Wake Up' over Sudanese-inspired fiddle, laid-back soul and a hip-hop beat.
The sentiment is in keeping with her narrative of growing up in Cincinnati without many friends and feeling like she didn't fit in, which is possibly the result of her upbringing in a religious household. While her peers were playing The Pussycat Dolls and Linkin Park she "didn't really listen to any modern music because I was in such a strict household and we only went to church and listened to music there."
It was while in the gospel church that her interest in music was piqued. "I've always messed around with instruments and when I would go to church the choir would really encourage young kids to just pick [them] up," she tells me, and not having and scores to follow, she "had to figure out what to play to their music. And so that just developed my ear," she says, "which eventually helped to develop my own sound because I was so used to making up ideas."
She played around with a lot of different instruments as a child but she decided to learn the violin after a group of fiddlers came into her class in fourth grade. "They played Irish jigs and stuff and I thought they sounded really cool," she enthuses. "So that's when I really wanted to learn violin and be like them because they played violin but they were also dancing and singing."
A few years further down the line a teenage Sudan was being influenced by the local music scene in Cincinnati, where she attended a lot of electronic shows. "I would see these producers and they would make music off of these drum machines, these [Roland] SP-404s," she says. It was an interest that developed further when her father gave her an iPad when she was 16. She couldn't afford to buy the equipment she heard musicians playing so instead downloaded apps that were replicas of drum machines, "because what the guy was playing beats off was a 404 and they had SP-404 apps."
The attitude of local producers and rappers also had a profound influence on Sudan's approach to music making. "They were really DIY," she says, "and they made their own music and their own beats and their own flyers. And so I think that really inspired me to do it my own way, even if I didn't have the tools." She began to rethink the music she'd been making with her fraternal twin sister, too. It was what they'd always done, writing songs together that were 'more pop' than the music Sudan makes alone today. "That's probably why I wanted to do my own thing," she says, "because I wasn't really into the pop that we were doing back then. And so I just started to do my own thing and get a little experimental."
This epiphany led to a shift in how Sudan approached music. "I started making my own beats on an iPad and I just thought it might be cool to play violin to those beats. So I started to mix it together."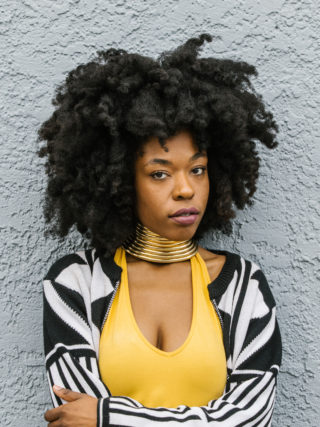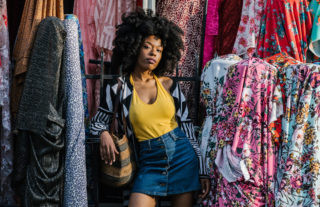 It was with 'Come Meh Way', which is on her eponymous debut EP, that Sudan realised she'd hit on a unique sound. "That was one of the first songs where I had a violin incorporated and singing and the beats that I make. And so when I heard that song I was like, 'oh, this is sounding kind of like how I want my sound to be.'"
It was on the basis of this track that she was signed to Stones Throw, having fortuitously met the label's A&R man Matthew David at an experimental show. The impulse deal is easy to understand: Sudan's music references a number of different styles while still sounding so distinctive.
Her lyrics are equally intriguing, their elliptical and meditative repetitiveness being taken to the extreme on woozy new single 'Water'. "They're just very improv," she notes. "I literally just record and say what I'm feeling. And I think they just end up having their own meaning or meanings. I used to read Dr Seuss and maybe my style is kind of like that!"
This approach to writing makes her cover of Kendrick Lamar's 'King Kunta' (reframed as 'Queen Kunta') all the more unexpected. Perhaps predictably, it wasn't the lyrics that drew her to the song. "I just thought it was really cool because I heard violins in it," she explains. "There's this violin part that comes in and out every time. And so I thought, 'oh maybe it would be cool for me to do my own cover with like all violins and just see how it sounds.'"
It's an experiment that pays rich dividends. She completely reinvents the track and turns its G-funk into soulful folk using little more than a violin, a loop station and beats. This is how she records most of her songs and her insistence on complete artistic control has parallels with many underground rap and electronic artists.
Her real interest, however, seems to be in production. This dates back to when she was recording with her sister. "We would be in the studio with producers [and] even though I didn't know how to produce at that time, I just always felt like the production wasn't going the way that I wanted."
It's a studio frustration that she's addressing with online studies. Currently taking English, she wants to get an Associates in Arts degree. "And then hopefully I can transfer to a school and study Music Technology.
"Even though I'm a producer and a singer and a songwriter, my dream would be to be a female engineer," she enthuses.
She's also "really into the idea of producing for other people or maybe getting to write for other artists." Although she doesn't have any musicians in mind, she envisages it being more mainstream work. "I just have ideas for songs and it doesn't necessarily fit into my aesthetic," she says. "But I just sometime wish I could write a song for someone with a different voice than I have."
If Sudan Archives' natural interests seem to lie behind the scenes then musical forces are pulling her in the other direction and compelling her to be the visual focus of her work right now. "It's just naturally happening for me to have to be up front," she says. "At my first music show I was just playing production beats and I was literally hiding behind a table because I was really shy! So every time I'm up front and performing it's kind of new."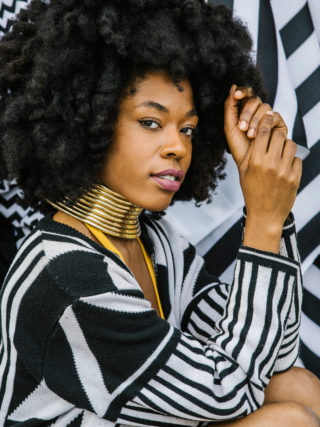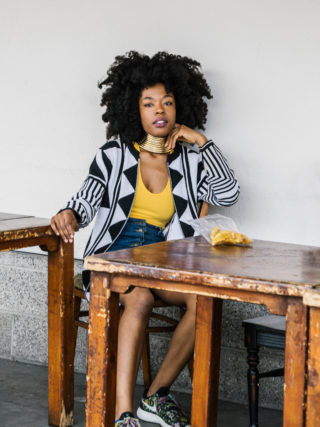 Her self-assurance has also been buoyed after finding some kind of kindred spirit in tUnE-yArDs, with whom she's about to tour North America with. Sudan tells me: "I'm really excited about that because [Merrill Garbutt is] passionate about African drumming and she uses a folk instrument but kind of does it in an alternative way."
The live dates will coincide with the release of new music, the details of which she's reluctant to reveal (ed – she's since announced a new EP, 'Sink', out on 25 May via Stones Throw). She is, however, forthcoming about her plans to return to Africa with the Taiwo Fund, a charity that aims to empower children at the North Star School in Ghana.
She volunteered for the organisation last year and gave a three-day music making class. "All of the kids there are already drummers so to teach them how to do electronic drums is very easy because they have really, really good rhythm. But they also get to learn how to use computers because most of the kids there have never used one."
This is where she sees herself in five years time, not sipping on champagne from an awards trophy, having just produced a Beyoncé album. "I just wanna keep working in Africa and helping people make music," she says. "So maybe my music can give me the opportunity to travel more to do that."
And perhaps that's where the missing jigsaw piece lies: rather than seeking fame itself Sudan Archives seems willing to accept attention only if she can use it to help of other people.
Free Protomartyr flexi disc with this month's magazine
Subscribers to Loud And Quiet now receive a limited edition flexi disc of a rare track with their copy of the magazine
This month's disc is from Detroit punk band Protomartyr