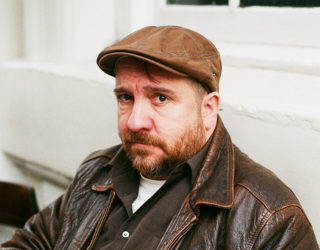 50 years, 50 songs: The extraordinary story of Stephin Merritt from The Magnetic Fields' 'whole life' LP
'I'm hypernostalgic in terms of my musical taste, and not remotely nostalgic person in terms of my own life'
"What do you call a Scouse girl in a white tracksuit?"
Soho is generally home to a few homeless people who have cultivated talents in order to get money from tourists. There are buskers, artists, speed-poets writing verse on the subject of your choice in seconds flat. My first encounter with Stephin Merritt, principal member of The Magnetic Fields, comes outside of the plush confines of the Dean Street Townhouse hotel, where we're interrupted by a ragged comedian with an impenetrably thick Liverpudlian accent.
Merritt and I look at each other awkwardly, shrugging before the punchline is revealed: "The bride."
This inauspicious start is the first thing we talk about on sitting down, long before we get to discussing any of the twenty five albums Merritt has released in as many years, under a variety of guises. Unfazed, he simply shrugs the incident off with trademark aplomb.
"I wasn't sure if he really was from Liverpool, to be honest. I mean, The Beatles were largely comprehensible in movies."
It turns out jetlag has done little to dull Merritt's caustic edges; he may not always enjoy interviews, but it seems like he's at least trying to have a little bit of fun with this one, even dissecting his own choice of reading material for his week-long press trip to Europe.
"I'm reading my way through the David Pringle list of the 100 best science fiction novels from 1948 to 1984. I'm not reading them in chronological order, because that would be unbearable. The fifties are unbearably misogynist, and the seventies are often unreadably… a backlash against that misogyny."
At that moment, an unordered bottle is brought to the table. "What is that?" Merritt asks. On finding out that it's simply still water, he looks up at me quizzically. "Oh. Well, I suppose we could pour it on the table and lick it up if we absolutely need to."
It's as good a start as could be expected.
Stephin Merritt is a curious case in the grand scheme of what you could call indie music. Despite releasing albums on a variety of independent labels, including four LPs with standard-bearers Merge, his sights have always been set a little higher, and he's not without contempt for the genre ghetto. When asked to supply a unique line of merchandise to celebrate Merge's fifth anniversary as a label in 1994, he and his manager (and drummer) Claudia Gonson daubed a series of twenty small boulders, creating a literal "indie rock" for fans to take home.
Merge stretched their resources to breaking point for their tenth anniversary by releasing what has been Merritt's milestone and millstone ever since: a three-disc collection entitled '69 Love Songs'. Specifically designed to be discussed (and whittled down from a planned '100 Love Songs'), it broke away from the synthesisers and ukuleles which littered earlier Magnetic Fields releases like 'Holiday' and the criminally underrated 'Get Lost', to reveal an intelligent arranger, master melody-writer and insightful lyricist at the peak of his powers.
Since 2004, Merritt has been firmly ensconced on Nonesuch, making him labelmates of kindred spirits and heroes like Randy Newman and Stephen Sondheim. His songs have become modern standards, covered by artists as diverse as former label bosses Superchunk, Tracey Thorn and Peter Gabriel. Merritt once praised the latter's string-laden version of 'The Book of Love' for allowing him to make the down-payment on a house. How fucking romantic.
The wit, scope and intelligence of The Magnetic Fields' output is what surely makes them the only band who could be equally beloved by fans of Cole Porter, Camera Obscura and Cabaret Voltaire. There have been clubnights named after, and devoted purely to, their music, and even a night promising Magnetic Fields karaoke later this month. When I mention this to Merritt, he responds with a characteristically terse "No comment," and when pushed to suggest a song of his own to become a karaoke standard, he suggests 'Roses', a 28-second acapella track from '69 Love Songs'. "It's short," he deadpans. "And requires no backing track."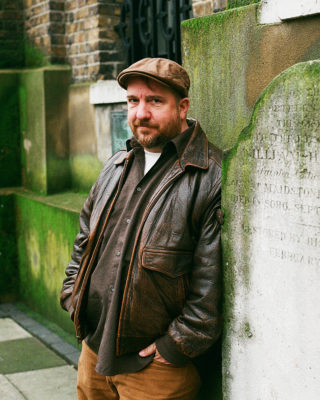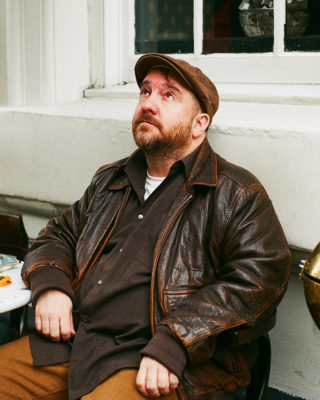 The eleventh Magnetic Fields album is entitled '50 Song Memoir', a five-disc set with one song marking every year up to the point the now-fifty-two year old Merritt started work on the record. Best known for writing in character, this new album is the most overtly personal album he's ever released. While, as ever, all of the music was composed alone, he did receive help on researching the lyrics, to make sure that all of the details were entirely correct.
"My mother and Claudia, my manager, made timelines for me of, respectively, the first and second halves of my life," Merritt tells me over herbal tea. "I have a terrible memory, which runs in my family. We all shock people with how little we remember."
When I ask if some years were harder to assign subject matter to than others, there follows a long pause, which is something anyone who has ever read an interview with Merritt should be well aware of. Never one to rush into a sentence lightly, his conversation style isn't exactly halting – he's actually a remarkably gregarious speaker – but he clearly takes pains to make sure what he's saying is exactly what he means. His pauses either end with another sentence, or a nearly inaudible grunt and a shrug to signify "Next question." It's a disarming conversational tic, but one which doesn't take long to get accustomed to.
"I don't remember… probably," he eventually offers, chuckling. Incidentally, for anyone wondering, the sound of an amused Stephin Merritt is strangely reminiscent of Ron Swanson's giddy giggle in Parks And Recreation. "The first two years where I don't actually remember anything, I had to make something up. So the first song is about how I don't know where I'm from, because there's too many candidates – depending on what you mean – and the second is about my mother's… highly unusual teaching style, particularly in ethics. Which will later be revisited [on the song '86 How I Failed Ethics']."
Beyond these relatively imaginative accounts of his origin, '50 Song Memoir' takes in more concrete details of Merritt's unconventional upbringing, moving all across America with his mother, following the departure of his father, folk singer Scott Fagan. Living in communes and ashrams from Hawaii to Vermont, the beliefs of Merritt's mother Alix (who also painted the album's front cover) are chronicled on '75 My Mama Ain't', the final track on volume 1:
"My mum's a little flaky – believes in everything
From auras to zenreiki, except crystal healing."
Although '78 The Blizzard of '78′ notes that while "music was very much not allowed" in at least one of Stephin's childhood communal homes (although, if '70 They're Killing Children Over There' is to be believed, he was taken to see Jefferson Airplane by his mother at the age of 5) he began learning music early. "I took recorder," he tells me. "That was my first instrument. And then I had piano lessons when I was 7, and only then did I have the guitar lessons, which was… ass backwards, as they say in America. But at least I learned the notes first, rather than the chords. When I lived in Hawaii, I did not play the ukulele – we didn't have one. But now I have a lot of them."
The liner notes of '50 Song Memoir' credit Merritt with playing over a hundred instruments, which are listed in order of appearance – "I had to do it in some order!" he quips – including an instrument which he only recently started learning.
"I bought a nice Celtic harp and discovered that, although it's very easy to sound lovely playing one note on the harp. If you play a few in a row, it's easy to sound terrible. So I took harp lessons, but my vision started going when I was in my forties, and it became really impossible for me to see the strings, which is already hard. And eventually, I got glasses. But in the meantime, my harp teacher abandoned me, because she thought I wasn't trying."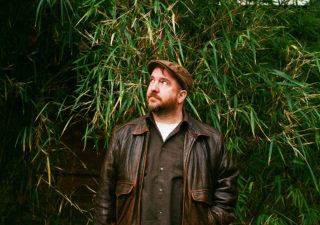 As well as spanning Merritt's life, '50 Song Memoir' might be the best summary (if you can call it that) of what The Magnetic Fields can do. Songs take their cues from every phase of the band's career, from chamber pop to the array of analogue synths and vintage drum machines showcased on the album's second disc, to the gonzo noise-pop of '08 Surfin'. The fact that this track corresponds to the year Merritt released his Jesus And Mary Chain-indebted album, 'Distortion', is, he says, entirely coincidental.
Indeed, despite his wide collection of instruments and recording gear, Merritt opted out of only using period-relevant equipment on the new material. "I decided early on that it wouldn't actually be interesting enough to have the trivial developments of instrumentation during my lifetime… If I did do that, it's completely accidental. I don't have any memory of it."
Merritt owns a remarkable range of instruments; the 2010 documentary Strange Powers sees him showing off his collection of ukuleles as well as a musical whisk, and he clearly takes an iconoclastic approach to pop music. Yet he insists that his taste as a listener consists of "a pretty narrow range of music… broken into a few different thrusts."
He elaborates: "I like great lyricists, and I would say in that category would be Sondheim, Kate Bush, Joni Mitchell, Tom Waits, Momus… and then I like classic period bubblegum and canonical experimental music."
As far as recent bands go, Merritt expresses particular fondness for Shannon And The Clams, primarily for their fidelity to the garage and bubblegum bands he holds so dear. "If you didn't speak English you would absolutely think that Shannon and the Clams were from fifty years ago, unless you were familiar with computer reverb… but other than that, they're very… realistic."
He goes on: "But it's always been the case with me that the music that I tend to like is the people who sound like the records that they like from a while ago. In the eighties, what I was mostly into was actually not new wave but neo-psychedelica. When I'm asked to name a great psychedelic album, the first thing I think of is the first Rain Parade album. There aren't a lot of great psychedelic albums."
His enjoyment of imitation may explain why, when I ask if he can identify the first "successful" song he ever wrote, he cites 1992's 'The Wayward Bus': "The first four songs are a Phil Spector pastiche, and I think I was impressed with myself for being able to do a reasonably good imitation of, essentially, Goffin and King."
On that album, and its predecessor 'Distant Plastic Trees', Merritt does everything – production, instrumentation, arrangements – but left the vocals to Susan Anway of the band V. Merritt is candid about his reason for doing so. "I was a horrible singer… not like I am now, when I'm a singer no one would hire. I was a horrible singer, like you couldn't tell what I was trying to do."
This anonymity was quickly turned into a virtue, giving the then-obscure project a sense of mystery far removed from the dominating indie/grunge subculture of the time. '89 The 1989 Musical Marching Zoo', a daffy piece from Volume 3 of '50 Song Memoir', could be seen as a belated manifesto for The Magnetic Fields at this time:
"This is the band that I wanted to be
No names and faces and no history
Particularly, no pictures of me."
By 1994, Merritt's voice improved, at least enough for it to grace the two albums The Magnetic Fields released that year: an ersatz country record called 'The Charm of the Highway Strip', and 'Holiday', their most pronounced foray yet into synthpop – the genre the band are arguably best known for.
His musical debt to the eighties is one which Merritt seems to have had mixed feelings about throughout his career. The success of '69 Love Songs' was followed up by what is commonly referred to as the "no synth trilogy", culminating with 2010's 'Realism', which featured no amplified instruments at all. The contradictions continue on '50 Song Memoir', as he gripes about being labelled a "new romantic" on one track, before dedicating one of the entire set's highlights, '83 Foxx and I', to the former Ultravox! frontman.
Even more surprisingly, the stomping electropop of '84 Danceteria!' recounts the time the now-reclusive Merritt spent as a denizen of one of New York City's most notorious venues. Particularly intriguing is the moment the song outs him as having "invented the sugar and lettuce sandwich," which the singer gladly explains.
"Danceteria had a café on the third floor, and the sandwiches were priced purely according to the meat on the sandwich, the bread and condiments being free. So I was able to get, for free, sugar and lettuce on marble rye, which happens to be…" he pauses, for once, for purely dramatic effect. "Delicious."
As for the music the club played, Merritt is slightly less sanguine, expressing a preference for "electronic music from the pre-synthesizer period." He adds, ruefully, "Electronic got less interesting once it got easier to make." Hence, '81 How to Play the Synthesizer'; a track that audibly explains and demonstrates every dial and setting on a vintage synth, while still managing to be disarmingly catchy.
"I think people are very intimidated by the jargon." Merritt explains. "Both Moog and Buchla, the inventors of the synthesizer, were engineers, and they were unphased by jargon… and they did not have marketing departments. If they just had someone who was a linguist, or wrote ad copy, then there might be a different group of people playing the synthesizer. Women, for example, might play the synthesizer more.
"An acquaintance of mine was trying to name his synthesizer, and he was flirting with the idea of calling it "My Pretty synthesizer" and painting it pink. There's absolutely no reason why teenage girls shouldn't have synthesizers marketed to them… but they don't. Yet. Although little tiny synthesizers are more unisex than the traditional big clunky black things. I think eventually the synthesizer will be democratised. My song does not help with that."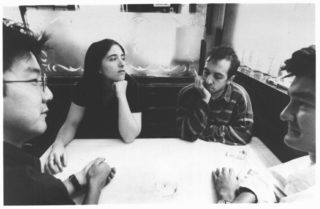 '69 Love Songs' may have marked the end of a four-year absence, but Merritt spent most of the late nineties working on other projects, recording as The 6ths (new Merritt material, sung by guest vocalists from Lou Barlow to Odetta), Future Bible Heroes (a synth-pop trio) and The Gothic Archies (a gothic pop act best known for soundtracking the Lemony Snicket books). The album itself took three months to write, primarily at an establishment now immortalised on '02 Be True to Your Bar'.
"Dick's Bar on 2nd Avenue and 12th Street," Merritt specifies. "It was never the only bar where I wrote, with the exception of when I was writing '69 Love Songs'. I really did go to St Dymphna's for eight hours a day, and Dick's bar for the other eight hours, for three months, with no interruption." His drink of choice at the time – "at the time, I had not yet fallen out with vodka" – was a cranberry, orange and vodka cocktail called a Madras. "That," Merritt adds, "and Irish breakfast tea."
When I point out that the latter drink is actually mentioned by name in 'Be True to Your Bar', Merritt looks puzzled. "It may…" he muses, pausing again. "When I hear the music in the intros, I am able to, like a zombie, sing the lyrics. That doesn't mean that I can remember them out of context. I really can't, it's crazy. It's muscle memory."
The silence between albums is never truly silent for Merritt. In the half-decade between '69 Love Songs' and its equally conceptual (but somewhat shorter) follow-up, 'i', he composed scores for musicals and three Chinese operas.
Likewise, the years between 2012's 'Love at the Bottom of the Sea' – a pointedly electronic way to mark the end of the "no synths trilogy" – and '50 Song Memoir' included a solo tour, as well as publishing a book of poetry based on two-letter Scrabble words. Throughout that decade, he was also working with author Daniel Handler on their pet project: a sci-fi musical entitled 'The Song From Venus'.
"The fact that La La Land has been nominated for fourteen Oscars makes me hold out some hope that someone picks ['The Song from Venus'] up," he says, to my visible surprise. Clocking my expression, he retorts, "Well, I haven't burned the screenplay. It's finished except for the last few scenes. I figure the producers will tell us how the ending ought to go anyway, so there's no point in writing it until then. But we don't know if it has a happy ending or not."
This talk of endings neatly coincides with my five-minute warning on our conversation – an engagement with Radio 3 awaits. Before we have to wrap up though, I ask Merritt his feelings on nostalgia, given the five-year process which has led to the release of '50 Song Memoir'.
"I'm a hypernostalgic person in terms of my musical tastes," he says, "and a not-remotely nostalgic person in terms of my own life." Indeed, Merritt is already contemplating a sequel. "For '100 Song Memoir' I imagine I'll have more to say on the ethical side of things. With recent political events in the United States, I've been thinking I should retire from music and become an ethicist."
Having excavated his past, the many places he's lived, the people he's loved and the records he's made, I feel compelled to ask him that most cliché question of memoirists: do you feel you learned anything from the experience? His answer may be the laconic musician's most vehement of the entire interview.
"Hell no!" he smirks, as he rises to leave. "I wasn't looking to learn anything."
Loud And Quiet needs your help
The COVID-19 crisis has cut off our advertising revenue stream, which is how we've always funded how we promoted new independent artists.
Now we must ask for your help.
If you enjoy our articles, photography and podcasts, please consider becoming a subscribing member. It works out to just £1 per week, to receive our next 6 issues, our 15-year anniversary zine, access to our digital editions, the L&Q brass pin, exclusive playlists, the L&Q bookmark and loads of other extras.