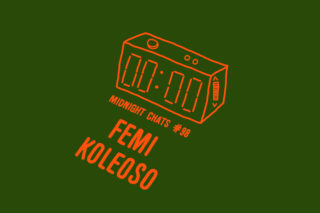 Femi Koleoso: Midnight Chats – Episode 98
The most feel-good episode for the podcast yet
This might be the podcast you need right now, with guest and Ezra Collective bandleader Femi Koleoso.
Positivity surrounds Femi and his music, even as the world folds in on itself. A committed member of his church and community, a youth group leader and jazz drummer, a former student of Tony Allen's, a diehard Gooner, a sometime model and the guy you saw play his kit at halftime when watching the Champions League, listening to Femi speak for an hour is enough to make you think that maybe things aren't so totally and utterly fucked right now.
Listen below or via your podcast app.
Loud And Quiet could do with your help
We love making Loud And Quiet – our magazines, this website, our podcasts and more – but it's become increasingly difficult for us to balance the books.
If you're a reader who'd like to help us keep the show on the road, please consider becoming a Loud And Quiet member. There are options to receive our physical magazines and lots of other extras that are exclusive to our supporters.