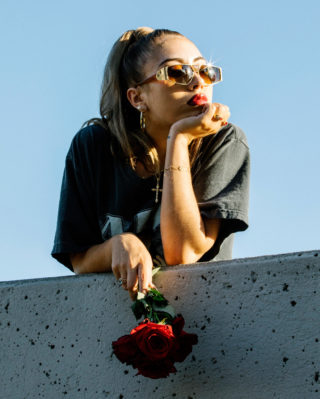 Without a humble childhood in a small city in Colombia, Kali Uchis wouldn't be questioning just how big she wants to be
The girl from Pereira
It's the afternoon after the General Election. Outside Shepherd's Bush Market tube in west London, a bundle of free newspapers calling for Theresa May's resignation have toppled over and a handful of Lib Dem campaign leaflets are blown across the road. Underneath the train station, between a series of large red brick arches, past the motorcycle garage offering cheap MOTs, Kali Uchis is with her live band in a large rehearsal space. A drum kit is set up, along with some laptops, a bass amp and mic stands – a dance studio mirror runs down one side of the room, and various members of Kali's backing group are strewn about the place taking a break.
As footage of volunteers sprinting around leisure centres clutching ballot boxes stuffed with votes were simulcast on TV the night before, the 22-year-old singer was on stage at Brixton Academy. She was there with some of her famous friends and peers – Vince Staples, Kelela, Popcaan – performing her cyborg-pop collaboration 'She's My Collar' with Gorillaz. It was the first night of a relentless trip to the UK for the artist. Over the next six days she'll guest spot with Gorillaz twice, make her proper British festival debut and play two headline solo shows. A bunch of radio slots, photoshoots and interviews are planned for the minutes in between.
Past all the band's equipment, there's a kitchen out back, a narrow room where Kali, wearing massive brown sunglasses, green corduroy trousers and a pinstripe grey blazer, hugs her knees and curls into the corner of a sofa.
"Last night was cool," she says meekly, stifling a jetlag yawn, reviewing her Brixton appearance. "It's kind of like those last days of school with all your classmates. You're bullshiting, watching movies and shit – just hanging out, waiting to do our thing."
For some artists, being picked up by Gorillaz and asked to feature on their album (she's on two songs, the second being 'Ticker Tape') would be the kind of springboard they'd leap on. Kali, however, is relaxed about it. The drummer in Gorillaz had heard her 2015 track 'Loner', handed it to Damon Albarn, who flew her to the studio in New York.
"I don't get too much of that Oh-my-God-I'm-around-a-famous-person," she says. "I've never really felt that way. Even before I was making music, my persona, just as a human being, is that I see everyone as equal. I don't think that celebrity life is real."
Even though she grew up listening to Albarn's music, and admits collaborating was a "very humbling moment", Kali's profile has been on the ascent anyway. The debut mixtape she shared back in 2012 ('Drunken Babble'), made on her laptop when she was 18, caught the attention of Tyler, The Creator and Snoop Dogg (she's gone on to work with both). The nine-track EP, 'Por Vida', she released in 2015 laid the foundations nicely, too. Tracks like 'Ridin Round', 'Loner', 'Rush' and 'Lottery' may not have been promoted much by British radio and press, but the streams for their eye-catching, self-directed videos are now well into the millions. So, with the release of her debut LP imminent, it's looking like a smart move for Gorillaz to get Kali Uchis on their album.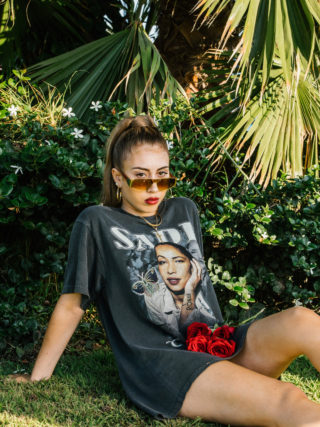 Ask Kali Uchis about growing up and there's a duality to her answers about "home". Born Karly Loaiza in July 1994, her early years were spent in Pereira, Colombia, a small city in the foothills of the Andes, a five-hour drive from the mega-sprawl of Medellin and the capital Bogota.
"It's a small city. It's just real people," she explains, nudging her sunglasses with a long fingernail. "Everybody's different there. People want to get away, they dream of going somewhere else to start a new life. It's very much like that."
The reality of Colombia, she says, is a bit more diverse than the picture painted by a TV series like Narcos or Shakira's music videos. "Places are always going to have stigmas. In the same way when people talk about Africa, they think about starving kids in the streets; when they think about Columbia, they just think about cocaine, coffee and a guy riding a horse with a sombrero on. We do have a lot of issues just like every other country – but we have come a long way."
But then there's also "home" two thousand miles away in Alexandria, Virginia, just outside of Washington D.C. Kali moved there when she was seven years old. In memory of that period, and his decision to emigrate, she has her father's passport signature tattooed on her arm. She identifies as both Colombian and American, but admits her sporting allegiance lies with her Latin American roots.
She's one of five siblings – the youngest – with three brothers and one sister. "I'm really close with my brother on my dad's side. His mum is Puerto Rican and he lives in Miami right now. He's a skateboarder," she says. "My siblings on my mum's side I'm not as close with, but it's all love." Another brother lives in Japan and they keep in touch via Facetime when the time-zones collide. Her sister, who now lives in Italy, she doesn't speak to anymore.
"I miss her," says Kali, openly. "It was just difficult because I'm way younger than all my other siblings. So when I was born she was already 15. But we were close when I was younger. She went into foster care, so we didn't grow up in the same house since I was really little."
"She would visit me when she was an older teenager and take me to her boyfriend's house. Then we kind of just fell out, I think, over weird sibling stuff – got into too many huge fights where I was like, 'I can't deal with this anymore.' She has a good heart, but it's just too much deep-rooted, dark shit, that I feel like she projects family issues onto me since I'm the youngest one."
Kali was, in her own words, "the annoying little sister". Her brothers were protective of her, and she wanted to play with them all the time. "They were like, 'leave us alone, you're not invited,' and I was like, 'I just want to be your friend.' Or, 'I'm going to tell on you! That you were burning bugs with the microscope the other day, and I'm gonna tell mummy!'" she laughs, putting on a child's voice. "I definitely became the snitch out of resentment of not being able to play with them."
The scene she describes at home is chaotic. Once settled in the States, her father began to relocate members of their family from Colombia. He was a property manager, and would find work for people as cleaners or construction workers.
"Our house was like; First Destination," Kali recalls. "You'd come to our house, live at our house for a couple of years until you get yourself on your feet and my dad will help you get a job." That meant home life wasn't just Kali, her parents and her siblings, but at points, numerous uncles, aunts and cousins all under one roof.
"I was in the room with, like, three bunk beds. We all shared one bathroom. It was a mess. Female room and male room. Then there was mum's and my dad's room. It was very in and out, very busy and hectic."
She remembers it being particularly hard for one auntie who had to make the distressing choice to leave her husband and young children in south America, where unemployment was high, in order to earn money in the States and send it home.
"That kind of puts it in perspective, how badly some people need that new chance in life and that opportunity. She knew that she needed to leave her kids, basically, and that they were better off having her send them money, toys and whatever they wanted from America… over being there with her babies."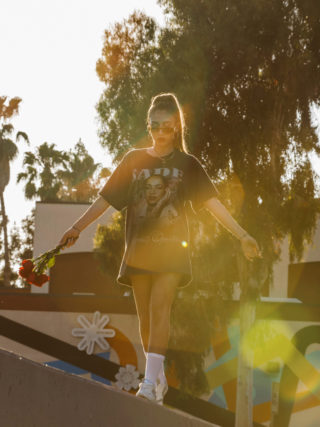 Despite the chaos, the noise, the constant comings and goings, Kali led a relatively introverted upbringing. Sure, she had her mates in Alexandria, but while her brothers were busy playing with friends their own age, she was left to entertain herself. That's where music came in.
Her performance started with the school jazz band. From fourth grade (age 10) she would sing and play saxophone, and would later become First Chair. The team would travel hundreds of miles to places like North Carolina to compete in area competitions. All very Glee. Until, later, around the age of 15, she quit.
"I was very active in it. It kind of took over my life, and then, five, six years went by. When I got older, I became 'anti'. I was like, 'fuck rehearsals, fuck all these people, fuck a band!'" she giggles. "I was like, 'I'm not waking up early in the morning to go put this fucking neck strap on and wet my reed – fuck this!"
Around this period, she began writing songs. She'd borrow her father's tape dictator from work, and between his personal notes about leaking pipes and faulty extractor fans she'd slip her own tape into the player and record her tracks. "Back when cell phones didn't have the recording shit," she smiles. "I used to love to play with it."
Her parents were pleased she'd taken up the sax, but it wasn't until later that they bought her a keyboard and a few piano lessons.
"My parents were working so much," she says. "Sometimes I'd feel like when I had a concert or something everyone's family was there to support them… I'd have the big solo and then I felt like a loser because sometimes my parents wouldn't be there. I would just feel like, 'this is stupid.' I was just like, 'fuck it,'" she sighs. "But then, I guess, I always loved music since then, even once I'd stopped playing saxophone, even once I'd stopped playing piano. I would still keep writing songs all the time, but I was never like, 'I want to be a singer.' I didn't ever look at that lifestyle as something I wanted for myself."
At this point in her mid-teens she was on a rampage of discovering music, and some lasting influencers were entering her life. "I was just one of those dorky dorks – that was my thing. I was like, 'ahh, I just want to find new music all the time and go to the record store. I would just go by myself. I would go on Pure [the now defunct music service] and just be downloading."
Along with the Spanish-language Colombian pop music, the jazz introduced to her by her grandmother (she loves Ella Fitzgerald, Billie Holiday) and the low-rider hip-hop her brothers loved, she remembers getting into "international artists". VV Brown, The Noisettes, Amy Winehouse. She remembers watching Lily Allen's 'Smile' video online for the very first time ("the video where she's doing all the fucked up shit to the guy!").
"All of them were girls who did their own thing, and just were very, like, strong-minded individuals," she remembers, as her manager arrives with her lunch – a Nandos pita. "I'm always attracted to artists that are unique. I don't like people who sound like everyone else or are doing something trendy. I can't relate to an artist that doesn't have opinions. I just found myself more attracted to people who weren't scared to show their personality."
That's exactly the kind of artist Kali is now. Once the topic of music is raised, she spends five minutes telling me how a lot of artists "don't show their personality until they're super established" and how that's not her style. "It's the safe route of, like, 'I'm just not going to offend anyone, I'm not going to take sides, I'm not going to stand for anything, I'm not going to talk about ANYTHING,'" she quips. "I'm just gonna be like, 'he he he, tee hee hee.' I'm just going to be super-cute and likable and bubbly and take my whatever that shit is called where they teach you how to speak to interviewers?"
Media training?
"… do my media training and just be like perfect. Obviously none of us are perfect. Some of us just hide it more than others. Some of us pretend more than others. I've always been attracted to artists that aren't afraid of showing they're flawed. Sometimes we don't always know the right thing to say, we're not as educated as we would like to be, we make mistakes, we struggle with our own psychological issues or personal traumas. A lot of us who make music are broken people inside. The people who can show that are strong – strong enough to be honest."
In 2017, when Kali talks about home, it's Los Angeles. She moved from Virginia two years ago and now lives in California with her boyfriend.
"When I got to LA, I was like, 'this is going to be great; I'm going to have so many friends that do the same things as me.' Then I realised that everyone is super-competitive. Everyone is just trying to one-up each other with their accomplishments and their name-drops. And fair enough, I get it, I didn't exactly come to the city to raise a family and grow a farm – we all came for our careers – but there's definitely a way to get ahead without fore-fronting yourself constantly like you're the only person that matters in the room."
L.A. has taken some getting used to. She describes her "culture shock" when hanging out with other musicians "who know some Spanish because their nanny taught them."
"You're not going to see a crazy mansion in Pereira. Everyone is very humble," she says. "I've never lived in a house that's had more than one storey. To this day, I don't."
At the moment, back in Colombia, Kali's father is building a house in the mountains. "It's his dream," she says, "it has multiple storeys. I went over there and I'm like, 'what the hell? Do you need six floors? It looks like a damn hospital!"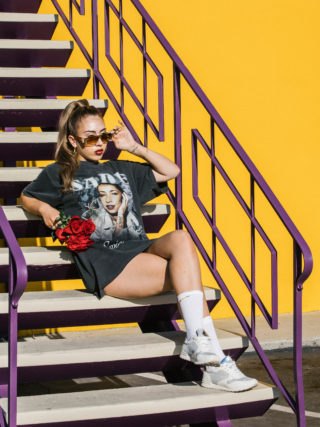 It's Saturday early evening at Dreamland, Margate, a recently restored retro theme park hosting Gorillaz's Demon Dayz festival. There's a helter skelter, dodgems and the musty smell of hot-dogs in the disco foyer. The queues for the mouse-themed "rodent-coaster" are long, and so are the odds on some sunburnt punters hitting nine cans with a beanbag to win a giant purple ape. At the 'By The Sea' hall, Kali Uchis is about to play her first UK show with a full live band. Except, a cantankerous bass amp is delaying the start and causing some sound issues. When she does emerge, wearing a shredded sequin dress, it's a promising, if slightly cautious, performance. Later, with Gorillaz's headline set in full-swing and the sun-setting over a crowd of 15,000 fans, she strolls on to the main stage to perform 'She's My Collar'. Damon Albarn bellows her name, lifts her arm to the crowd and gives her a sweaty embrace.
Two nights later, back in London, I see Kali play the second of two sold-out headline shows; this time at the Jazz Cafe in Camden. This is her gig, her crowd, and the tickets apparently went in minutes. It starts with a hype-man drummer whipping the crowd. Kali, both glamorous and street, wearing a cocktail dress but looking like she's going to a block party, shimmies across the lip of the stage, smiling, dancing, having fun but also kind of nonchalant. There's covers: a version of Al Green's 'Let's Stay Together' and a party rendition of Elvis Crespo's 'Suavemente' – a massive hit on the Billboard Latin chart in the late '90s. New stuff's kept to a minimum – a slow one called 'Killer' ("written three years ago when I was living out of my car") and the recently released 'Tyrant', where Jorja Smith arrives on stage to huge cheers to sing her verse. The whole evening has the feel of seeing a sure-to-be massive pop star in a small room.
And, while she's done very little in the UK (this weekend is the first time she's played), the young, dedicated fans packed into the room are hanging to her every note, capturing every sentence or hip-shake on their glowing smartphones. People practically claw at each other when she takes a handful of white lilies off her mic stand and throws them into the audience during 'Loner'. People bring gifts, too. One girl battles from the back of the room with her own bunch of flowers to hand them to her heroine.
It's a tangible taste of the kind of growing dedication Kali has attracted over the past five years. It can be seen online everyday. Her every Instagram post is jumped on by hundreds of comments, every picture she shares retweeted thousands of times. It's why, when performing two new tracks ('Killer' in London, 'Miami' in Margate) she asks the crowd not the film the songs and put them online. For a girl from Pereira, she's still coming to terms with what she calls "quote unquote fame".
On the way home, I'm sat next to a girl on the train clutching one of Kali's lilies battling tears and eulogising her as a "magical lady". It's sweet, but as Kali tells me a couple of days before, it can also be consuming – a permanent, scrolling commentary on her looks, lifestyle choices and relationship status.
"I'm a Cancer, so I'm a naturally emotional, sensitive person," she says. "I had to learn to have hard skin. I'm the youngest; I would get bullied a lot, picked on by my siblings or by older people in my family. Tough love, and all that kind of stuff. If at a really young age you learn to take punches you're kind of prepared for this type of career – it's all about taking punches and being criticised constantly."
While she's better coping with it now, she's admits that it does affect her.
"I don't mind being criticised or disliked for who I am," she continues. "But the one thing that does still hurt me about this career is people creating completely false narratives about who I am, or hating me for something I'm not. That sucks."
Kali's eyes search around the room trying to find an example, then look at what I'm wearing.
"Let's say all of a sudden that your red and black chequered shirt was like you supporting something that you're completely actually against. Like some type of organisation. Say they were like, 'those are the KKK colours' on your shirt, that red and black on your shirt, you must be a Nazi.' Right? Let's say. And then everyone starts saying that to you and you're like, 'What? You guys are fucking stupid,' and they're like, 'you can't take criticism.' It's not really constructive criticism if you're attacking me and calling me something that I'm not. And something that's completely offensive, hurtful and opposite to who I am. That's the type of shit I'm saying. People think it's criticism, but criticising is like, 'I don't like her music, it's boring.' That's criticism. I can handle that – what I can't handle is people turning things hateful… I can't take that shit because I feel so strongly about people not being hateful, people not discriminating and people not telling other people what to do with their bodies."
She also recalls moments where that passion from supporters has crossed the line. Like recently when she was visiting her family back in Pereira and strangers came to the house.
"I got a little sense of what it's like to be 'famous'," she says. "It kinda spooked me out. For a second, I was like, 'I don't want this to get bigger than it is, because I don't even like this level.' People constantly intruding on me and treating me like I'm some kind of display animal in a zoo, like I don't have feelings, don't have my own personal life and don't have personal things that I'm going through. That's weird and it made me want to stop doing it… I mean I would never stop doing music in my real life, but it made me want to stop doing music publically."
She takes a deep breath.
"It's strange, but I'm just learning to live with that. Certain things you wish you still had to yourself. I had to take a second, step back and be like, do I really want this to happen to me and to my family? You realise that in order to do this you have to sacrifice a lot and… I never wanted to. When I was first going to make music, I wanted it to be faceless, actually. I wanted it to be a much more mysterious identity. But that never worked out for me."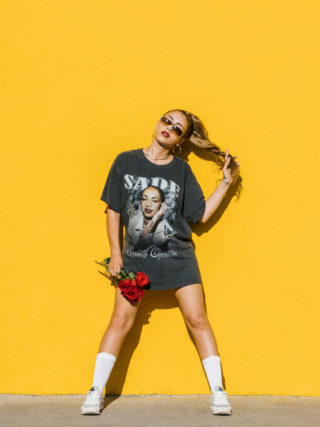 Our final conversation is brief, a snatched phone call two days after the Jazz Cafe show, as she's sat on a plane on the runway ready to take off for Los Angeles.
"At this stage of your career, you're 24/7 being an artist and facilitating everyone," she says, sounding emotional. "Sometimes there's no time to be upset or feel what you really feel." The inference being: people forget there's a person inside this pop star.
Back in LA, she'll put the finishing touches to her proper debut album, out in September. On it, she's worked with legendary bass player Bootsy Collins and once again enlisted the help of 20-year-old production wunderkid Steve Lacey from The Internet. Over the 7 tracks I've heard Kali traverses styles, mixing mellow trap, dub, reggaeton and latin-pop, including Cumbia, from the Caribbean coast of Colombia. It's varied, but her jazz vocal means it's all infused with the same, deep authentic soul. On 'Miami' she sounds like early Santigold, on 'Just A Stranger' she's 'Love. Angel. Music. Baby'-era Gwen Stefani. It's an LP she says is "all different genres, tempos, energies" but has the overarching lyrical themes of self-reliance, independence and empathy. "The main things that I think would solve all the problems in the world – people being empathetic, confident and self-aware," she confirms.
"I always aspire to be confident in myself," she'd told me a couple of days before, with both a sadness and sweetness in her voice. "Just like anyone else who's confident, we're compensating for our insecurities. Overcompensating for the fact that maybe I'm not good enough, and you just have to tell yourself, I am good enough."
"I had people telling me when I was trying to do music or be my own person that I couldn't do it, trying to discourage me. 'Oh, you look like this! You look like that! Who're you trying to be? Who do you think you are?' I was like, 'Who do I think I am? Someone who believes in myself and loves myself endlessly, boundlessly. You don't? Sucks to be you.'"
That kind of sums Kali Uchis up. Like her idols, she's fragile but she's assured, honest and outspoken, sensitive but bullish, highly motivated but doubtful, has attitude but also understanding. A mix of all these things, she's a girl from Pereira currently navigating the pitfalls and peaks of a fame she's created for herself.
"I'm in it for the long haul," she nods. "I'm not expecting any overnight success ever. If it happens, great, saves me a lot of time! Constantly I'm growing, my stock is increasing everyday. And if it doesn't work out, I'll just do something else. I'll go sell the mangos on the side of the road, and I'll be happy regardless."
Loud And Quiet needs your help
The COVID-19 crisis has cut off our advertising revenue stream, which is how we've always funded how we promoted new independent artists.
Now we must ask for your help.
If you enjoy our articles, photography and podcasts, please consider becoming a subscribing member. It works out to just £1 per week, to receive our next 6 issues, our 15-year anniversary zine, access to our digital editions, the L&Q brass pin, exclusive playlists, the L&Q bookmark and loads of other extras.