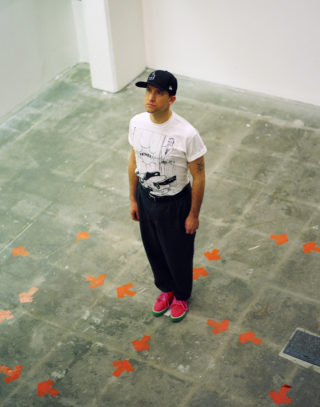 Xiu Xiu – Jamie Stewart talks watermelons
As I approach Jamie Stewart, the madcap sonic scientist behind California's Xiu Xiu, an excitable girl hands him a purple package, so he leads us both through a couple of winding corridors to a room where he can set it down and open it up. Never would we have guessed that as the paper is pulled back, inside is a handmade bear with watermelons for wings. It seems I'm the only one though, as the other two chatter away knowingly. This must be the norm for Stewart as he notes nonchalantly later that "people are incredibly nice to us. We don't have a very big group of people who are into Xiu Xiu, but the people who are go way out of their way to be sweet to us. I'm very happy and touched by that."
Settled on the floor of one of the many hallways, Stewart sits quite bulkily and talks rapidly in a low murmur. Having heard his various, dirgy takes on necking pills to numb pain ('I Love the Valley, Oh'), suicide ('Suha') and the detriments of class structure ('White Nerd') over the past decade, I had expected a waif without hope, but Stewart looks muscly and radiant in his black denim jacket, matching jeans and New Era broad-peak cap. Not forgetting, of course, his watermelon-print shoes, which actually look like two slices of the fruit, the soles representing the green rind.
"For the last couple of years I've lived in this really shitty town in the south of the United States where everything sucks except for the watermelon," he explains. "It's actually unbelievable. One of the few things that has kept me from burning the entire town down is that this unfathomably great watermelon wouldn't be available. I'm moving away from there this summer so hopefully I won't need it as badly as I do now," he laughs, glancing down at his trainers.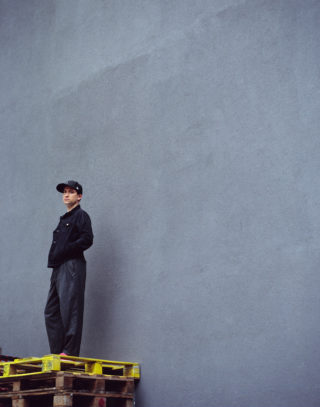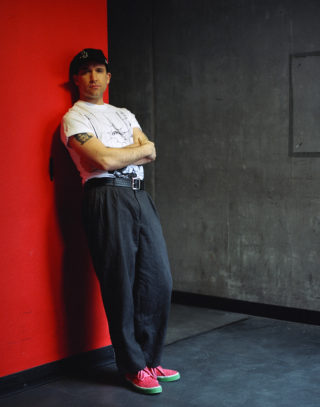 Since forming in 2002, Xiu Xiu has seen double the number of its current five members join and leave. They've released eight studio LPs and two live albums. Stewart has collaborated with a handful of the best in the cultish, dark wave scene, including Zola Jesus, Former Ghosts, Michael Gira from Swans and Italian group Larsen, who he's heading out on tour with in the summer – "it's called 'XXL', which is a terrible, terrible name for a band, the worst name," Stewart gushes. They've written songs solely on games consoles, vomited for three minutes straight to get a point across (in the video for 'Dear God, I Hate Myself') and on their new album, 'Always', Stewart even tried his hand at some intoxicated experimentation. "So…," he pauses, embarrassed, before describing the way he went about writing abrasive new track 'I Love Abortion'. "I generally don't do this, but for the vocals I got incredibly drunk. Musically, it's not all that melodic, it's almost all A-tonal sounds. Coming up with a melody for it was a little bit difficult. I wasn't really planning on recording the vocals, I just was incredibly drunk and I have a studio in my house, so it felt like the exact right moment to do it.
"I listened back to it a couple of weeks later and it seemed to put across the emotion I was hoping it would put across. I'm glad I didn't listen to it that night, or I probably would have erased it," he laughs. "In the United States, the right wing seems to be incredibly violent about the way that they protest abortion rights and the left tends to be really passive and squishy about it, which I find aggravating. So it was an attempt to be as aggressive as the right wing is. The left have a lot to learn in that way. Basically not kowtowing to people who scream in their face – they could do quite a bit of screaming back."
Stewart's never been one to shy away from expressing the way he feels, especially when it comes to politics. Fourth album 'La Foret', for example, dealt brazenly with his distaste of former US president George W Bush. On the song 'Saturn' he eerily growls: "George, when it comes to bedtime/my sweetness will not go to waste/I will shoot this arrow right up your anus/and you'll taste what we taste/what you make them taste". Pair this with footage of the band in Alabama switching the letters of a Day's Inn signboard to form 'George W Bush is HIV to America' and it's clear that Stewart's not putting on a tough-man front. He really believes strongly in everything he writes because it's all based on something that's happened to him or someone in the band or that they're close to. "It's really maudlin," he admits, "but it's life."
Former member Sam Mickens wrote a track, 'Chimney's Afire (Mickensian Suicide)', about his failed suicide attempt, which is surprisingly upbeat. Plinky-plonk piano, lilting strings and a triumphant drumbeat back dark, autobiographical lyrics, such as, "you had to dig hard to find the cult of arteries". The addition of work by the rest of the band is something new to Xiu Xiu. Although Stewart is the lynchpin within the group, no matter who's in the current line-up, they always work as a collective, but 'Always' marks the first LP on which Stewart has used entire tracks penned by the others.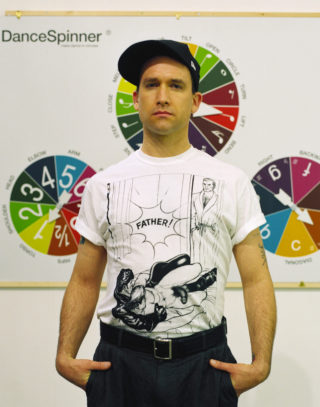 "In the past I would get something as completed as I could and other people would finish it off," he clarifies, "but this was just the first case where people brought in things from the beginning that we worked on from there. Angela wrote 'Honeysuckle', Zac [Pennington] wrote the lyrics for 'Smear the Queen', but not the music, and Sam, who's one of the people who got the boot, wrote 'Oldness' and 'Chimney's Afire'."
Ah, the controversial sacking of Mickens and Pennington, who was also asked to leave. They only joined the band in April 2011, so their departure after what Stewart claimed was the worst tour in his life caused a bit of a stir in the blogosphere. On the Xiu Xiu website he expressed "resentment bordering on hate" about it as he announced the news. "It was actually the worst," he reiterates, defiantly. "The fake tour. The fakest. The rottenest of the rotten. One of them, upon my posting of what actually happened, threw a little bit of a fit, so I have to be diplomatic as opposed to truthful," he warns us. "In the politest of terms, I was unhappy musically and unhappy personally, which you can translate however you like."
Going back to the shared writing on 'Always', though, and it suddenly makes sense why there's no overarching theme. Each song, Stewart tells me, is about an individual subject, documenting a time in someone's life. However, the title holds a lot more weight behind it. "There are three aspects of it," he says. "One is that halfway through the record my brother, who I'm really close to, started having a really traumatic experience in his own nuclear family and he mostly listens to incredibly dark and super violent hip hop, but he sent me this track by Erasure, 'Always', which is the opposite of that – it's a very sweet, bubbly song, and I was very surprised that he liked it. So I was driving around buying watermelons and listening to that song, trying to sing along but finding myself breaking down into tears; relating it to my brother."
He also mentions that the title is based on a spray-painting on the wall of his gym – something he skips over in such a blasé way, you'd think there were spray-paintings at every gym. "It's a bible verse that essentially says. 'to God, love and hate are the same thing', that good and evil are the same. It was really striking to see something like that and it seemed to express both the terrible and the reassuring. There was nothing else to do, so I went to the gym all the time and saw this everyday for a month before they painted it over so that idea really bore its way into my head.
"Also, it's our tenth year so it's a recommitment to music – a philosophical commitment, reinstating one's vows to music, which is corny, but it's important to my whole heart," he chuckles. Stewart never thought he'd be able to put his all into the band, financially. "Somehow I've managed to not have a day job since 2004," he utters with an air of amazement. "It was my initial goal and thankfully I've been able to keep that up, but I was incredibly surprised when I realised that it was possible. I mean, I had always made an incredibly scant living before and I continue to make a scant living. I was a pre-school teacher for a number of years and in the US the pay is abysmal and then we did a tour and I came home and thought 'oh my God, this is quite a bit more than I make teaching pre-school'. So essentially, I've been able to continue to scrape by." And as for the next ten years? "I'll hopefully still be doing this," he laughs, "trying to make the best record we can make and on tour trying to play the best that we can play. If we can do that, I'll continue to feel as incredibly lucky."
Please support Loud And Quiet if you can
If you're a fan of what we do, please consider subscribing to L&Q to help fund our support of new musicians and independent labels
You can make a big difference for a few pounds per month, and in return we'll send you our magazines, exclusive flexi discs, and other subscriber bonus bits and pieces
Try for a month and cancel anytime