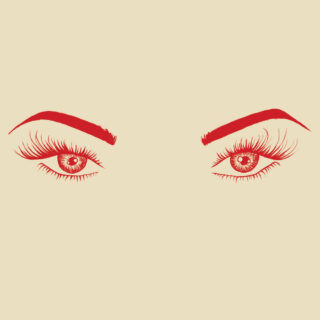 Not to say that Xiu Xiu are predictable, but after two decades and now a dozen albums, it would've been a surprise if Jamie Stewart's latest wasn't a histrionic fit of confrontational noise, tremulous chanson and industrial goth textures featuring songs about loss, sex and death. What's supposedly new and different with Xiu Xiu's twelfth such outing, though, is that it comes billed as 15 "duets" between Stewart and such luminaries as Sharon Van Etten, Angus Andrew from Liars, Twin Shadow and Grouper – although quite how much actual duetting is going on here varies from song to song.
The title track, for example, is more a parade of voices than anything collaborative, in which guest Susanne Sachsse appears to be in an entirely different song, dropped in at Stewart's whim. 'Knock Out', too, features for the most part Stewart warbling around a two-second sample of first-wave punk Alice Bag. Thankfully lead single 'A Bottle of Rum' fairs far better, as Stewart and Grouper intertwine with a grand sense of heroism, and Twin Shadow's turn brings more than just his voice to 'Saint Dymphna', injecting his trademark '80s melancholia and wailing sax lines into a record in desperate need of some variety by the time of the song's arrival. 
Moments of (presumably unwitting) hilarity also arise: midway, Stewart invites Owen Pallet in for what seems intended as a deeply serious ballad of modern ennui but more closely resembles the Bowie parody from Flight of the Conchords. Equally, it's hard to take Stewart as seriously as he clearly desires when he sings, in quivering baritone, "Bong bing bonk-o bun / a head rolling down the stairs", and it's unfortunately these moments that linger longest after the record ends, not the shocking imagery or frequent blasts of inchoate noise that might have more artistic heft.
Indeed, the problem with shock tactics is that even when they do work, they lose their potency fairly quickly, meaning that although Oh No might start out as a bracing, arresting slab, by the end of its drawn-out 54 minutes, culminating in a daft 15-second poem about dancing ants, any outrage on the part of the listener has been desensitised into an eye-roll. It's kind of infuriating, kind of brazen, kind of pompous, and kind of admirable. It's also, disappointingly, what anyone aware of the past twenty years of Xiu Xiu should reasonably expect.
Please support Loud And Quiet if you can
If you're a fan of what we do, please consider subscribing to L&Q to help fund our support of new musicians and independent labels
You can make a big difference for a few pounds per month, and in return we'll send you our magazines, exclusive flexi discs, and other subscriber bonus bits and pieces
Try for a month and cancel anytime