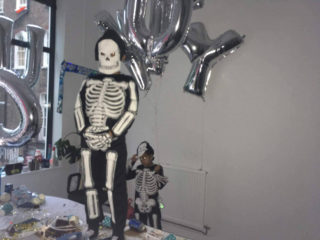 Ahhh, bless – Not Waving's new video features two kids dressed as skeletons spelling out 'fuck you' in silver balloons
Ummmm
London-based, Italian musician Alessio Natalizia first made music as Banjo Or Freakout before becoming one half of techno duo WALLS. Having recently become a father, his forthcoming album, 'Good Luck' (out Oct 27th on the Diagonal label), is his second as Not Waving, and mostly influenced by all the things you have to start thinking about when you become a parent. These seem to usually start with how screwed up the world is.
'Me Me Me' is no exception and is accompanied by this pretty brilliant video featuring two kids dressed as skeletons, wrecking their own birthday party and spelling out an obscenity in silver balloons. Still, if you will decorate you're kids' party with balloons that clearly spell 'fuck you', can you really blame them for acting up? No, you can't!
For all the fun of 'Me Me Me', Natalizia's point (that we live in a self-obsessed culture) stands. It's a killer electronic punk trunk, though, that's over just as you're locking into it. Similarly, just are you're starting to think that the kids are pretty cute in their costumes, there's a shot of one of them riding across a field on a mini motorbike. Imagine seeing that coming towards you in the local park. Terrifying.
Free Protomartyr flexi disc with this month's magazine
Subscribers to Loud And Quiet now receive a limited edition flexi disc of a rare track with their copy of the magazine
This month's disc is from Detroit punk band Protomartyr