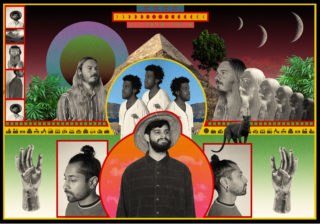 Flamingods continue to kick out the cosmic jams with a new EP for Moshi Moshi
Keeeeep dancing!
I've lost count of how many albums Flamingods have put out now, and on what formats. Part of that is because in the modern world it's pretty impossible to know what counts as an album and what doesn't (was 'If You're Reading This It's Too Late' Drake's forth LP, or first mixtape? Even he doesn't know. And who really cares?), but it's also because this collective of cosmic jammers from Bahrain via Brixton don't operate much within conventional boundaries (their first show lasted all day in an ATP chalet), and their freeform music follows that vein of its-fun-to-play.
If you think a GOAT live show is full of abandon go and see Flamingods (dates below), who've just announced a new EP for the Moshi Moshi label, called 'Kewali' – in stores May 26th.
Here's the EP's (and it definitely is an EP) title track. Of which the group says:
"Kewali is a song deep rooted in love and the idea of celebrating what's around you; to be accepting and open to new experiences and cultures. It's something we felt particularly passionate about whilst writing the EP, given the uncertainty felt by so many around the world right now" 
03 March 2017 – SHEFFIELD, Outlines Festival
15 March 2017 – SXSW – British Music Embassy @ Latitude 30
16 March 2017 – SXSW – Levitation / Future Days @ Hotel Vegas Annex
17 March 2017 – SXSW – Esther's Follies
23 March 2017 – LONDON, Village Underground
31 March 2017 – TALLINN, Tallinn Music Week
04 April 2017 – AZORES ISLANDS, Tremor Festival
22 April 2017 – READING, Are You Listening? Festival
29 April 2017 – LEEDS, Live At Leeds
30 April 2017 – MANCHESTER, Sounds From The Other City
12 May 2017 – BRISTOL, The Lantern
13 May 2017 – CAMBER SANDS, The Soundcrash Funk & Soul Weekender
16 May 2017 – OXFORD, O2 Academy Oxford (w/Comet is Coming)
24 May 2017 – LONDON, Heaven (w/Comet is Coming)
03 June 2017 – LONDON, Field Day
09 July 2017 – MACCLESFIELD, Bluedot Festival
30 July 2017 – EAST LULWORTH, Camp Bestival
New monthly memberships available
Here's a new thing: our membership scheme now has a pay-monthly option, plus a load of exciting new digital stuff for people who support what we do. It's actually excellent value, honest, and will help us continue to promote new independent artists and labels.
Sign up and you'll receive our physical magazines delivered to your door, our digital editions, exclusive podcasts and playlists and access to our EXTREMELY glamorous Members Lounge. You'll be the envy of all your friends.