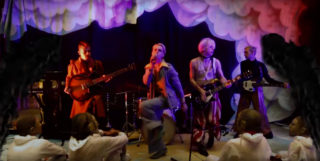 The gross new release from London's HMLTD is a nightmarish battering of the senses
Sleeping with the lights on tonight...
Is it scary? Is it panic inducing? Is it just a bit gross?
Regardless, London noise-band HMLTD have managed to create a video for their track 'Stained' which manages to capture the sensual battering that their notorious live shows dish out. It's the b-side to recent track 'Is This What You Wanted?' This is the band who used to go by Happy Meal Ltd, until, presumably, Ronald MacDonald heard all about them.
If you're afraid of something it probably appears in here somewhere. There are clowns, there are sticky wet guts, there's white-suited beings wielding a dustpan and brush.
You might hate it, but you can't argue that there's not something to it. Jenkin Van Zyl directs the video, and the band play various UK dates between now and the end of the year, if this video doesn't put you right off.
Be aware, it contains a lot of strobe lights.