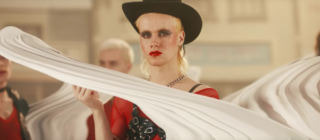 HMLTD's new song is so nuts it could only end with one of them being shot on a Bucking Bronco
Band meeting: "Lots of blood, bananas and a Spaghetti Western theme"
HMLTD are our current cover stars, and in that interview, they set out a few basics about the band but they're also still an enigma. Plus, there's no getting around it, the London-based collective are divisive. Some people hate them. Really hate them. There's little denying that there's something to them, though.
They've just added to the small collection of songs they've posted online with this new one 'To The Door'. There's a lot going on in it, including a chorus which doesn't sound unlike Franz Ferdinand.
They've made a video with it, too. It features the band in the Wild West dressed as ghosts, chopping bananas and lots of blood. Frontman Henry Spychalsk, looking like Fischerspooner, also rides a Bucking Bronco before things get a bit gross.
We're not being funny...
… but can you become a member please?
It's actually excellent value, and will help us continue to promote new independent artists and labels.
Sign up and you'll receive our physical magazines delivered to your door, our digital editions, exclusive podcasts and playlists and an actual bookmark, as if printing a magazine in 2021 wasn't old fashioned enough.
6-month and full year memberships are available now. Fancy it?