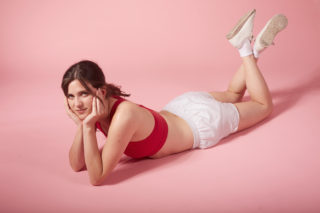 Pillow Person's second single is a fizzing new pop song about facial recognition
Sarah Jones has previously performed with Bat For Lashes and Hot Chip
Pillow Person has been a new name to many this past six months. Even her real name Sarah Jones is a new one for some. But you'll sure have listened her her work in the past as drummer with everyone from the likes of Prey, New Young Pony Club, Bat For Lashes and Hot Chip. She's in-demand.
A couple of months ago she explained the reasons for creating her new solo identity Pillow Person in our feature.
'On Your Way' is only the second single she's put out. It follows 'Go Ahead' and its b-side 'In My Game'.
From the short explanation that accompanies it, it sounds like the song is a rumination on the pros and cons of facial recognition technology as it continues to become more integrated in society.
It'll be coming out on Moshi Moshi on 27 January.
We're not being funny...
… but can you become a member please?
It's actually excellent value, and will help us continue to promote new independent artists and labels.
Sign up and you'll receive our physical magazines delivered to your door, our digital editions, exclusive podcasts and playlists and an actual bookmark, as if printing a magazine in 2021 wasn't old fashioned enough.
6-month and full year memberships are available now. Fancy it?