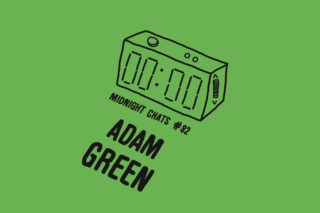 Adam Green: Midnight Chats – Episode 82
"People think what I'm doing is childish, but it's not, it's just average"
Adam Green's new album, Engine of Paradise, comes with an accompanying graphic novel that the ex-Moldy Peaches member is giving away via his website. There's a bit of history repeating itself there, as Green went above and beyond last time around, when his Aladdin album came with a feature film starring Macaulay Culkin, Natasha Lyonne and Alia Shawkat, where the actors were real but everything else was made from papier-mache. He gave that away too.
Green's desire to create, create, create is a recurring theme in this week's podcast, as well as tales from New York City, hustling on MTV to promote the Moldy Peaches, and feeling misunderstood by almost everyone. And aiming to become Shakespeare.
Listen below or via your podcast app.
New monthly memberships available
Here's a new thing: our membership scheme now has a pay-monthly option, plus a load of exciting new digital stuff for people who support what we do. It's actually excellent value, honest, and will help us continue to promote new independent artists and labels.
Sign up and you'll receive our physical magazines delivered to your door, our digital editions, exclusive podcasts and playlists and access to our EXTREMELY glamorous Members Lounge. You'll be the envy of all your friends.