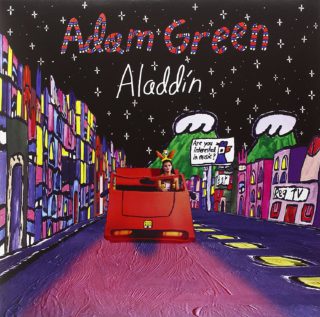 If the prospect of erstwhile Moldy Peach Adam Green re-recording the Aladdin soundtrack seems the finest example yet of post-ironic nostalgia for the dimly remembered early 90s, it's positively sane compared to the actual contents here: instead of reworkings of 'A Whole New World' etc, we've got a series of original songs and dialogue snippets from Green's own Kickstarter-funded, Macaulay Culkin-starring homemade movie of the Aladdin story that reimagines the lamp as a 3D printer, the princess as a decadent socialite and the population printing out an analogue version of the internet, all shot on post-psychedelic cartoon sets made of papier mâché.
Lyrics tackle the distinctly Disney-unfriendly topics of taking coke on a visit to Disneyland alongside lines like "Your breasts are like two wrists / That I've handcuffed to my dick," and while the music is whimsically entertaining enough to stand alone from the film, the overriding impression is just how utterly preposterous this all is: 'Aladdin' is the quintessential hipster vanity project, and all the more compelling for it.
New monthly memberships available
Here's a new thing: our membership scheme now has a pay-monthly option, plus a load of exciting new digital stuff for people who support what we do. It's actually excellent value, honest, and will help us continue to promote new independent artists and labels.
Sign up and you'll receive our physical magazines delivered to your door, our digital editions, exclusive podcasts and playlists and access to our EXTREMELY glamorous Members Lounge. You'll be the envy of all your friends.