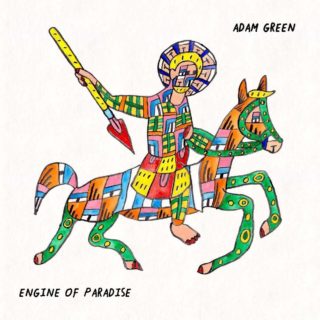 Adam Green
Engine of Paradise
7/10
From the exterior, the fabled New York artist Adam Green looks like the protagonist from some lauded French novel who's unknowingly stumbled from its pages to resume life in our reality. His loyalty to the role seems unwavering too – some modern-day renaissance polymath, Green is a songwriter, filmmaker, visual artist and poet. His strange career is littered with unlikely accolades and abrupt changes in direction. Having been serially covered by the likes of The Libertines amongst other notable artist and later enjoying mainstream success with his former band, The Moldy Peaches in the Grammy-winning soundtrack to 2007 film Juno, Green has remained an essential cult hero.
Returning with his tenth solo album Engine Of Paradise and an accompanying graphic novel titled 'War And Paradise', Green continues to develop his deeply annotated outlook on surrounding life and relationships. Everything sounds distinctly European and vintage like they've been ripped straight from a twisted book of love songs on the French riviera. Delicate orchestral arrangements shroud cryptic lyrics that peacock colourful and flamboyant imagery. Time after time, Green delivers disturbed observations in his effortlessly unconcerned drawl. "Women they love me like an Oedipus son", he sings on 'Let's Get Moving'.
'Cheating On A Stranger', featuring the eerie backing vocals of Florence Welch, continues these themes of uncomfortable lyrics draped in beautiful tragedy. Green discusses being trapped in a wasteland empty of everything he once knew. The more he attempts to embrace nothingness, the more vacuous it ultimately becomes. This dark realisation feels like the foundation for Green's lonesome standpoint on Engine Of Paradise. Trapped and masked by life's own stage lighting, the desperate emptiness Green is talking about feels tangible, hopeless and real.
Free Protomartyr flexi disc with this month's magazine
Subscribers to Loud And Quiet now receive a limited edition flexi disc of a rare track with their copy of the magazine
This month's disc is from Detroit punk band Protomartyr