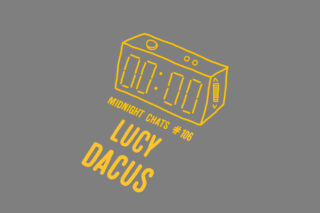 Lucy Dacus: Midnight Chats – Episode 106
Digging into those embarrassing childhood home videos
Lucy Dacus spent lockdown in a house full of people she didn't really know in a city she'd just moved to – now they call each other "cousins" and collectively binge on some brilliant/terrible classic TV shows.
In June the Richmond, Virginia songwriter will release her third album, Home Video, an LP heavy on nostalgia – or at least an album heavy on how photos and videos of childhood weave in and out of a person's creation of memory. For Lucy, those memories are things like getting dressed up as a cowgirl or interviewing icicles (yep).
And while she hasn't seen her pals in boygenius – Phoebe Bridges and Julien Baker – in person for 18 months they've been FaceTiming. I ask whether that means new music might come from them at some stage, too.
Subscribe now. Cancel anytime
Go on, give us a go
We love making Loud And Quiet – our magazines, this website, our podcasts and more – but it's become increasingly difficult for us to balance the books.
If you're a reader who'd like to help us keep the show on the road, please consider becoming a Loud And Quiet subscriber. There are options to receive our physical magazines and lots of other extras that are exclusive to our supporters.