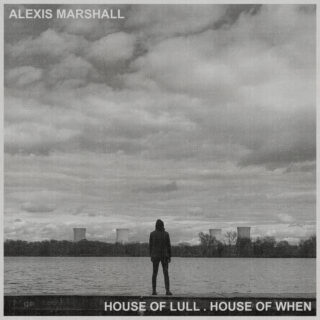 Alexis Marshall
House of Lull. House of When
8/10
When Daughters returned from an extended hiatus in 2018 they caught many off-guard. Since their beginnings as an enthusiastic if distracted math-rock/grindcore act in the early 2000s, they'd been known as a fearsome live band, deservedly lauded for their sheer commitment to noise, but were something of a curio in heavy music circles: interesting, yes, charismatic certainly, but hardly world-beaters. To witness them explode from their slumber with You Won't Get What You Want, one of the decade's most brutal, terrifying, and exhilarating records, was quite the shock. 
House of Lull. House of When, the debut solo album by Daughters frontman Alexis Marshall, is less of a shock, but that's no failure. We expect high standards from this guy now, having heard him provide such a compelling focal point at the centre of his band's industrial-strength doom-punk. And he delivers on those expectations here. 
Marshall's declarative, strained vocal is the record's guiding light, and benefits from these comparatively roomy arrangements, away from the thunderous squall of his bandmates. His tendency to repeat oblique mantras by way of refrain is even more pronounced than on YWGWYW, the shrieks of "The past is like an anchor!" on opener 'Drink from the Oceans. Nothing Can Harm You' somehow transforming from a little hammy to genuinely cathartic over the course of the track. Throughout the album, metallic percussion and tinnitus-like feedback cascade around his voice, underwritten by portentous keys and evoking Tilt-era Scott Walker as much as Marshall's post-hardcore contemporaries. This cultivated chaos is most effective on the album's final song, 'Night Coming', on which a rippling, pressurised synth gradually subsumes his muttered vocal, a wave of unconsciousness finally cresting over an anxiety attack. 
Comparisons to Nick Cave and Blixa Bargeld will doubtless greet the release of House of Lull. House of When, and while they're not irrelevant, they are insufficient. It feels like Alexis Marshall is driving at something new for heavy music: just as Daughters are redefining the boundaries of noise-rock for the 21st century, their frontman is applying a similar logic to his individual distillation of darker-than-dark American gothic songcraft. This stuff is fucking hard work – in a really good way.
Free Protomartyr flexi disc with this month's magazine
Subscribers to Loud And Quiet now receive a limited edition flexi disc of a rare track with their copy of the magazine
This month's disc is from Detroit punk band Protomartyr